The last time Connor Cook started a playoff game, it went very, very badly
The Oakland Raiders announced that Connor Cook will start Saturday's wild-card game against the Houston Texans, becoming the first QB to make his first career start in the postseason. But the rookie third-stringer does have some playoff experience.
Cook started for Michigan State against Alabama in the College Football Playoff on Dec. 31, 2015. It did not go well. In fact, it went very, very badly.
The Crimson Tide, which boasted the No. 3-ranked defense in the country, throttled Cook and the Spartans 38-0 to reach the national championship game. Cook was 19-of-39 for 210 yards with two interceptions and no touchdowns while getting sacked four times. Cook appeared to be affected by a shoulder injury, though he denied it.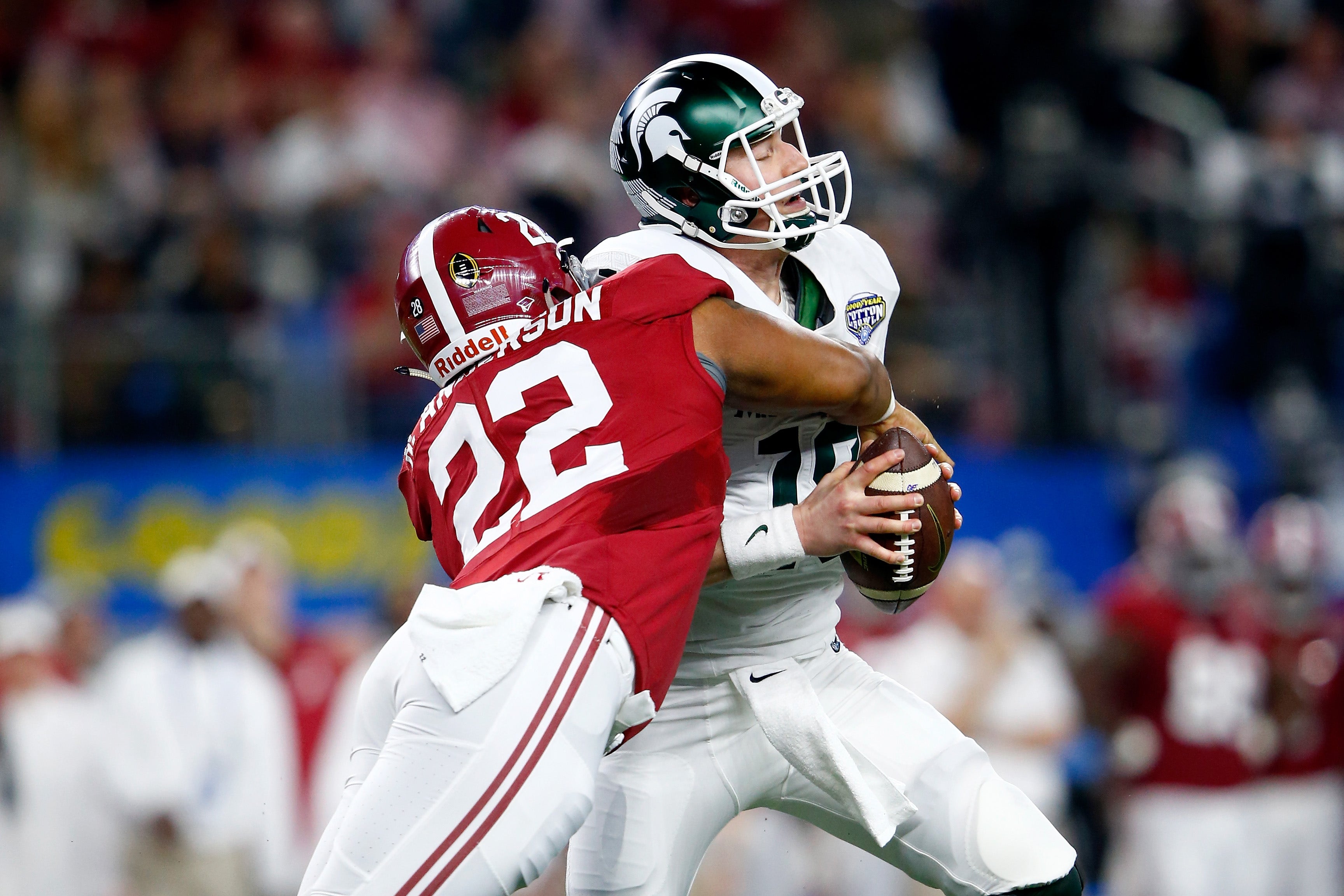 Cook should be healthy Saturday after watching from the sideline all season until last week, when he replaced an injured Matt McGloin. Cook went 14-of-21 for 150 yards with a TD and an INT in a 24-6 loss at Denver that cost Oakland the AFC West title.
On Saturday he'll face another tough defense: the top-ranked Houston Texans'. The only good news is that Cook won't have to worry about J.J. Watt being on the field.
Jadeveon Clowney was asked about going against Connor Cook in his first NFL start. "That's great, I hope we blitz him all game."

— James Palmer (@JamesPalmerTV) January 4, 2017
Cook was a fourth-round pick this year after a four-year career at Michigan State. Cook had a prolific college career, leading Michigan State to a 34-5 record and two Big Ten championships in three years as starter for the Spartans. Cook threw for 71 touchdowns and 9,194 yards in his career but completed just 57.5 percent of his passes. Cook also faced criticism of his leadership skills after his teammates decided not to elect him team captain.
Raiders coach Jack Del Rio said they like the way he's worked and developed since he was drafted and think that his pedigree in big games in college should help Saturday.
"He won a lot of big games at Michigan State," Del Rio told reporters Wednesday. "I know this is a different level, but he's got that kind of unflappable feel about him. We're going to trust him to go out and lead us."
The Associated Press contributed to this report.