Oakland Raiders Can Take or Leave Their 2013 Draft Class
Carl Cockerham/FanSided via With the First Pick

Fansided
Members of the Oakland Raiders' draft class of 2013 have all come to the end of their rookie deals. Is there anyone in this class worth keeping?
As we all know, the Oakland Raiders are built around the draft class of 2014. NFL MVP candidate Derek Carr and Defensive Player of the Year Khalil Mack are in that class. So somewhere between this offseason and next, they're going to get paid.
Carr is most likely to get taken care of sooner because he was the second-round pick of the class. Since Mack was a first-round pick, the Raiders can simply pick up the option on his rookie contract. Either way, the Raiders have some planning to do.
The Raiders have plenty of cap room as of now so they can spend in free agency this offseason. Plus GM Reggie McKenzie front-loaded most of his recent free agent contracts. So there aren't any contracts that he can't get out of within the next couple of years.
But another factor in this situation is deciding who to re-sign from the draft class of 2013. There are a few players that looked like they could have been something at certain points. But none of them have been consistent enough to truly become stars at this point.
Health has been a factor for some and inconsistent play has done in others. So we'll see what value McKenzie has on these player sometime before free agency starts.
Turn the page to see what you think of this draft class.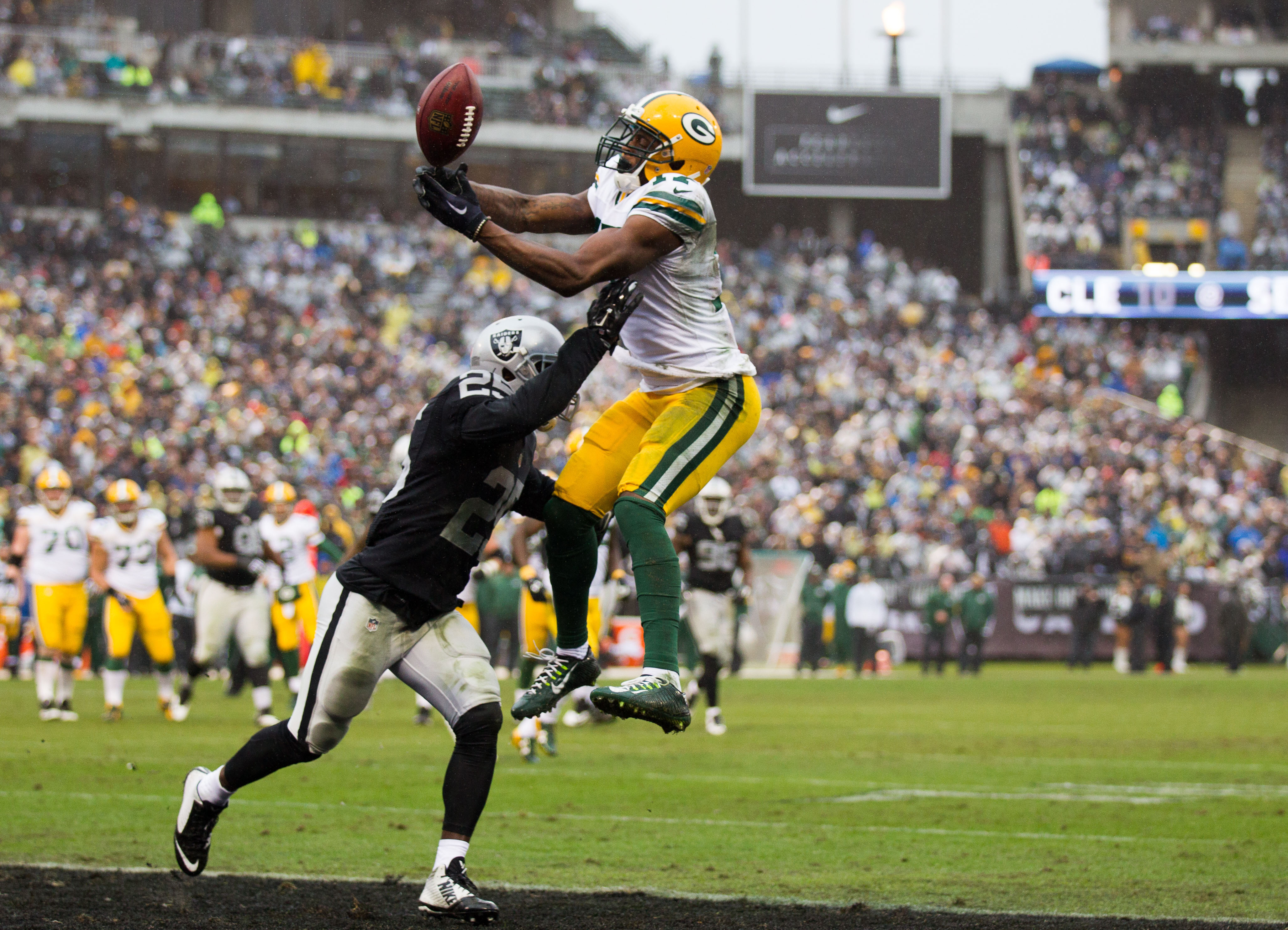 1
D.J.
Hayden
CB,

Houston
D.J. Hayden is the most criticized picks McKenzie has made since he's become the Raiders' GM. Most of the criticism comes from the fact that many considered him damaged goods. He had the accident in practice at Houston where a bad chest injury almost ended his life.
His coming back to play again was an amazing, inspiring story but he never played like a first-round pick. Much of that is because he seemed to start every season under the eightball. There was always an injury that stopped him for participating in the offseason program.
This past offseason was the first one he participated in so the organization looked forward to seeing him last season. But this season wasn't a great season just like his first three weren't. And for the third time in his four years, his season ended prematurely due to injury.
So it's been four years that Hayden obviously hasn't lived up to being picked in the first round. And the Raiders didn't pick up the option on his rookie contract to show what think of him. He won't cost much to bring back so the 2013 first-round pick is a take-or-leave player.
1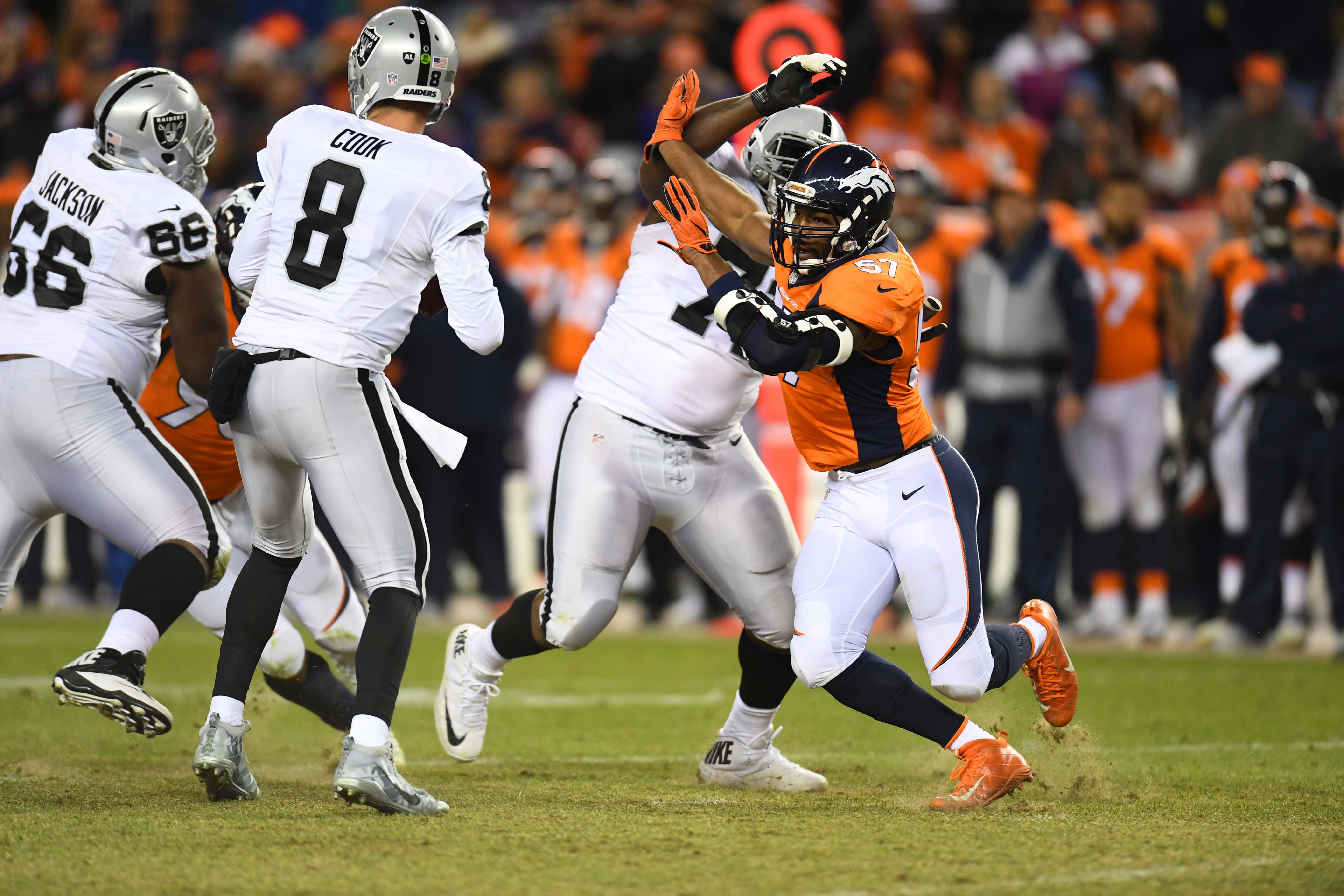 2
Menelik
Watson
OT,

Florida State
Round 2 seems to be the round where McKenzie likes to take chances on an athletic, boom-or-bust player. But so far, Mario Edwards Jr. of the class of 2014 is the only player that has worked out. Right tackle Menelik Watson, the 2013 second-round pick, hasn't worked out.
The super athletic 6'5″, 315-pounder was a college basketball player and an amature boxer. But he only played three years of football his whole life before he went into the 2013 NFL Draft. He hasn't had time to develop much because he's been hurt more than anything.
When he finally got over his latest injury to play down the stretch this year, he didn't distinguish himself. Right tackle remains the big weakness of the offensive line because Watson Hasn't been good. Austin Howard played well there last year but this year, he has been worse.
So if it's a matter of Watson or Howard, look for Howard to go and Watson to be signed cheap. However, he has done absolutely nothing to show that he is the long term answer at right tackle. So he could either stay cheap as a backup or end up in another uniform in 2017.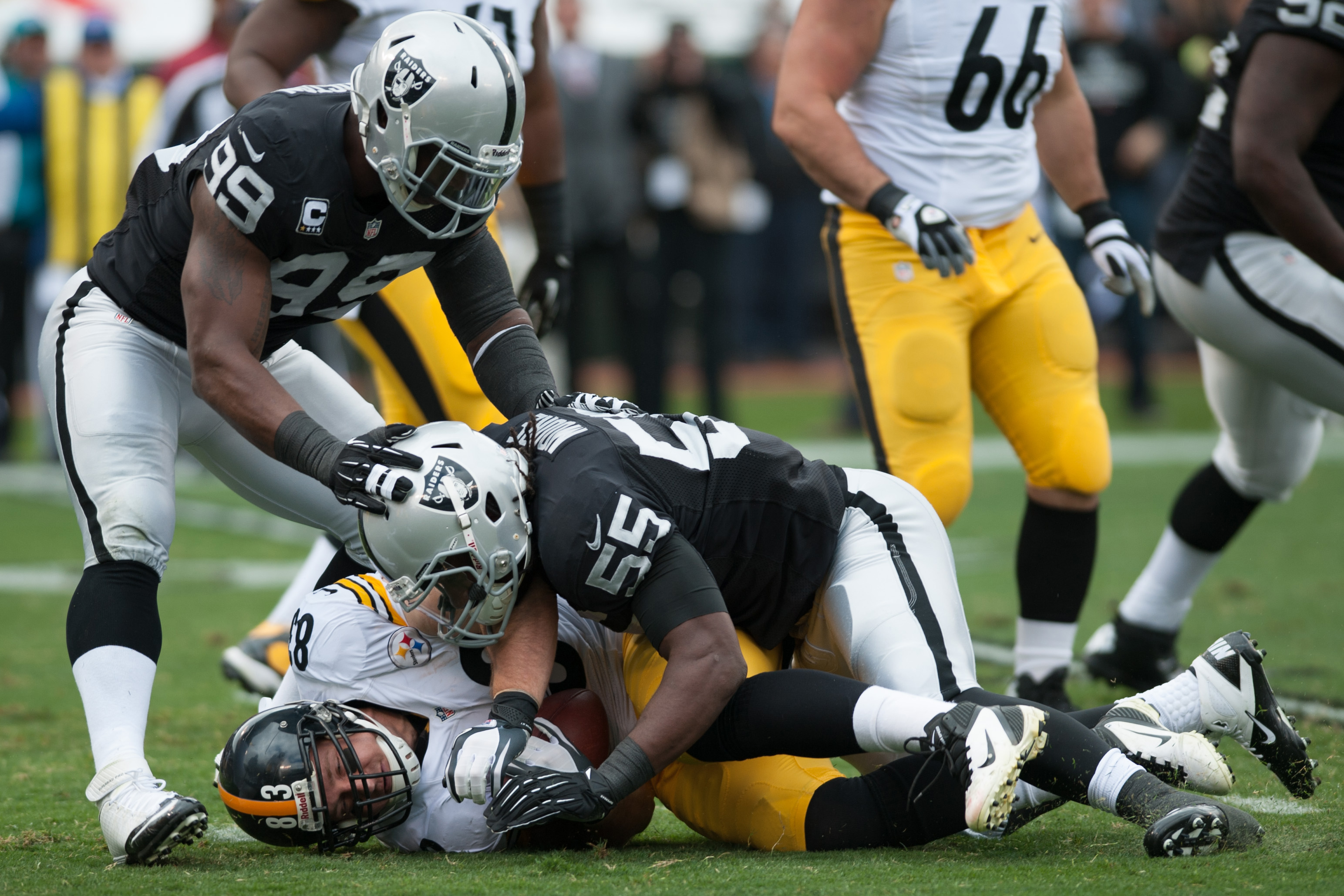 Of the Raiders 10 picks in 2013, there are only three more that made it this far with the team. I thought Sio Moore was going to be one of the core members of this Raiders team at first. He is a very physical, athletic linebacker with a big-time meanstreak.
But his problem is that have falls asleep in coverage too much and forgets who his man is. He also isn't very disciplined so you can see why head coach Jack Del Rio had him traded to the Indianapolis Colts in 2015. Since then, he's been with the Kansas City Chiefs and Arizona Cardinals
Quarterback Tyler Wilson, the team's fourth-round pick, didn't make it out of his first training camp. Tight end Nick Casa, the team's first sixth-round pick and defensive end (Round 7b) David Bass were cut. Round 7a pick and receiver Brice Butler was traded to the Dallas Cowboys.
Butler flashed in his time in Oakland but never really got a real chance to shine with the Raiders. And now in Dallas, I can't say he's shining but he does a little something here and there. That leaves the Raiders with three sixth-round picks to figure out what to do with.
6
Latavius
Murray
RB,

Central Florida
Latavius Murray, the second sixth-round pick, is the most frustrating of all the 2013 draft picks to watch. All Raiders fans remember when Murray helped the Raiders snap their 10-game losing streak. That 90-yard TD run highlighted what was supposed to be a breakout game.
He displayed great peripheral vision to find a cutback lane and the speed to go the distance. But as the year went on, he showed that he couldn't make guys miss or break tackles. Then the next year came and he got better in those areas but not enough to be a star.
Murray made the Pro Bowl as an alternate but he was far from a real Pro Bowl running back. He ran well against bad run defenses but completely disappeared against average or better run defenses. Then it's more of the same this year as he showed that he doesn't have great vision.
He can see the big holes that rarely come but doesn't see the little creases he can get through consistently. The Raiders also have him on a carry count because he's not the most durable running back. So here they have the second sixth-round pick to make a choice on.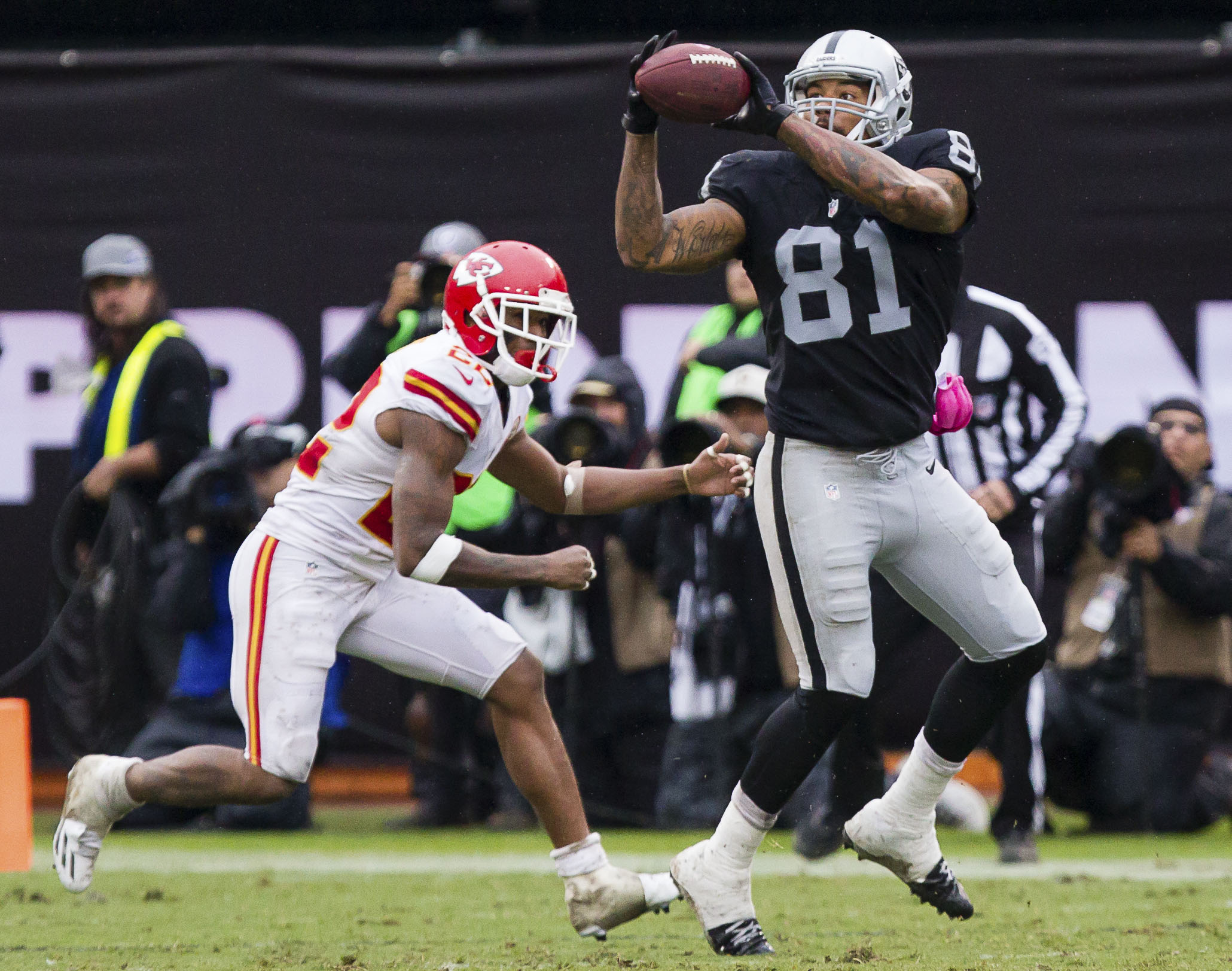 6
Mychal
Rivera
TE,

Tennessee
Mychal Rivera became a fan favorite soon after the Raiders picked him with their third sixth-round selection. He was one of the few bright spots that showed up with a big play once in awhile. But once in awhile isn't often enough once better players come to the team.
Rivera's hands aren't consistent enough as he has too many drops and he's not a great blocker. If you're not a great blocker as a tight end, you better catch the ball consistently or you're gone. Rivera got to the point where he was inactive in a few games this year.
There were a few trade rumors swirling around about him in the beginning of the season. But they were short lived because of injuries to Gabe Holmes and starter Lee Smith. The team has big hopes in Clive Walford, the team's 2015 third-round pick.
But injuries have slowed the beginning of his first two years in the NFL down. He'll be back next year along with Smith and Holmes, whom the team likes a great deal. So McKenzie has a decision to make on what to do with Rivera this offseason.
6
Stacy
McGee
DL,

Oklahoma
The fourth and final sixth-round pick was defensive lineman Stacy McGee from Oklahoma. At the time, I thought McGee could have been the best value pick McKenzie made that year. McGee had some off-the-field that made him fall all the way to the sixth round.
He flashed as a rookie and led then head coach Dennis Allen to identify him as a core player. He had a starting position waiting for him in Year 2 but he broke his hand just before the season. That set McGee back to the point where he never could get that starting position.
After more of the same in 2015, McGee looked like 2016 would be the year that he broke out. He was by far the best interior defensive lineman with the Raiders and at one time led the team is sacks. But that would come crashing to Earth due to an ankle injury.
McGee is powerful, making him stout against the run while his quickness makes him a good pass rusher. He has all kinds of talent but one has to wonder if he can stay healthy long enough to help. It will be interesting to see what McKenzie wants to do about this one.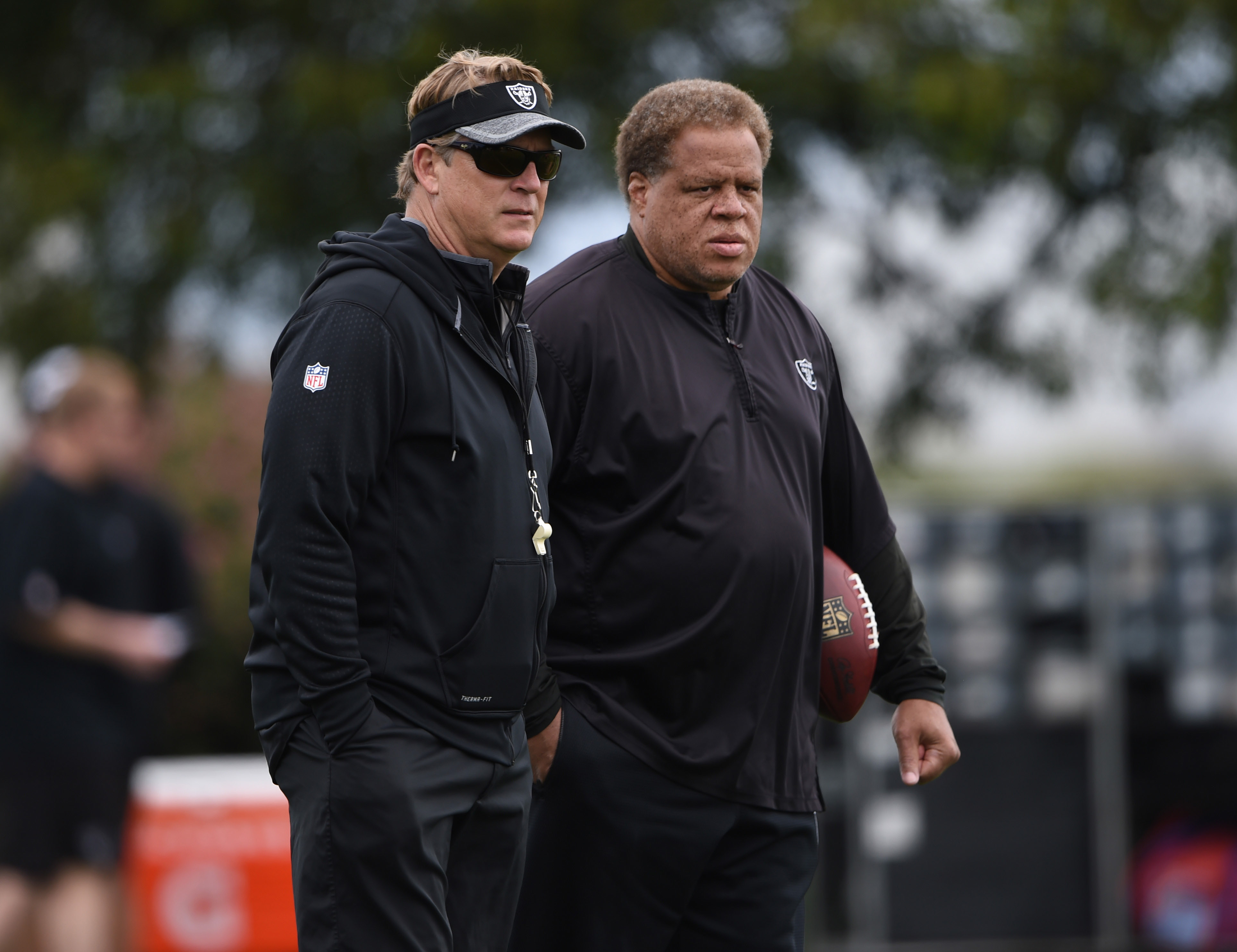 Bottom Line
Del Rio and McKenzie are going to have to put their heads together and decide who stays from this class. There is no one among these guys that makes one say, "We gotta keep him!" But at the same time no one is going to command top dollar in free agency.
Again, the class of 2014, especially Mack and Carr, will be coming up soon. So the class of 2013 will all get offers based on what they plan to offer the class of 2014 next offseason. Afterall, Mack and Carr are the reason why McKenzie got PFWA Executive of the year.
So the class of 2013 obviously won't take priority over the core of 2014 or recent free agents. One thing about this class is Rivera is the only one that has stayed healthy so far. So we don't fully know what all of them are capable of.
There's only one guy that I'm particularly interested in keeping and that's is McGee. He looks like he can be an extremely disruptive interior defensive lineman if he can stay healthy. The rest of them are guys the Raiders can take or leave to me.
What say you to that?
More from With the First Pick
This article originally appeared on