Signing of Aldon Smith creates a stir among Raiders' fan base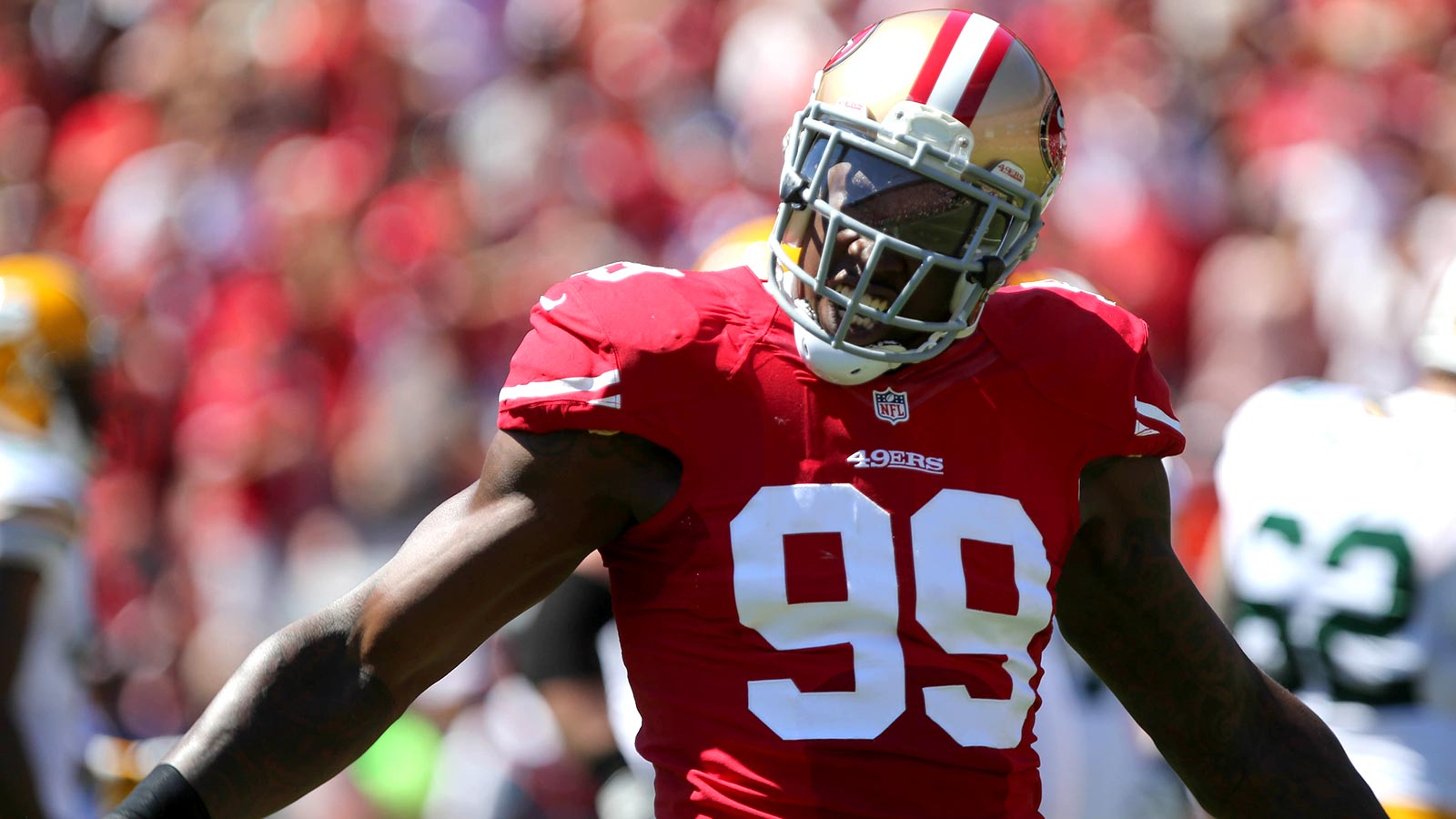 Friday's signing of troubled pass-rushing specialist Aldon smith created quite a stir among fans of the Oakland Raiders.
The fact that Smith agreed to a one-year deal with Oakland only five weeks after he was released by the Bay Area rival San Francisco 49ers following his fifth arrest since 2012 did nothing to quell the buzz among long-suffering Raider followers.
Khalil Mack and Aldon Smith on the edges of the same defensive line is probably not even possible in a Madden draft.

— Chris Trapasso (@ChrisTrapasso) September 11, 2015
BREAKING NEWS: All AFC West QBs have just retired #Raiders #AldonSmith

— Rellz (@RellzRantz) September 11, 2015
Aldon Smith to the Raiders too, love it. Between Smith and Khalil Mack that's one dangerous pass-rush attack

— Joel Forman (@joelthesakic) September 11, 2015
Despite Smith's checkered past, Oakland fans took to Twitter to praise the move while dreaming of a potentially lethal pass rush featuring Smith on one edge opposite up-and-coming star Khalil Mack, the No. 5 overall pick in the 2014 draft.
The once-proud franchise has not had a winning season since capturing the AFC West Division with an 11-5 mark in 2002.
Santa Clara County D.A.'s office is filing three misdemeanor charges against Aldon Smith. His arraignment is Oct. 6. #49ers #Raiders

— Eric Branch (@Eric_Branch) September 11, 2015
Sure enough, though, the good vibes did not last long. Within hours of the team's official announcement of Smith's signing came the news that the Santa Clara District Attorney's office charged Smith with three misdemeanors related to his most recent arrest.
#Raiders If the Santa Clara DA has just filed charges against Aldon Smith then the timing of the Raiders signing makes ZERO SENSE.

— Grouch (@Bad_Braminski) September 11, 2015
Guess Aldon Smith won't be joining the raiders for long if at all with those 3 charges

— George Zoulis (@George_Zoulis) September 11, 2015
Smith, who was suspended by the NFL for nine games in 2014, will be arraigned on Oct. 6 and is likely staring at another ban, prompting more tweets questioning the timing and the astuteness of the signing.
MORE NEWS:
Want stories delivered to you? Sign up for our NFL newsletters.