Oakland Raiders: 5 Players Who Have Underwhelmed In 2016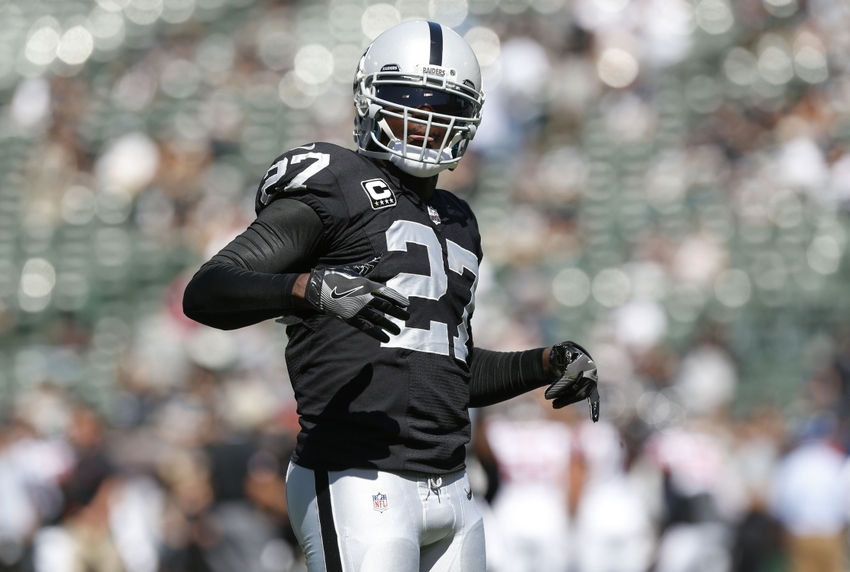 The Oakland Raiders may be rolling right now, but there are plenty of players who have been underwhelming thus far in 2016.
There really is a lot to like about this Oakland Raiders team entering Week 9. They're firing on all cylinders as Derek Carr and Co. continue to torch opposing defenses and put more notches in the win column. Unfortunately, it's not all rainbows and puppies for the Silver and Black.
Amidst the success, there are a few players not exactly living up to expectations in 2016. While some aren't total surprises, a couple of starters have struggled to provide the type of consistent play the Raiders needed from them.
These underwhelming players may not be costing the team too much at this moment, but that may change when the postseason rolls around. The Raiders are going to need everyone pulling their weight when January arrives. But the five players I'll pinpoint should have the coaching staff a little worried.
Obviously things could change between now and the playoffs. However, these players haven't had pleasant starts to their 2016 campaigns. With that in mind, let's take a look at the Raiders five most underwhelming players so far this season.
Clive Walford, TE
It's been a disappointing year for Clive Walford, the Raiders sophomore tight end ,who was expected to undergo a huge breakout season in 2016. Instead, he's been practically irrelevant in the Oakland offense.
Especially when Lee Smith landed on IR early in the year, things were looking up for the youngster. A knee injury slowed him, but he got healthy and still couldn't produce consistently. Now, he's starting to watch Mychal Rivera supplant him as the go-to option at tight end.
Yes, Walford is currently fourth in receptions and receiving yards this year, which isn't horrible. However, even with Amari Cooper and Michael Crabtree drawing defenses' attention, the former third-round pick hasn't been able to unleash his true potential. Just look at it this way: the Raiders No. 4 wide receiver has more touchdowns on the year.
If you're not convinced, Pro Football Focus currently has Walford ranked as the 52nd tight end out of 62. The only reason he isn't lower on the list is because he's earned solid marks as a run and pass blocker. The future is still bright for Walford, who has the tools to be a big-time playmaker in Oakland. However, based on expectations heading into 2016, it's safe to say he isn't living up to them.
Jihad Ward, DE
I wasn't shy about my dislike of the Raiders' decision to draft Jihad Ward in the second round. I gave the pick a grade of C+, and that was being lenient. Based on what we've seen this season, I'm confident my grade was fairly accurate.
Pro Football Focus currently has him as the lowest-graded Raider on the season, and only one player is anywhere near his level of ineptitude. On top of that, he's ranked as the NFL's No. 120 interior defensive lineman, with only two players earning worse grades through the middle of the year. Those figures paint a pretty ugly picture for the rookie who I considered a huge reach to begin with.
Despite playing the most snaps of any Oakland interior defensive lineman, he hasn't managed to notch a single sack. He's racked up 15 total tackles on the year, but routinely gets beat as a run defender and pass rusher. Honestly, it isn't surprising considering his subpar athleticism and inability to stand out on film at Illinois.
Things could get better, and I hope they do for Ward's sake. At this point, though, we've seen significantly more negative than positive from the rookie.
D.J. Hayden, CB
This comes as little surprise considering how disappointing D.J. Hayden has been during his three previous seasons. However, I wanted to shine a light on his ineffectiveness in 2016, especially considering the preseason buzz that had him primed for a breakout year. While the Raiders starting cornerbacks have been terrific, Hayden has been his usual, unreliable self.
Sure, he's racked up 29 total tackles on the year and has three pass breakups to his name. However, he's still battling issues with technique and footwork in coverage and it's leading to problems in the Oakland secondary.
It's been four years now and Hayden still can't seem to fix some of his fatal flaws. Pro Football Focus would back up my assertion, as he's currently sitting at 96th among 112 qualified cornerbacks.
I hoped Hayden would turn it around this season and take advantage of the potential he possesses. However, it appears that isn't going to happen. He's underwhelmed yet again, officially solidifying his status as a first-round bust. Let's just hope the Raiders make the right choice and let him walk next offseason.
Andre Holmes, WR
I know some folks are going to read this and say, "well, he has two touchdowns on the year." That may be correct—and it's also true that that's as many as Cooper has. It's also true that Andre Holmes has averaged only 5.4 yards per catch with the eight balls he's hauled in, including a season-long of eight yards.
We also need to remember that Holmes is currently on a one-year "prove it" deal with the Raiders. He tested his value on the open market this past offseason and ended up signing a modest deal to return to Oakland. Unfortunately, through the first half of the season, he hasn't done much to help his stock heading into 2017. Instead, he's been a little-used piece of one of the NFL's most dynamic passing attacks.
Holmes has watched Seth Roberts emerge as the clear-cut No. 3 receiver. All three of the Raiders relevant running backs also have more catches on the year. One final stat should help you understand: Holmes has almost as many run-block snaps (50) as pass-play snaps (62) this season (via Pro Football Focus). Compare that to Roberts, who has 99 run-block snaps and 300 pass-play snaps.
The Raiders obviously haven't seen what they were looking for out of Holmes. As a result, he's become an afterthought in the passing game, relegated to goal-line and blocking duties. It's disappointing when you consider the physical tools he's equipped with.
Reggie Nelson, FS
When Reggie Nelson was signed this offseason, he was supposed to be a part of the solution to the Raiders awful pass defense. Instead, he's been one of the only things holding the unit down in 2016.
As we've seen this year, there's a reason the Cincinnati Bengals weren't too eager to bring him back. Although he led the NFL in interceptions a season ago, it's clear his effectiveness in coverage is quickly declining. Just ask Pro Football Focus, which has given him miserable marks for his effort against the pass.
Now, obviously he was signed to be more than just a playmaker in coverage. Through the midway point of the season, Nelson leads the team in tackles on the season with 43 total. That production has earned him impressive grades from PFF against the run—the best in the Oakland secondary. He also provides veteran leadership and a strong locker room presence.
Unfortunately, he's also looked a bit lost at times like he did on this play.
I'm not saying Nelson has been bad. I just don't think the Raiders got the reliable safety they thought they were getting when they signed him this offseason. Hence, the "underwhelming" label and why he rounds out this list.
This article originally appeared on