Oakland Raiders 2017 Mock Draft: McCaffrey Coming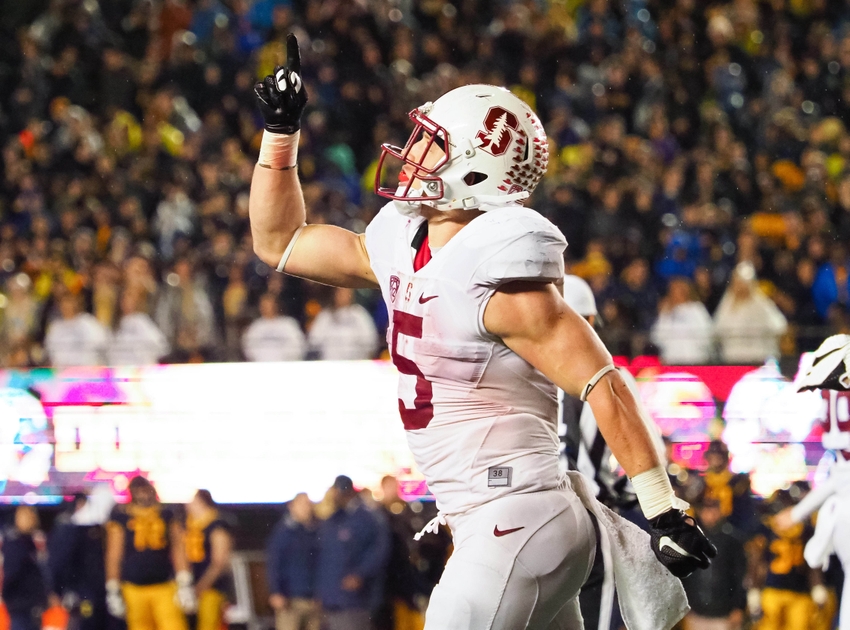 The Oakland Raiders have drafted a star in each of the last three drafts in the first round. In two of those years, they even drafted stars in the second round. This year, at least in this mock draft, make room for another one in Christian McCaffrey.
They say it takes three drafts to rebuild your franchise if you pick the right players. Oakland Raiders GM Reggie McKenzie has done that after two years of deconstruction. This is why he is getting a lot of well-deserved praised heaped on him these days.
The former Raiders player has truly come back home to save his team. OLB Khalil Mack, WR Amari Cooper and SS Karl Joseph are McKenzie's 1st-round picks since 2014. And all of them have made or are making and immediate impact and stars on the team.
QB Derek Carr, an MVP candidate so far this year, came in the second round. DE Mario Edwards Jr., who has yet to play this year because of injury, is a 2nd-round star too. The Raiders are contenders now so they'll likely pick much lower in the draft.
But this is a deep draft, particularly at edge rusher and running back. And in this draft, I have the Raiders getting RB Christian McCaffrey, who is one of the stars in it. This year's draft is pretty deep so the Raiders can find a player like that so low in the draft.
Turn the page to see how McCaffrey helps the Raiders and who they pick from there.
1
Christian
McCaffrey
RB,

Stanford
Latavius Murray appears to have improved from last year but he's getting less carries. He will be a free agent and could be the Lamar Miller of free agency this coming offseason. So we can't be too sure that Murray will come back with the Raiders next year.
So with their first pick in the 2017 NFL Draft, the Raiders get themselves a superstar at the position. McCaffrey is that star that could make plays for the team in a multitude of ways. As a runner, he can break tackles inside but it's his broken-field running that makes him special.
The Raiders offensive would constantly get him into the broken field and McCaffrey knows what to do from there. Speaking of the broken field, he'll be a killer in the screen game or on short passes. He can line up out wide, in the slot or simply catch passes out of the backfield.
The Raiders like to empty the backfield in their regular personnel package and McCaffrey is a good fit there. McCaffrey can also beat a guy deep with his blazing speed in the vertical game. Adding McCaffrey would almost be as good as putting a young Marcus Allen in this offense.
2
Vita
Vea
NT,

Washington
Head coach Jack Del Rio always says, "We like big people around here." when talking about his O-line and D-line. That's why the Raiders signed nose tackle Dan Williams in free agency last year. But then he reports to camp out of shape and he gets off to a slow start this year.
He couldn't stay on the field in the beginning of the season because he had conditioning issues. His guaranteed money has been paid so it might be time for move on from him. Meanwhile, backup nose tackle Justin Ellis is not who you want as your starter if you can help it.
So Vita Vea, a 6'5″, 332-pounder and strong as a bull is the pick here in the second round. Vea has the strength and power to stand up double teams to hold the line. He can also move remarkably well for his size to track down ball carriers in space.
Nose tackles generally get drafted later because it takes a while to develop their strength. But like Danny Shelton, who is also from Washington, he will come into the NFL with pro ready strength. He would come in and give the Raiders a boost against the run right away.
3
Montae
Nicholson
SS,

MIchigan State
The Raiders are reportedly already working on a deal to keep quarterback Derek Carr. They have the most expensive offensive line protecting him too so funds are limited. Of course, that has everything to do with why the Raiders will let Murray hit the market.
Free safety Reggie Nelson is 33 and making $4 million a year, which won't help either. And 2016 1st-round pick Karl Joseph plays in the deep part of the field 60 percent of the time. That's because Nelson no longer has the range he used to have while the youngster does.
So they might as well put him at free safety as he struggles with big tight ends in coverage. To do that, the Raiders need a big strong safety to replace him there and Montae Nicholson is it. Nicholson is 6'2″, 225 pounds and a freak athlete with an extensive track background.
He can cover the tight end with all that athleticism and play in the box as he is a big hitter. The Raiders are still struggling with tight ends and Nicholson could put an end to that. The defense would become a much better and harder hitting unit if he came to Raider Nation.
4
Jehu
Chesson
WR,

Michigan
It's time for No. 3 receiver Seth Roberts to become a No. 4 receiver because he drops too many passes. He's great when the game is on the line so the Raiders can wait until then to call plays for him. Don't think I'm saying that just because of his drops against the Houston Texans.
He's been doing that since he's been with the Raiders but has made up for it in the clutch. So here in the fourth round, I have the Raiders getting receiver Jehu Chesson as I do in every mock. I have him in every mock because I see him as a candidate for the steal of the draft.
Wilton Speight's struggles have stopped Chesson from showing superstar ability he has. Chesson put himself on the map in 2015 with Jake Rudock starting at quarterback. He absolutely abused 2016 1st-round cornerback Vernon Hargreaves III, beating him deep a couple of times.
At 6'3 200 pounds, Chesson has blazing speed as a result of his track background. He also has a good vertical to go up and get one and runs very well after the catch. His speed would open things up for Amari Cooper and Michael Crabtree at times too.
5
Hardy
Nickerson
ILB,

Illinois
Perry Riley has come in and done very well for the Raiders at the MIKE linebacker position. Malcolm Smith has since settled in at WILL but his contract will be up at he end of this year, Bruce Irvin can fill in there after NFL commissioner Roger Goodell gets back to the Raiders about Aldon Smith.
Ben Heeney has shown that he does not need to see the field if a starter gets hurt. So some depth at the inside linebacker position would be good to get here in Round 5. And Hardy Nickerson Jr. formerly of California and now from Illinois, is the right guy to give the Raiders depth.
Nickerson is the son of former 4-time Pro Bowl inside linebacker Hardy Nickerson Sr. Jr. started off at California but went to Illinois when Sr. was hired as the defensive coordinator there. So Nickerson is the son of a former NFL player at his position and a coach's son at the same time.
That means he will always know his assignment and never make mental mistakes or get lost. He's also productive with 92 tackles, 5.5 for a loss, two sacks and two interceptions on the year. Nickerson would give the Raiders excellent depth as a backup linebacker and contribute on special teams.
Again, I have to pull out the quote from Del Rio saying, "We like big people around here." Del Rio might be losing one this coming offseason as right tackle Matt McCants is a free agent. I can easily see a team like the Seattle Seahawks giving him some money.
The San Francisco 49ers could also offer him good money and a starting position. The Raiders used all their depth at right tackle this year so they need to replace McCants. And the big person the Raiders choose to take his place in Round 6 is Zach Banner.
Banner 6'9″, 360 pounds so he is plenty big and very athletic at his size. He actually played basketball as well as football during his time at USC. He didn't have a good season opener against Alabama but he has played much better ever since.
Banner has plenty to work on, which is why he's a 6th-round pick but has plenty to work with. But this a tower of power is the type you can play smash-mouth football with at right tackle. Offensive line coach Mike Tice could turn him into something but he'll start out as depth.
There are reports that nickel corner D.J. Hayden loves it in Oakland and the Raiders love him. He shouldn't be too difficult to sign so look for him to be back with the Silver and Black next year. But that doesn't mean the Raiders can't use another cornerback.
And Tony Brown will be there in the seventh round to bring in and develop into a solid cornerback. He is already a phenomenal athlete, an All-American 100-meter hurdler at Alabama. He just isn't projected so high because he has been in some trouble in his time there.
Most recently, Alabama sent him home early from the Cotton Bowl for an undisclosed violation of team rules. He also missed the National Championship Game and some time this year with that suspension. And that isn't all as Brown has a checkered past at Alabama.
He was arrested in January 2014 on charges of failure to obey and resisting arrest. If there's a time to roll the dice on a great athlete, the seventh round is the place to do it. Defensive backs coach Marcus Roberts could mold him into something and if not, it's no big loss.
More from With the First Pick
This article originally appeared on