No Fly Zone: Finding The Oakland Raiders A New DB Coach
Maliik Obee/FanSided via Just Blog Baby

Fansided
After firing Defensive Backs Coach Marcus Robertson, the Oakland Raiders are in need of a replacement. Here are some candidates.
Change is coming early in the offseason for the Oakland Raiders, with three coaching changes announced Wednesday. One major change includes the firing of Defensive Backs Coach Marcus Robertson, who began serving as Assistant DB Coach in 2014. Robertson was promoted to DB Coach the following season. Prior to coaching, Robertson was a two-time All-Pro safety for the Tennessee Oilers/Titans.
The move comes as no surprise, considering the horrendous play of the secondary in 2016. Oakland allowed 61 passing plays of 20 yards or more, the most in the NFL. While Robertson takes some of the blame, Oakland's defense was shoddy all-around.
Nevertheless, Robertson is out, leaving a vacancy that must be filled. Here are five candidates suited to get the job done, given the opportunity.
Charles Woodson
Who better than C-Wood — a legendary Raider — to rev up this dismal secondary? Woodson's rapport in the locker room goes without saying. For this reason, corralling players to buy in won't be an issue.
Just a year removed from playing in the NFL himself, Woodson obviously lacks coaching experience. But his work ethic as a player and leadership qualities could easily translate as a coach.
Presumably, Woodson's success would also depend on Ken Norton Jr's progression as a defensive coordinator. But if the future Hall of Famer wants to trade in his desk at ESPN for a headset on the sideline, he would far and away be the fan favorite replacement for Robertson.
Rod Woodson
Hall of Fame safety Rod Woodson is currently Oakland's assistant defensive backs coach. Woodson's assumed the position since returning to the Raiders staff in 2015. Prior, he served as Head DB Coach in 2011.
Unfortunately, Woodson's lack of talent in the secondary didn't help his case. Luckily, we can push the memories of cornerbacks Stanford Routt and Chris Johnson to the back of our minds. Currently, the secondary features young, unfulfilled potential, spearheaded by Pro Bowl safety Reggie Nelson.
With a better group of talent this time around, and also more coaching experience, Woodson could have better success in his second stint.
Donnie Henderson
Former Bills Defensive Backs Coach Donnie Henderson's track record is extensive, dating back to 1983. In Buffalo, Henderson got the best out of a young core, which consists of cornerbacks Ronald Darby and Stephen Gilmore.
Since Henderson's departure, turmoil struck the Bills secondary. Prior to Buffalo, Henderson coached DBs for the Detroit Lions, Jacksonville Jaguars and Arizona Cardinals. Most impressive is his time as New York Jets defensive coordinator in 2005, when the Jets pass defense was ranked second in the NFL.
Moreover, Henderson brings the best out of his players, a must for Oakland. As a veteran coach, he could be exactly what the Raiders secondary needs to get the ship turned around.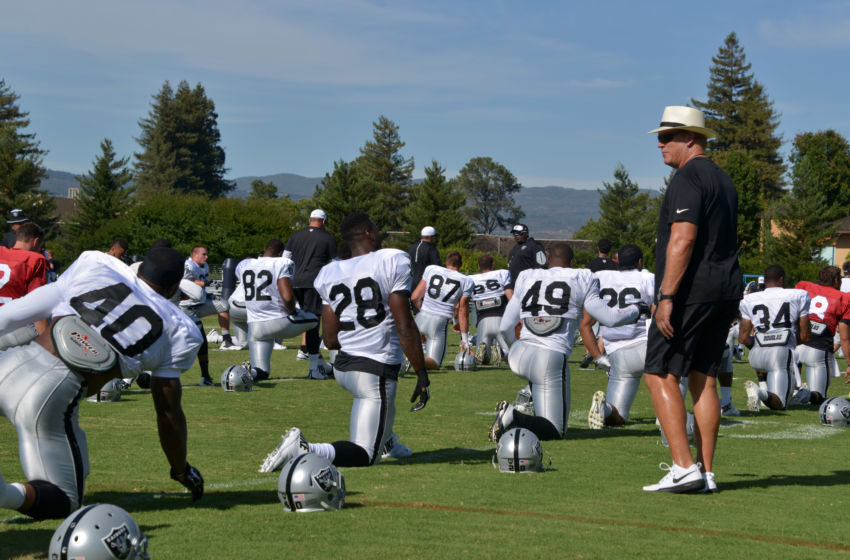 Ray Horton
The Cleveland Browns cleaned house this week, firing multiple coaches, including defensive coordinator Ray Horton. Horton is a former NFL cornerback and safety is a winner, a Super Bowl champion as a player and coach.
As defensive coordinator for the Arizona Cardinals in 2012, Horton's defense ranked fifth overall in pass defense. Presently, Oakland garners more talent in secondary than the Browns, so Horton would have that going for him if he joined the Raiders staff.
With free agency and the draft looming, Oakland could add the players needed to create something special in the secondary. Horton has been a highly regarded coach in the NFL for quite some time, and has interviewed for several head coaching positions in the past.
Louie Cioffi
Similarly to Horton, defensive backs coach Louie Cioffi was released by the Browns on Tuesday. Over the course of his 18 years as a coach in the NFL, Cioffi is responsible for tutoring the likes of star cornerbacks Patrick Peterson and Joe Haden.
In 2012, Cioffi was defensive backs coach for the Arizona Cardinals. Arizona's secondary lead the NFL in passer rating defense (71.2). Regrettably, Haden's injuries hobbled him in 2016, and the Browns secondary personnel was underwhelming.
Due to his experience, Cioffi seems like a coach who could come in and turn things around immediately.
Regardless of Oakland's decision, coaching by Defensive Coordinator Ken Norton Jr. must step up in a major way. Oakland's horrid pass rush, producing just 25 sacks, is a league worst. Potential is there for the secondary, evident by the amount of deflected 70 passes (16th) and also, Oakland's 16 interceptions ranks them 9th in the league.
This article originally appeared on