NFL Week Six Preview: Baltimore Ravens vs. New York Giants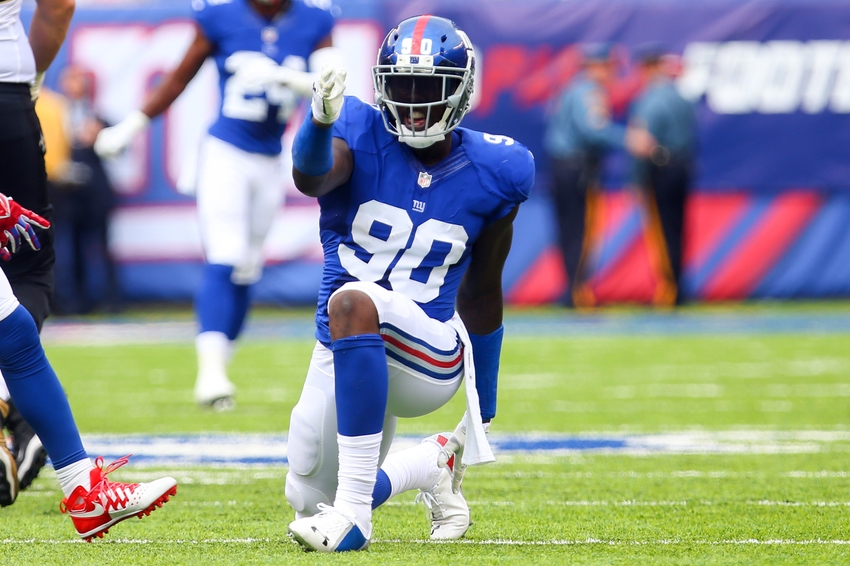 Two teams with high hopes are possibly staring at a "must win". Here is the preview and prediction as the Baltimore Ravens take on the New York Giants
Coming into the 2016 season, hopes were high for the New York Giants (2-3). With an offense that fielded one of the best wide receiver trios in all of the NFL along with a free-agency frenzy by hauling in high-priced defenders, some felt that the Giants were headed towards a playoff season with a possibility of a deep playoff run. Instead, the Giants find themselves in last place in the NFC East and facing a huge point in their season.
For the Baltimore Ravens, a disappointing but injury-riddled 2015 season was the first losing season under head coach John Harbaugh in his ninth season in Baltimore. A 3-0 start to this season has hit a two-game skid and now face a possibility of hitting .500 at almost the halfway point.
Who can get their season back on track with a must-need win for both teams? Here is the preview and prediction.
Why Baltimore Will Win 
Record aside, for a team that was decimated by injuries last season, the trend continues in 2016 for the Ravens. Currently, the team has 15 players in injured reserve which is incredible. What makes it even more impactful is that the team ended the 2015 season with 19 players in injured reserve.
The team does have their franchise quarterback in Joe Flacco, as he missed last season with a torn ACL. His presence hasn't helped a ton with an offense that is 22nd overall in the NFL in total offense and scoring offense but having his existence on the field provides hope at the very least. Flacco has thrown for 1,282 yards and five touchdowns with four interceptions.
This season, his favorite target has been tight end Dennis Pitta, who leads the team in catches with 28. Former Steelers & Dolphins wide out Mike Wallace has been leaned on a lot with 21 catches, 273 yards, and three touchdowns. The run game will continue to get going under veteran Terrance West who has rushed for 113 yards and 95 yards in the past two weeks.
What has been the catalyst for the Ravens has been a defense that is third in the NFL in total defense, sixth in scoring, and tied for fifth in interceptions with six. Linebacker C.J Mosley leads the team in interceptions with three along with four pass deflections and 21 tackles. Fellow starter Zach Orr leads the team in tackles with 27 while the sack department has been ran by longtime veteran Terrell Suggs (four) and lineman Timmy Jernigan (three).
Baltimore's run defense has been quietly stout this season has they have held four of their five opponents to under 65 rushing yards and only allows 3.6 yards per carry.
Why New York Will Win 
Things were supposed to be a little different for this Giants team and just like the Ravens, the team has also been the victim of the dreaded injury bug. Placing running back Shane Vereen on short-term IR took a key weapon off the field for the Giants offense.
Who is healthy is the combination of a potential devastating connection with quarterback Eli Manning and a trio of receivers in Odell Beckham Jr. (27 catches, 359 yards, TD) , rookie Sterling Shepard (22/277/2) and veteran slot receiver Victor Cruz (16/245/1). Manning himself has thrown for 1,385 yards with five touchdowns and four interceptions. The offensive line has been the trouble spot for the Giants and improved play from the entire line needs to be seen.
The defense has been decent at best but with the amount of money spent and draft picks used on this side of the ball, more was expected. The team spent $85 million dollars on defensive end Olivier Vernon and all he has produced is one sack with 12 tackles. Veteran defensive end Jason Pierre-Paul is getting plenty of pressure but the sack total (1) tells most of the story. Strong safety Landon Collins has arguably been the best player on defense so far this season with 31 tackles and a sack and the second-year defensive back is often seen sticking his nose into every play.
Cornerback Janoris Jenkins was the other big fish in free agency and his two interception game against the Green Bay Packers last week provides confidence that the talented corner can be an asset.
Prediction 
The play of the Ravens defense over the season has masked how average the offense has looked so far. The team has moved on from former offensive coordinator Marc Trestman and places the keys to the unit in the hands of Marty Mornhinweg. 
Moves made such as that usually takes a few weeks to get off the ground, especially with a Ravens offense that was in a funk beforehand while also dealing with an uncomfortable amount of injuries.
The Giants offense on the other hand has been stagnant also. Luckily for them, it's all about getting on the same page with Manning and his receivers as well as try to squeeze some time of positive play from their offensive line.
The Ravens front seven will make things interesting against a mediocre Giants offensive line and their stout run defense will build a wall against a Giants run offense that has seen little life to this point of the season already.
The trouble is, the Ravens offense can't make enough plays to aid their solid defense and if the offensive line for New York can keep Manning upright and allow Manning to connect with his receivers in the pass game, the Ravens simply can't keep up in the scoring department.
This is a winnable game for the Giants against a home crowd that will be fired up. The Giants can use a little home cooking and will probably feast off that crowd against a Ravens team that is still trying to find some kind of footing on offense.
Prediction: Giants, 24-16 
This article originally appeared on