NFL Week Nine Preview: Denver Broncos vs. Oakland Raiders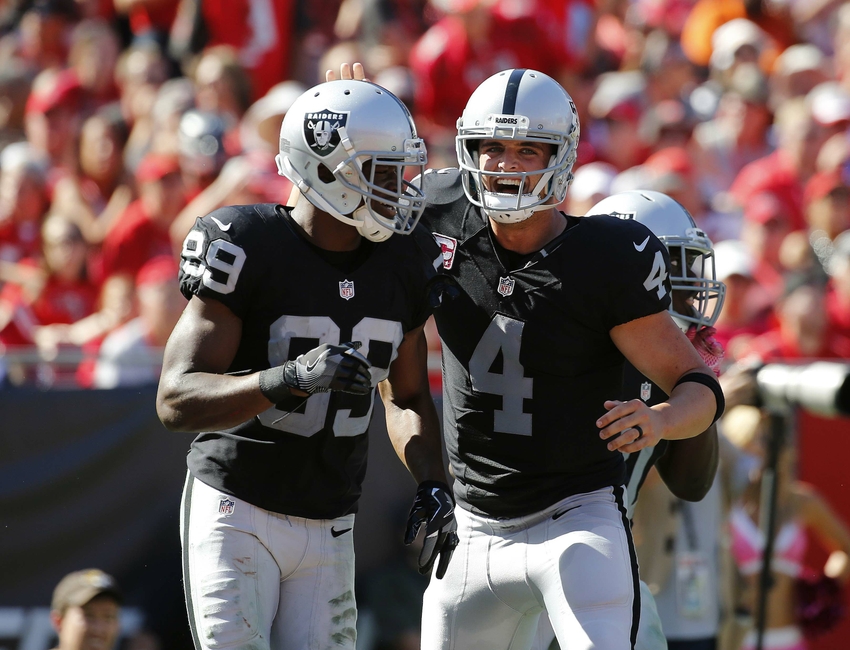 Many, including myself, felt that things were going to be a little different this season in the AFC West. Sure, saying that the Denver Broncos (6-2) were the favorites to repeat as division champs was not uncommon logic. Despite the major quarterback switch, the Broncos still have enough ammunition in the chamber to have a successful 2016 season.
What many considered to be different this season was who would be the biggest competition for the defending Super Bowl champion Broncos.
Low and behold, it is the once-hapless Oakland Raiders (6-2) who pose the biggest challenge to Denver. If you haven't been aware of the Raiders at this point, this isn't the same losing team that was an eyesore to watch the past decade and some change. A Raiders team with a young, vibrant quarterback, a set of efficient, big-play receivers, and a coach who has instilled a winning attitude will welcome the veteran-led Broncos on Sunday Night Football for week nine of the season, with first place in the AFC West on the line. Let's preview the important AFC contest.
Denver Broncos Summary 
The main identity for the Super Bowl 50 champions coming into the season was their stellar defense, led by outside linebacker Von Miller and a stout secondary. Things still have not changed for the 3rd ranked defense in the NFL as they allow only 17 points per game (Fifth in NFL) along with just 183.9 passing yards per game (First in NFL). Miller leads the team in sacks with 8.5 along with 24 tackles while contributions from backup linebackers Shane Ray and Shaquil Barrett has helped the unit tremendously during the absence of starter DeMarcus Ware. Defensive end Derek Wolfe is second on the team in sacks with 4.5 and is often overshadowed by his more publicized teammates.
What will be truly missed is the presence of starting cornerback Aqib Talib and backup corner Kayvon Webster as both are out of this contest due to injuries. Which means cornerbacks Chris Harris Jr., and Courtney Roby will be tasked to fulfill the absence of Talib and Webster to the best of their abilities.
In last week's 27-19 win over San Diego, first year starter Trevor Siemian passed for 276 yards and an interception and he hasn't necessarily been the same since injuring his shoulder in week four at Tampa Bay. His play will have to take on a little more importance with a rookie behind him at running back in Devontae Booker, who takes over the spot with original starter C.J. Anderson on I.R after knee surgery. Receivers Demaryius Thomas (42 catches, 535 yards, four TDs) and Emmanuel Sanders (44/567/3) have been the solid one-two punch for an offense that is 12th in the NFL in scoring at 24.3 points per game.
Oakland Raiders Summary 
These Raiders seem different.
Head coach Jack Del Rio has taught this young team how to win and carry themselves with plenty of confidence. The captain of the ship is third-year quarterback Derek Carr, who is fifth in the NFL in passing yards with 2,321 yards and tied for third in touchdown passes with 17. Carr has been able to steer the Raiders lethal offense thanks in part to an offensive line that has arguably been a top five unit in all of the NFL. The line has given up the least amount of sacks in the NFL this season (9) and is a large, physically imposing offensive line. Carr has a pair of receivers in Amari Cooper (52/787/2) and Michael Crabtree (47/569/6) that can stake a claim as the best WR duo in the league.
While the offense is posting impressive numbers, the defense has been giving up a ton of yards and points as well. The unit is 31st in total defense and 22nd in scoring defense but to their defense (no pun intended) they have been playing a little better the past couple of weeks. Linebacker Khalil Mack has started to make plays consistently with four sacks in the last three games after having just one in the first five games of the season. Rookie strong safety Karl Joseph is second on the team in tackles with 31 to go along with one interception and five pass deflections. His play in the secondary has really stood out on a defense that has struggled for the most part.
One positive for the unit as well is that they are sixth in the league in takeaways with 13. Cornerbacks Sean Smith and David Amerson along with free safety Reggie Nelson each have two interceptions.
Prediction 
Two division rivals with first place in the AFC West on the line and despite past seasons and reputations of both teams, this is a Sunday Night matchup that will be worth the admission.
A 6-2 Raiders team is flying high right now and a lot of that is boosted by the fact that the team is 5-0 on the road this season. This week, they are in the confines of their own palace in Oakland with an offense that can score with the best and a defense that is slightly improving.
While Denver sports the third best defense in football statistically, the absence of their #1 corner in Talib and a reserve corner in Webster is critical against an Oakland offense that is pass heavy and likes to go with three and four receiver sets at times.
Two things to monitor very closely in this contest: 1.) Denver's extremely productive pass rush which is tied for first in the league in sacks with 26. The Raiders O-line is one of the best and feature a physical set of blockers that are all large but active. 2.) The Raiders rush defense which has allowed over 130 rushing yards on four different occasions this season. Denver is a little shorthanded in the run department and will lean on the rookie Booker more than they may actually want, plus Denver has only topped 100 rushing yards or more three times this season. In five of their last six games, Denver has been held to 89 rushing yards or less.
Oakland has the playmakers to make this interesting and they probably will. The thing is, can they make the "winning" plays when the opportunity arises? The ones that Denver has made consistently over the past several seasons and continue to make this season as well. This game can go back and forth and I expect it to. I also expect Oakland to take advantage of a banged-up Denver secondary with Carr connecting with Crabtree and Cooper just enough to steal one against the rival Broncos.
Prediction: Oakland, 24 – 20 
This article originally appeared on