NFL Week 7: Who Plays on Sunday Night Football?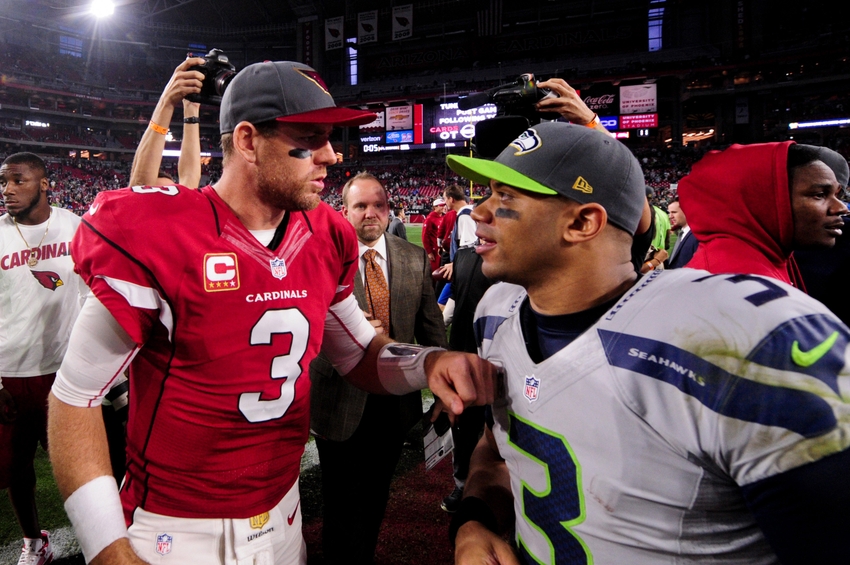 Taking a look at which two teams will be in action on Sunday Night Football for NFL Week 7
To end what should be an exciting Sunday in NFL Week 7, Sunday Night Football brings a classic NFC West rivalry game to the masses. The Seattle Seahawks hit the road to take on the Arizona Cardinals in primetime football.
The Seahawks are coming off a win over the Atlanta Falcons with the final score being 26-24. It was a nailbiter of a game that saw the Seahawks do just enough to leave the game victorious. The Cardinals are also coming off a victory in which they manhandled the New York Jets on Monday Night Football with the final score being 28-3.
This game will very well come down to what teams wants it more. It's the same with every game in the NFL. However, this could very well determine who ultimately wins the NFC West. The Seahawks are 4-1 on top of the division, while the Cardinals are 3-3 ready to prove they're back to winning ways.
Both teams are capable of playing very good, all-around football. The Seahawks have their infamous "Legion of Boom" while the Cardinals will have their veteran gunslinger Carson Palmer back and ready to take care of business.
This game will very well come down to how efficient quarterback Russell Wilson will be and of course, the incredible dynamic presence running back David Johnson brings to the Cardinals offense. Fans should expect to see some solid offensive production from both teams with it possibly even coming down to the wire since both teams are so evenly matched.
It will be very interesting to see the kind of damage Johnson can to do to an unforgiving, run-stopping defense against like that of the Seahawks. They have been able to effectively shut down any running back trying to establish the run.
Kickoff is scheduled for 8:30 p.m. ET at the University of Phoenix Stadium and televised nationally on NBC. If there is any game to watch this week, it's this one as it has potential to be an incredible football game.
This will be the 35th matchup between the Seahawks and Cardinals during the regular season. The series is actually tied 17-17 entering Sunday night's matchup.
This article originally appeared on