NFL Week 7: Simulating Each Game in Madden 17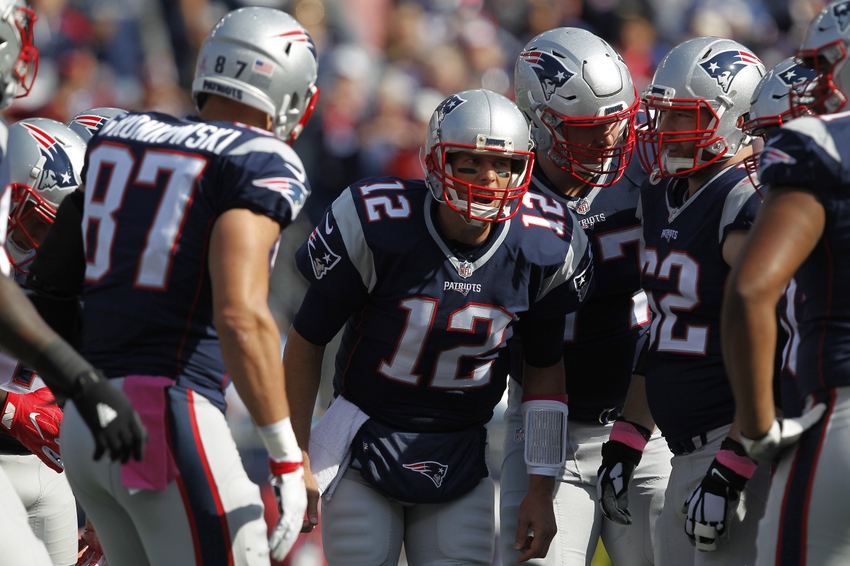 NFL Week 7 is decided before the games even kick off thanks to the most popular sports game in the world according to NFL fans, Madden 17
Last week we kicked off our Madden Simulations series. Everyone loves the game and sometimes it can be incredibly accurate.
This past week however, it really wasn't. Looking back on the games from this week, Madden was correct on just seven-of-15 games.
There were a couple of good calls though. Madden correctly picked wins by the Washington Redskins, Dallas Cowboys, and Kansas City Chiefs.
Some of the games missed included the Baltimore Ravens losing to the New York Giants, the Miami Dolphins' huge upset over the Pittsburgh Steelers, and the Houston Texans improbable comeback over the Indianapolis Colts on Sunday Night Football.
The worst prediction though was the tie on Monday Night Football between the Arizona Cardinals and New York Jets.
We will see if the computer simulated games are more accurate to what happens in real life this week. We have some big games like the Thursday Night Football showdown between NFC North foes, Green Bay and Chicago. There's also a suddenly important NFC showdown between the Giants and L.A. Rams which will be played in England.
The most drama though surely will come as two quarterbacks face their old teams. Sam Bradford and the Minnesota Vikings take on the Philadelphia Eagles and Brock Osweiler takes on the Denver Broncos with his new team, the Houston Texans.
Green Bay Packers vs. Chicago Bears

23

16
The Green Bay Packers get back on track after falling to the Dallas Cowboys at home last week. They struggle to get a whole lot going on offense in the first half as they head to the intermission down 10-9.
The defense holds Chicago to a field goal in each quarter in the second half and Green Bay adds a touchdown in each. They head out of the short week with a close win on Thursday Night Football.
Green Bay Stars
Aaron Rodgers , QB —  201 yards, one touchdown, one interception
Randall Cobb, WR —  Three receptions, 36 yards, one touchdown
Clay Matthews, LB — Eight tackles, one sack, one forced fumble
Chicago Stars
Brian Hoyer, QB — 198 yards, one touchdown
Zach Miller, TE — Seven receptions, 58 yards, one touchdown
Adrian Amos, S — Four tackles, one interception
New York Giants vs. Los Angeles Rams

19
34
This one was a tale of two halves. The Giants came out guns blazing and put up 19 points in the first half. The 19-14 score was the last time they saw a lead as L.A. dominated the final 30 minutes.
The Rams got things going with 10 points in the third and added another 10 after that. They even had Jared Goff make an appearance at quarterback. Some Rams fans are probably hoping that part comes true as well.
New York Stars
Janoris Jenkins, CB — Three tackles, one interception
Josh Brown, K — 4-of-4 field goals
Sterling Shepard, WR — Seven receptions, 69 yards
Los Angeles Stars
Jared Goff, QB — 233 yards, one touchdown
Kenny Britt, WR — Five receptions, 45 yards, one touchdown
Trumaine Johnson, CB — Seven tackles, one interception, three pass deflections
New Orleans Saints vs. Kansas City Chiefs

28

31
The Saints can score with any team, and they did in our simulation here. Also true to real life, they couldn't play defense in Madden.
Three touchdowns in the second quarter doomed the Saints as the Chiefs were able to control the clock for most of the second half. New Orleans scored late in the fourth, but they were unable to catch K.C.
New Orleans Stars
Drew Brees, QB — 319 yards passing, four touchdowns
Brandin Cooks, WR — Seven receptions, 104 yards, one touchdown
Coby Fleener, TE — Seven receptions, 53 yards, one touchdown
Kansas City Stars
Alex Smith, QB — 271 yards, two touchdowns
Spencer Ware, RB — 21 rushes, 95 yards, two touchdowns
Jeremy Maclin, WR — Seven receptions, 105 yards, one touchdown
Philadelphia Eagles vs. Minnesota Vikings

0

31
If this one holds true, things will feel bleak for Eagles fans. They started 3-0, but would be 3-3 with a loss here. A shutout loss against the team with their old quarterback would probably feel even worse.
Sam Bradford didn't throw a ton, but he was effective. This one was over by the half thanks to the defense stifling rookie quarterback Carson Wentz, who had three picks total in the game.
Philadelphia Stars
Ryan Mathews, RB — 16 rushes, 67 yards
Nelson Agholor, WR — Seven receptions, 93 yards
Mychal Kendricks, LB — 10 tackles, 0.5 sacks
Minnesota Stars
Sam Bradford, QB — 195 yards, two touchdowns
Matt Asiata, RB — 13 rushes, 60 yards, one touchdown
Eric Kendricks, LB — Seven tackles, one interception
Indianapolis Colts vs. Tennessee Titans

20

34
Things go from bad to worse for the Colts. They drop another divisional game and are now 2-5 on the season. They are falling out of playoff contention fast.
Their defense gives up 478 yards to the Titans, who are powerful through the air and on the ground. Tennessee is making a push for positioning in the AFC South in this simulation.
Indianapolis Stars
Andrew Luck, QB — 237 yards passing, three touchdowns
T.Y. Hilton, WR —  Six receptions, 76 yards, one touchdown
Robert Turbin, RB —  Three receptions, 33 yards, one touchdown, six carries, 31 yards
Tennessee Stars
Marcus Mariota, QB — 206 yards passing, two touchdowns, 21 yards rushing, one touchdown
Derrick Henry, RB — 19 rushes, 66 yards, one touchdown
Delanie Walker, TE — Six receptions, 80 yards, two touchdowns
Buffalo Bills vs. Miami Dolphins

13

10
Both the Buffalo Bills and Miami Dolphins were offensive beasts in Week 6. Don't tell that to our EA fortune teller. In this simulation, the teams combine for fewer points than either put up last week individually.
At the half the score was 0-0 and it took until a last-second field goal for things to be decided. Neither team was explosive on offense, Miami had 168 passing yards and Buffalo just 219. Hopefully the real game is a little more exciting.
Buffalo Stars
LeSean McCoy, RB — 22 rushes, 91 yards
Tyrod Taylor, QB — 217 yards passing, one touchdown
Dan Carpenter, K — 2-of-2 kicking, game winning FG
Miami Stars
Ryan Tannehill, QB — 168 yards passing, one touchdown
Jarvis Landry, WR — Two receptions, 67 yards, one touchdown
Ndamukong Suh, DT — 12 tackles, one sack
Washington Redskins vs. Detroit Lions

24

21
Both teams were winners in Week 6, but Detroit can't keep it going. Washington on the other hand reels off their fifth straight win. It was close throughout, but the Redskins put up 11 in the final quarter to seal the win.
Washington Stars
Kirk Cousins, QB — 278 yards passing, two touchdowns
DeSean Jackson, WR — Seven receptions, 54 yards, one touchdown
Dustin Hopkins, K — 3-of-3 field goals
Detroit Stars
Justin Forsett, RB — 11 rushes, 55 yards, one touchdown
Marvin Jones, WR — Six receptions, 38 yards, one touchdown
Tahir Whitehead, LB — 12 tackles, 1.5 sacks
Cleveland Browns vs. Cincinnati Bengals

18

33
The battle of Ohio goes to the Bengals here. Neither team has done very well so far this season, but Cincinnati could get things going with a big win here.
Both teams moved the ball with ease as Cleveland had 424 yards of offense and Cincy had 369. The difference was that Cleveland settled for field goals more often than the Bengals did.
Cleveland Stars
Cody Kessler, QB — 302 yards, one touchdown
Terrelle Pryor, Sr., WR — 10 receptions, 97 yards, one touchdown
Emmanuel Ogbah, LB — Five tackles, one sack
Cincinnati Stars
Andy Dalton, QB — 226 yards passing
Jeremy Hill, RB — 10 rushes, 37 yards, one touchdown
Giovani Bernard, RB — 21 rushes, 86 yards, one touchdown
Oakland Raiders vs. Jacksonville Jaguars

37

21
Last week Oakland was throttled from beginning to end by Kansas City. According to our video game world, they do the same to Jacksonville in Week 7.
Oakland goes for 417 yards, including 178 rushing as they put the poor week they just had in the rear view mirror. Jacksonville loses the momentum they had from their comeback win against Chicago last week.
Oakland Stars
Derek Carr, QB — 239 yards passing, four touchdowns
Latavius Murray, RB — 25 rushes, 91 yards
Clive Walford, TE — Two receptions, 19 yards, two touchdowns
Jacksonville Stars
Blake Bortles, QB — 293 yards passing, three touchdowns
Allen Robinson, WR —  Six receptions, 99 yards, one touchdown
Telvin Smith, LB —  12 tackles, two for a loss
Baltimore Ravens vs. New York Jets

14

24
The Ravens are in full-on free fall mode as they lose another lead. Up 14-10 at the half, they collapse late…again.
The Jets finally stop their skid with a win here. Ryan Fitzpatrick looks like the player he was in 2015 in the win.
Baltimore Stars
Terrance West, RB —  13 rushes, 55 yards, one touchdown
Mike Wallace, WR —  Four receptions, 110 yards
Eric Weddle, S — Five tackles, one interception, 0.5 sacks
New York Stars
Ryan Fitzpatrick, QB — 295 yards, one touchdown
Matt Forte, RB —  20 rushes, 85 yards, two touchdowns
Brandon Marshall, WR —  Six receptions, 85 yards
San Diego Chargers vs. Atlanta Falcons

31

37
Again, Atlanta shows no problem putting up points. Again, they struggle to stop opponents from scoring. They lead the entire game, but San Diego keeps fighting. They just don't have enough in the end though and Atlanta gets a solid win after a tough loss last week.
San Diego Stars
Philip Rivers, QB — 341 yards, three touchdowns
Travis Benjamin, WR —  Seven receptions, 118 yards, one touchdown
Hunter Henry, TE — Six receptions, 54 yards, two touchdowns
Atlanta Stars
Matt Ryan, QB — 358 yards, two touchdowns
Devonta Freeman, RB —  21 rushes 105 yards
Tevin Coleman, RB —  10 rushes, 27 yards, two touchdowns
Tampa Bay Buccaneers vs. San Francisco 49ers

30

11
Jacquizz Rodgers keeps running wild. The Bucs newest running back powers the team to another win, this time over the hapless 49ers. Chip Kelly may be gone pretty soon…
Tampa Bay Stars
Jameis Winston, QB — 191 yards, three touchdowns
Jacquizz Rodgers, RB — 26 rushed, 120 yards, two receptions, 18 yards, one receiving touchdown
Kwon Alexander,  LB —  Seven tackles, two for a loss, one interception
San Francisco Stars
Colin Kaepernick, QB — 183 yards passing, three rushes, 26 yards
Jeremy Kerley, WR — Six receptions, 63 yards
Aaron Lynch, LB —  14 tackles, one sack
New England Patriots vs. Pittsburgh Steelers

51

45
Please let this one come true. The Patriots go for 614 yards of offense and the Steelers go for 559 yards. This would be the most exciting game ever. However, it most likely won't be true because Landry Jones went off in this one.
New England Stars
Tom Brady, QB —  516 yards, six touchdowns
Julian Edelman, WR—  Eight receptions, 139 yards, two touchdowns
Chris Hogan, WR — Eight receptions, 97 yards, one touchdown
Pittsburgh Stars
Landry Jones, QB — 307 yards, one touchdown
Le'Veon Bell, RB —  17 rushes, 106 yards, two touchdowns
Antonio Brown, WR —  Seven receptions, 116 yards

49

13
The Seahawks show up on Sunday Night Football with their defense and offense firing on all cylinders. The Cardinals barely even show up in this one.
Trailing 28-7 at the half, they all but give up and manage just a field goal in each the third and fourth quarters while the 'Hawks continue their onslaught.
Seattle nearly doubles their NFC West foe in total yardage and they force three turnovers as well. Running back David Johnson sees his hot streak come to an end as he gets just 55 yards on the night.
Seattle Stars
Russell WIlson, QB — 293 yards passing, five touchdowns
Doug Baldwin, WR —  Eight receptions, 71 yards, four touchdowns
Earl Thomas, S —  11 tackles, one interception, one forced fumble
Arizona Stars
David Johnson, RB —  11 rushes, 55 yards
Deone Bucannon —  12 tackles
Larry Fitzgerald, WR — Three receptions, 60 yards
Houston Texans vs. Denver Broncos

38

21
The Texans use their fourth-quarter comeback on Sunday Night Football as a springboard into another prime time win. This time they knock off the defending champs on Monday Night Football.
This time, Madden says no fourth quarter heroics will be needed though as Houston is in control throughout the game. Houston has an efficient game and takes a 24-7 halftime lead before milking the clock with a solid running game to close it out.
Their defense is stout as well, they hold the Broncos in check by forcing four picks of quarterback Trevor Siemian.
Houston Stars
Brock Osweiler, QB — 209 yards passing, two touchdowns
Lamar Miller, RB — 23 rushes, 102 yards, one touchdown
A.J. Buoye, CB —  Three tackles, two interceptions
Denver Stars
C.J. Anderson, RB —  16 rushes, 71 yards
Devontae Booker, RB —  Six rushes, 18 yards, one touchdown
This article originally appeared on