NFL Week 6 Picks Against the Spread for Each Game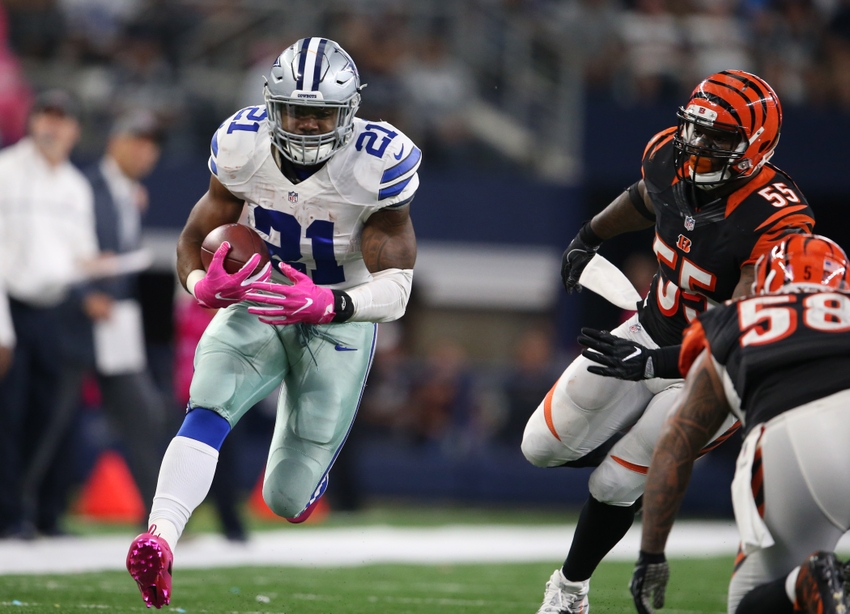 Making NFL Week 6 picks against the spread for every game and keeping track of  the season-long record against the odds
If making picks against the spread were the Hunger Games, I'd be a goner because the odds were not in my favor in Week 5. After finally getting above .500, I squandered it all away with an absolutely putrid week that I was oddly confident for going into. Even worse, I fell victim to the dreaded push with the New York Giants. Ah well—here's to things looking up for these NFL Week 6 picks against the spread.
However, there are a few things that make Week 6 even more difficult to assess. Not only are there still teams that should be good and are struggling, but there are also a plethora of massive spreads for this week's slate of games. That means things are about to get absolutely wild, if you ask me.
What's worse is that I've already dug myself a hole with these NFL Week 6 picks. After posting a solid record on Thursday night, I put my faith in the Denver Broncos. As we know, Trevor Siemian led a flaccid offense into that game and it came back to bite me.
No one ever triumphed by giving up, though. Thus, we wage on in this war against the odds. Here are the picks against the spread for every Week 6 game. Hopefully Thursday isn't an indication of how things are about to play out.
Week 5 Record: 5-8-1
2016 Season Record (No Picks Week 1): 29-31-1
Carolina Panthers (-2.5) at New Orleans Saints
Cam Newton is likely going to make his return for this game agains the Saints. However, the Panthers have done nothing with or without Newton to inspire a lot of confidence. Even if their offense shows up with Newton and an also-returning Jonathan Stewart, Drew Brees should be able to pick the Panthers young secondary apart—especially at home in the dome.
Pick: Saints +2.5
Philadelphia Eagles (-2.5) at Washington Redskins
Washington is certainly riding high after reeling off three-straight wins and getting right into the thick of the NFC East race. Meanwhile, Carson Wentz and the Eagles are coming off of their first loss of 2016. Even though you'd like to know how the rookie will respond, it's hard to find many areas where Philly isn't the better team in this matchup.
Pick: Eagles -2.5
Cincinnati Bengals at New England Patriots (-7.5)
One week removed from getting shredded by Ezekiel Elliott and Dak Prescott—and also being stifled by a Dallas defense that is devoid of talent in some areas—the Bengals now get to face the Patriots for Tom Brady's return to Foxboro. No over-thinking this one; give me Touchdown Tom.
Pick: Patriots -7.5
Pittsburgh Steelers (-7) at Miami Dolphins
The oddsmakers must really hate the Dolphins to have them as seven-point underdogs at home. However, they probably should considering how abysmal this team has been on both sides of the ball. Pittsburgh has been the polar opposite as they seem to be hitting their stride. Ben Roethlisberger and company should roll.
Pick: Steelers -7
Cleveland Browns at Tennessee Titans (-7.5)
Marcus Mariota and the Titans looked to finally get in a rhythm last week with the win over Miami. Meanwhile, the Browns are left with an injured third-string quarterback starting. This sounds like a great time for a young Tennessee team to start building momentum in a big way.
Pick: Titans -7.5
San Francisco 49ers at Buffalo Bills (-8)
There's no question that this line is high, especially with the chance that Colin Kaepernick could galvanize the 49ers. However, it turns out that this Bills team might actually have just experienced a bad start and could be quite good. At home in front of the always-raucous Buffalo fans, I'll take the favorites again.
Pick: Bills -8
Jacksonville Jaguars at Chicago Bears (-2.5)
I know I sound like a crazy person, but I still believe that the Jaguars are a good young team on the verge of breaking out. Meanwhile, Brian Hoyer is good for the Bears—but he doesn't play defense and that hasn't meant wins for this team. I'm taking the points and think Jacksonville wins outright.
Pick: Jaguars +2.5
Baltimore Ravens at New York Giants (-3.5)
Are the Ravens much worse than their 3-0 start? Could the Giants have just had tough competition and not been good enough? I hate this matchup and line because I'm not sure of the answer to either question. What I do know, though, is that the Ravens are about to have a change on offense after firing Marc Trestman. I think it's a change for the better.
Pick: Ravens +3.5
Los Angeles Rams at Detroit Lions (-3)
Against all odds, I think the Rams might actually be the slightly better team in this matchup. That being said, I don't like the notion of Case Keenum traveling across the country for an early start. That should result in even more offensive incompetency from the Rams and give the home Lions the win outright and against the spread.
Pick: Lions -3
Kansas City Chiefs (-2) at Oakland Raiders
Betting against Andy Reid and the Chiefs coming off of a bye is always a bad move. However, I don't think this Raiders team should be the underdogs at home at this point. Even if they've made fans sweat, they're 4-1 for a reason. I'm taking the points and the home-dog.
Pick: Raiders +2
Dallas Cowboys at Green Bay Packers (-4.5)
Dak Prescott and the Cowboys have proven they're for real. But are they real enough to go on the road at Lambeau Field and pick up a huge win? This will be a matchup of strengths as the Cowboys top-ranked rushing offense faces the Packers top-ranked rushing defense. In the end, though, I have the Cowboys strengths being just a little more important—or at least enough to where I take the points.
Pick: Cowboys +4.5
Atlanta Falcons at Seattle Seahawks (-7)
The oddsmakers still don't believe in the Falcons, clearly. Even if they are on the road against a quality Seahawks team, being underdogs by a touchdown is a lot. That said, I'm not totally sure what to make of this game considering both teams are quite good by my estimation. Against better judgment given the line, though, I think the Seahawks are enough to stop the Falcons and pick up a decisive win.
Pick: Seahawks -7
Indianapolis Colts at Houston Texans (-3), Sunday Night Football
I'm still of the opinion that the Houston defense may fall off without J.J. Watt. Sure, they looked good enough last week—but that was against a heavily injured offensive line. However, the Colts line is also quite horrendous and their defense is even worse. So despite my lack of faith, give me the Texans at home on Sunday Night Football.
Pick: Texans -3
New York Jets at Arizona Cardinals (-7.5), Monday Night Football
After being highly disappointing, the Cardinals pulled a big win out on Thursday Night Football in Week 5. And they did so with Drew freaking Stanton at quarterback. Carson Palmer should be back for this one and the Jets look like a mess. I think Arizona's about to turn it on (finally) and the Jets should be worried about what's about to happen to them.
Pick: Cardinals -7.5 
This article originally appeared on