NFL Week 3: 5 Players to Watch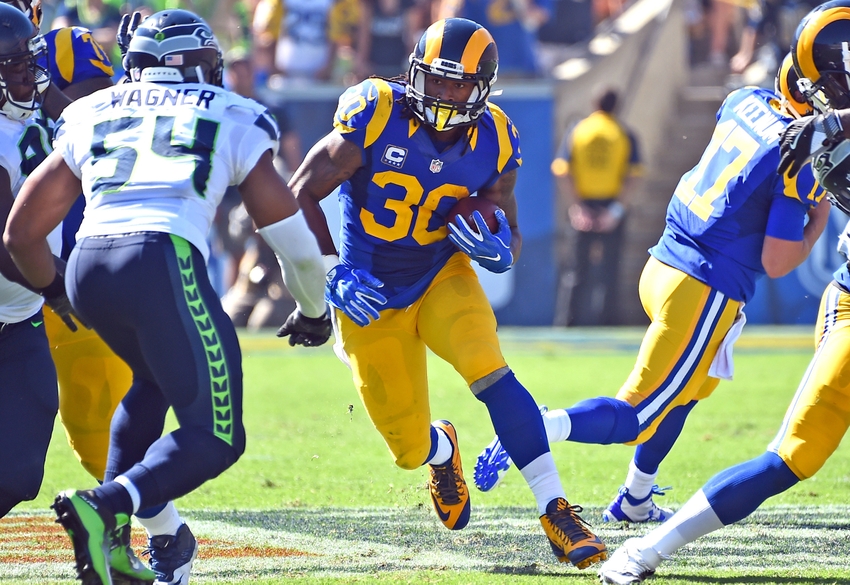 NFL Week 3 is upon us after a litany of injuries have changed the landscape. What five players should you be watching in this week's matchups?
Injuries have drastically changed the league heading into NFL Week 3. Players who would've been ones to watch won't even be on the field this week. And they possibly won't be back for the rest of the season. Running backs Danny Woodhead and Adrian Peterson, both of whom suffered severe knee injuries, are among those.
Now, though, this could be a breakout week for some players. For others, it could be the week where their numbers match their play from last season, as a couple players who fit that description are on this list.
Not on this list will be the usual players who we all must watch, like Aaron Rodgers or Drew Brees, because those are a given. That can also be said for the likes of J.J. Watt of the Houston Texans and Von Miller of the Denver Broncos when those defensive stars are on the field.
There are many players who are "must watch" players each week. With NFL Week 3 very near, here are five players to watch this week when flipping though the wide variety of games taking place on the NFL schedule.
This might be the week Elliott has the game many fans of the Dallas Cowboys are waiting for, considering he was the fourth overall pick of this past April's draft. Through two games this season, the rookie has 41 carries for 134 yards, averaging just 3.3 yards per carry. Elliott has two touchdown runs. But last week he had a slip-up with two fumbles, losing one.
Pro Football Focus ranks Elliott just 50th of the 53 back ranked. That leaves the rookie tied with Darren Sproles of the Philadelphia Eagles.
With some fans getting more impatient with Elliott's overall play after two weeks of his NFL career, facing the Bears in front of a primetime national audience will do one of two things for Elliott. It will either force him to step up in the big-game moments like he did at Ohio State, or there could be more of the same seen from the running back as he continues to get used to the NFL style of the game.
Most importantly for Elliott is to keep showing improvement and to keep ahold of the football.
This season of resurgence for DeMarco Murray, at least through the first two weeks of the season, will make all of us forget his one and only season with the Philadelphia Eagles last season…well, except for those in Philly.
In the first two games of this season, Murray looks like he did in his final year with the Dallas Cowboys on the stat sheet, at least compared to the way he played last season. His numbers include 25 total carries for 131 yards. He has a 67-yard run, though he's still looking for his first touchdown of the season. Pro Football Focus has Murray ranked as the 25th-best running back this season.
Besides the running stats, Murray is doing well with his receiving, too. Last week, he totaled seven receptions for 56 yards, an average of eight yards per catch. In the opening week of play, Murray had five receptions for 35 yards and two touchdown receptions.
This week, the Titans face the Oakland Raiders this week, as the Raiders are allowing 113.5 rushing yards per game. The reason to watch Murray is it will be very intriguing to see how much he can keep his play up with limited carries. Plus, his receiving ability is what draws the most interest, giving the Titans another weapon on offense in Murray for Marcus Mariota to look to.
3. Dante Fowler, DE — Jacksonville Jaguars
It's tough to follow a big performance, but this week when the Jacksonville Jaguars host the Baltimore Ravens, that is exactly what Dante Fowler will try to replicate.
In the Jaguars' 38-14 loss to the San Diego Chargers last Sunday, one of the standouts was indeed Fowler. Playing in just his second NFL game (he missed the 2015 season due to injury), he totaled six tackles and two sacks.
Fowler was the third-overall pick in the 2015 draft out of Florida. Though two games so far this season, he's starting to show why he was drafted so highly. It is no secret the Jaguars can use all the help they need. In two games this season, they've allowed more than 27 points in both.
Currently, Fowler is the 65th-ranked edge defender according to Pro Football Focus. But if he can keep up the style of play he had last week, then he's sure to jump up on the list as he's played in 83 snaps this season. What makes Fowler "must watch" this week is his potential to eventually become one of the best edge defenders in the entire NFL. Seeing that process early in his career and to be able to watch the development is exciting.
And with the Ravens as Jacksonville's opponent this week, they could very well
2. Shane Ray, LB/EDGE — Denver Broncos
Since DeMarcus Ware is now injured for an extended period of time, it is now time for the youth movement to begin at linebacker for the Denver Broncos. That means it could be time for Shane Ray to make a name for himself on a more notable basis. Pro Football Focus has Ray ranked 39th-overall on their edge defense rankings after the first two games. As for Ware, the veteran pass rusher was ranked 24th before his injury.
In limited play thus far through the first two games, Ray had totaled three tackles in games against the Carolina Panthers and Indianapolis Colts. He has played in 83 total snaps, but look for that number to be heavily increased this week with Ware out of action. Being a second-year player, Ray still has a lot to learn, but what makes him a player to watch this weekend is the fact that, just like with Fowler, his potential could be outstanding if met.
Last year in 14 games played, again in limited action, Ray totaled four sacks and 20 tackles. With that year under his belt, and some great defensive players on the field with him, the pressure doesn't lie on his shoulders. In fact, opponents will most likely focus on Von Miller and that could really help Ray in his progression, too.
Ray was a highly touted first-round pick (23rd overall) in 2015. So this is a perfect time for him to start taking the steps needed to become one of the better linebackers in the game. And though the task will be tough as they face the Cincinnati Bengals this week, it will be exciting to see just what Ray does with the extended playing time.
1. Todd Gurley, RB — Los Angeles Rams
Maybe the player on this list most limited by his surroundings, Todd Gurley has had a very slow start to the 2016 season. Of course, when the Rams offense hasn't scored a single touchdown this season, that means there are a lot of issues at hand.
Though his numbers are down through the first two games of the season, Gurley is still the 14th-ranked running back by Pro Football Focus. With that comes the hope that eventually the Rams' offensive line and passing game will start doing their jobs to allow Gurley to do his at a higher level.
Gurley has 36 rushes in the first two games for a grand total of 98 yards and has made two receptions for 14 yards. As a rookie last season, Gurley totaled 1,106 yards and 10 touchdowns in 13 games, while also catching 21 passes for 188 yards.
Not only is Gurley a player to watch this week, but the entire Rams offense is, because if they can't get a semblance of a passing game going, it will be tough to watch Gurley get keyed in on.
Rams quarterback Case Keenum (who has completed just 53 percent of his passes this season) and the rest of the Rams offense need to help provide Gurley with some sort of help. No matter how great Gurley can be, if he is the main focal point on every snap by the opposition, he has a very low chance to be successful due to his surroundings.
This week, the Rams face the Tampa Bay Buccaneers on the road. Tampa ranks 20th in total defense, allowing 157 rushing yards the first two weeks (eighth in the NFL). Everyone should watch Gurley this week just to see if he's able to create some success and how his teammates improve from the first two weeks of the season.
This article originally appeared on