NFL Week 2: Broadcast map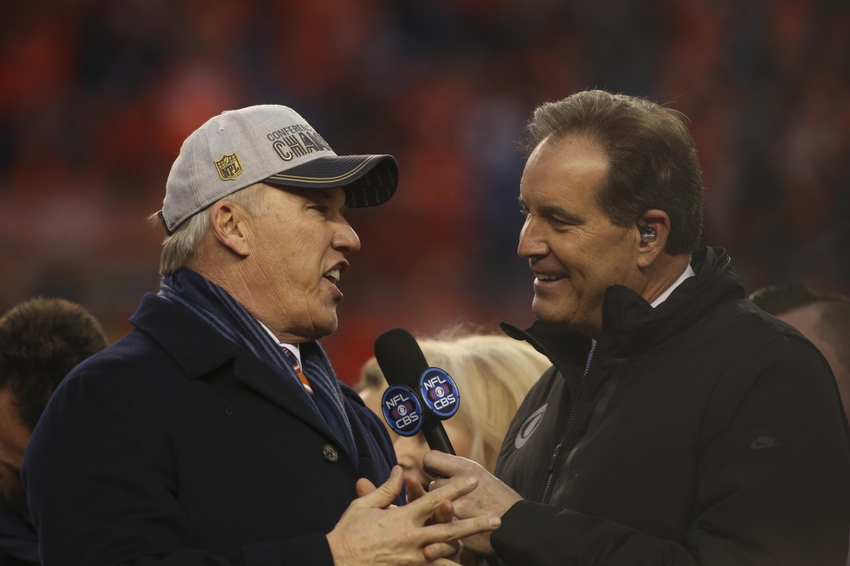 All 32 teams will play in Week 2 of the 2016 NFL season. Here are the broadcast maps for all 13 of the games on either CBS or FOX on Sunday afternoon.
Week 2 of the 2016 NFL season begins on Thursday night when the Buffalo Bills host their AFC East rival in the New York Jets on Thursday Night Football. That kickoff is at 8:25 PM ET and CBS, the NFL Network, and Twitter will have coverage of that game.
Sunday Night Football this week will be in Minneapolis for the first regular season game at US Bank Stadium when the Minnesota Vikings welcome their NFC North rival Green Bay Packers to the Twin Cities. NBC has this 8:30 PM ET telecast.
ESPN's Monday Night Football will be in the Windy City when the Chicago Bears host the Philadelphia Eagles for an 8:30 PM ET kickoff at Solider Field to wrap up Week 2.
If your favorite NFL team isn't playing in one of those three nationally televised games, it makes sense to check out these great broadcast maps courtesy of 506 Sports to see if you can get the game you want in your geographical area.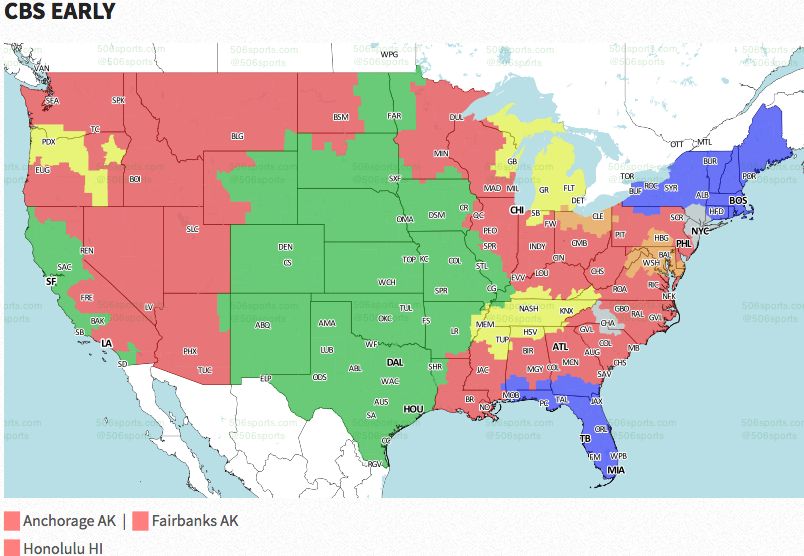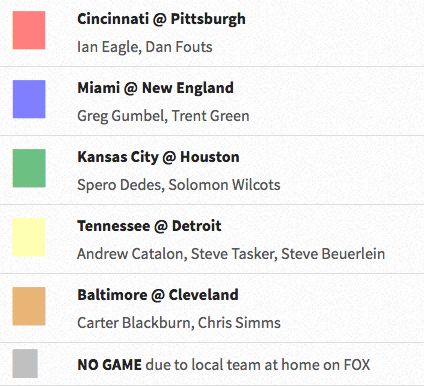 CBS has five early games this week: Cincinnati Bengals at Pittsburgh Steelers, Miami Dolphins at New England Patriots, Kansas City Chiefs at Houston Texans, and Baltimore Ravens at Cleveland Browns.
Florida and New England is obviously going to get Miami at New England. The middle of the country, the Bay Area, and San Diego will get Kansas City at Houston. San Diego and the Oakland Raiders are division rivals of Kansas City, so that makes sense.
Baltimore at Cleveland is too regionally biased to attract any additional viewership out of their metro regions. Greater Portland gets Tennessee at Detroit because former Oregon Duck Marcus Mariota quarterbacks the Titans. Everybody else gets a fantastic AFC North game between Cincinnati and Pittsburgh, expect Charlotte and New York City because of the local game on FOX.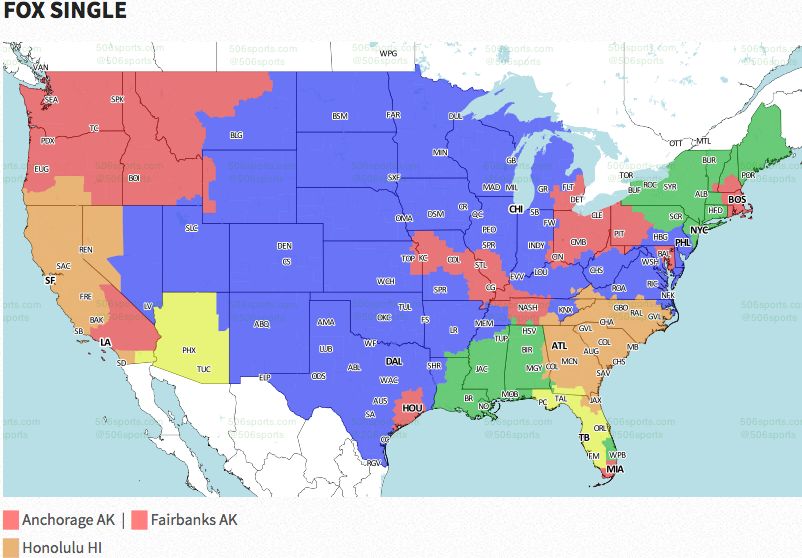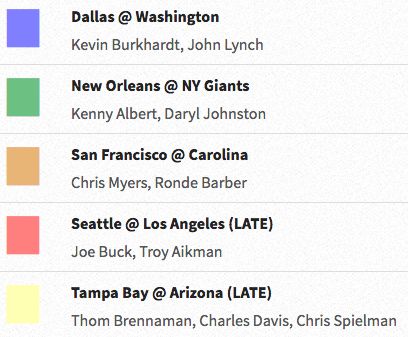 FOX has five games this week: three early and two late. The three early games are Dallas Cowboys at Washington Redskins, New Orleans Saints at New York Giants, and San Francisco 49ers at Carolina Panthers. The two late games are Seattle Seahawks at Los Angeles Rams and Tampa Bay Buccaneers at Arizona Cardinals.
The Bay Area, Atlanta, Jacksonville, and San Diego will be getting 49ers at Panthers. Atlanta gets this game because of its NFC South rivalry with Carolina. Greater New Orleans, most of the Northeast outside of Boston, and West Palm Beach get Saints at Giants.
Most will be getting Dallas at Washington at 1:00 PM ET. An interesting note is that Shreveport won't be getting the Saints game, as Shreveport native Dak Prescott quarterbacks the Cowboys.
Only Greater Phoenix, Tampa Bay, Orlando, and parts of North Florida will be getting Buccaneers at Cardinals at 4:00 PM ET. The Pacific Northwest, Los Angeles, Houston, Miami, Nashville, St. Louis, the Mid-Atlantic, and Boston will get Seattle at Los Angeles late.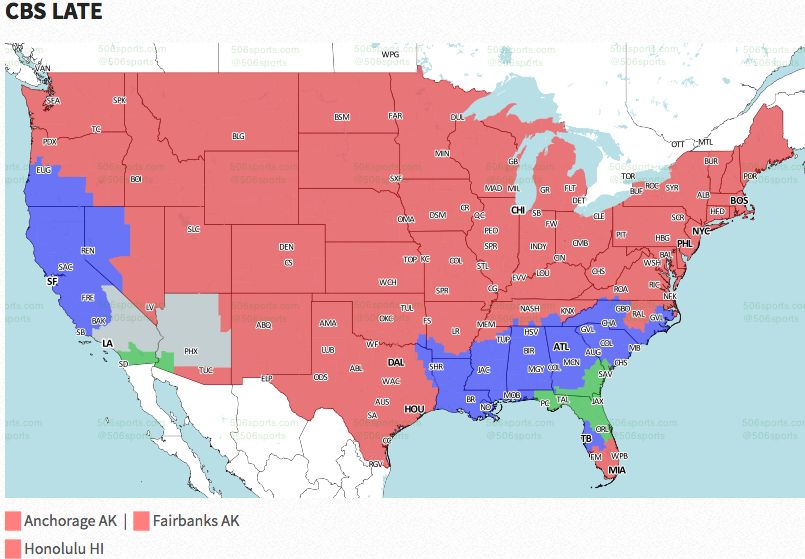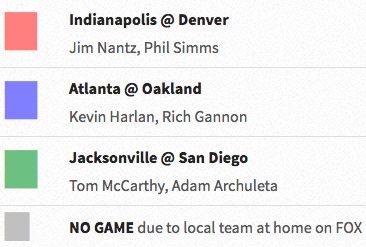 CBS has three late games on Sunday: Indianapolis Colts at Denver Broncos, Atlanta Falcons at Oakland Raiders, and Jacksonville Jaguars at San Diego Chargers. Only Los Angeles and Phoenix won't have a CBS game because their team will be at home and playing on FOX.
Cities in the NFC South markets and the Bay Area will be getting Falcons at Raiders. San Diego, Jacksonville, Orlando, and Coastal Georgia will be getting Jaguars at Chargers. Everybody else is getting Jim Nantz and Phil Simms covering the Colts at the Broncos.
This article originally appeared on