NFL Week 17 TV Schedule, Coverage Maps
Cody Williams/FanSided via NFL Spin Zone

Fansided
NFL Week 17 offers plenty of football action with playoff stakes on the line, so stay in touch with the TV schedule and coverage maps.
Bittersweet as it may be, we've finally reached the conclusion of the 2016 NFL regular season. On New Year's Day 2017, it'll be NFL Week 17 taking centerstage and wrapping it up. Though 10 of the 12 playoff teams are already determined, there are still two spots left and plenty of seeding left to be decided. That makes NFL Week 17 simply must-watch action. Thus, staying on top of the NFL TV schedule and the coverage maps is a must.
What's great about the league's scheduling for NFL Week 17, though, is that they often put big divisional games on to finish the season. Subsequently, fans are treated to matchups between the Green Bay Packers and Detroit Lions to determine the NFC North winner. They're also gifted things like the Oakland Raiders and Denver Broncos squaring off with the No. 2 seed at play for the former.
If that wasn't enough, there are also matchups between the Washington Redskins and New York Giants with the former fighting for playoff lives. The same can be said of the Tampa Bay Buccaneers and Carolina Panthers squaring off. Then, of course, there are even intriguing games that are somewhat meaningless. Contests like the New England Patriots vs. Miami Dolphins or the Dallas Cowboys vs. Philadelphia Eagles come to mind.
The point is that you won't want to miss any of the acton in the regular season final. In that light, let's take a look at the NFL Week 17 TV schedule:
| | | | |
| --- | --- | --- | --- |
| Away Team | Home Team | Time (EST) | TV Channel |
| Ravens | Bengals | 1 p.m. | CBS |
| Texans | Titans | 1 p.m. | CBS |
| Panthers | Buccaneers | 1 p.m | FOX |
| Cowboys | Eagles | 1 p.m. | FOX |
| Jaguars | Colts | 1 p.m. | CBS |
| Patriots | Dolphins | 1 p.m. | CBS |
| Bears | Vikings | 1 p.m. | FOX |
| Bills | Jets | 1 p.m. | CBS |
| Browns | Steelers | 1 p.m. | CBS |
| Saints | Falcons | 4:25 p.m. | FOX |
| Giants | Redskins | 4:25 p.m. | FOX |
| Cardinals | Rams | 4:25 p.m. | FOX |
| Raiders | Broncos | 4:25 p.m. | CBS |
| Chiefs | Chargers | 4:25 p.m. | CBS |
| Seahawks | 49ers | 4:25 p.m. | FOX |
| Packers | Lions | 8:30 p.m. | NBC (SNF) |
Now that you know when the games are being played on Sunday, though, in a packed slate, you're probably curious as to which games are on in your area. Don't worry, we've got you covered there too. Here's a look at the NFL Week 17 coverage maps (via 506sports):
CBS Early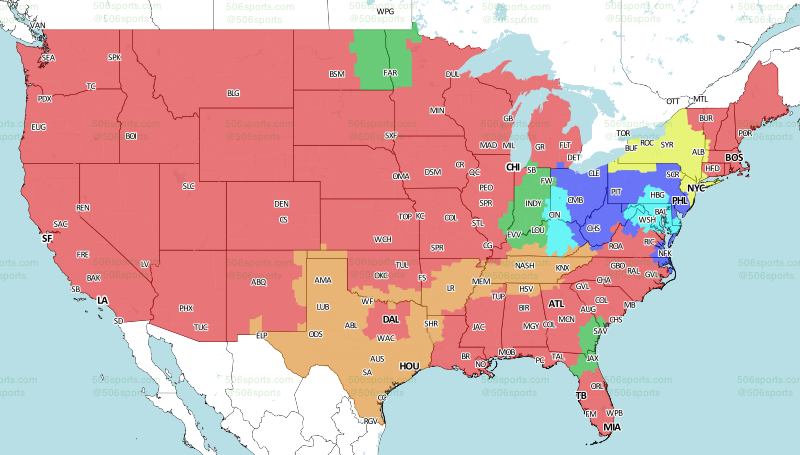 Key: Patriots at Dolphins (Pink), Browns at Steelers (Blue), Jaguars at Colts (Green), Bills at Jets (Yellow), Texans at Titans (Orange), Ravens at Bengals (Turquoise)
FOX Early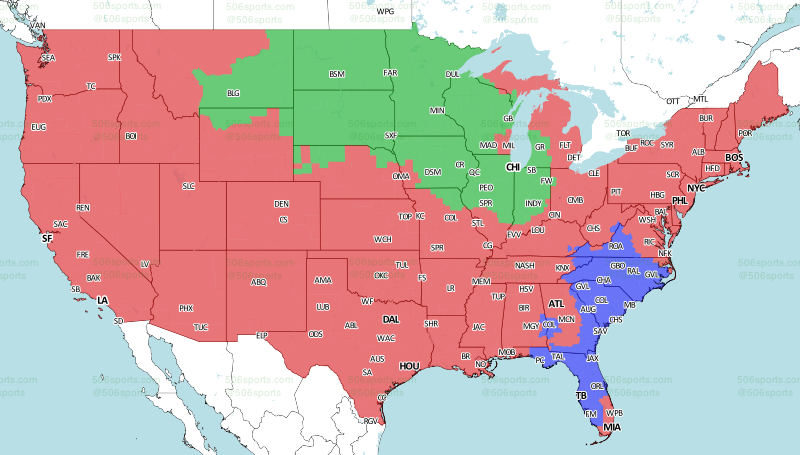 Key: Cowboys at Eagles (Pink), Panthers at Buccaneers (Blue), Bears at Vikings (Green)
CBS Late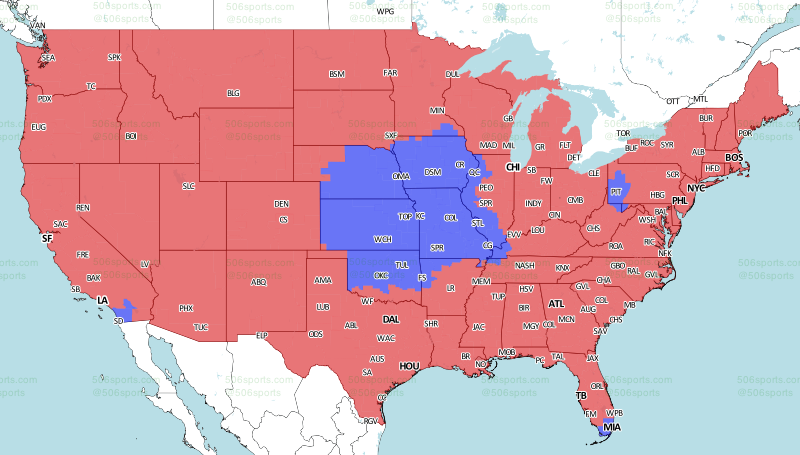 Key: Raiders at Broncos (Pink), Chiefs at Chargers (Blue)
FOX Late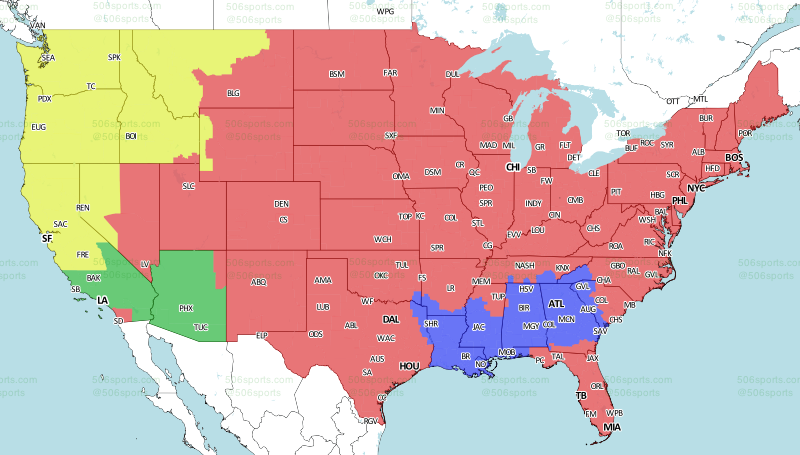 Key: Giants at Redskins (Pink), Saints at Falcons (Blue), Cardinals at Rams (Green), Seahawks at 49ers (Yellow)
That's the way things shake out for the final Sunday of NFL action. It's an unusual slate of games in many ways—as it always is. Not only are all 16 contests played on Sunday, but both FOX and CBS air games at both time-slots nationwide. As that never happens, that's a bit odd, sure.
Regardless of odd scheduling or not for NFL Week 17, though, it's all set up for a great finish to the regular season. Playoff hopes will both be realized and dashed and the action should be highly entertaining throughout the day. Thankfully, you now have everything so you won't miss whatever action is on in your area.
More from NFL Spin Zone
This article originally appeared on