NFL Week 14: TV Schedule and Broadcast Maps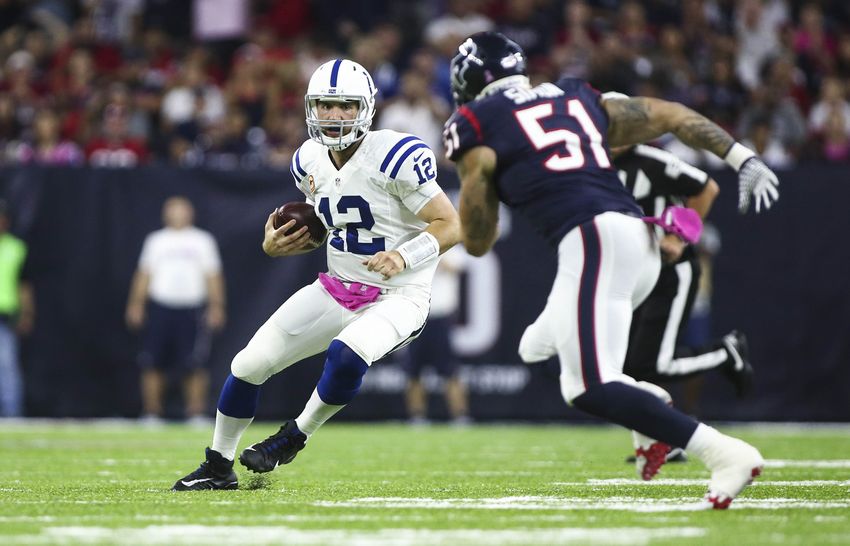 Looking at the NFL Week 14 TV schedule and broadcast maps for Sunday's slate of games.
Just four regular season games separate the NFL from the playoffs as Week 14 begins. Obviously that means the postseason implications are numerous entering Sunday. We already were treated to a great, important game on Thursday Night Football and things heat up from there. Subsequently, knowing the TV schedule and broadcast maps will be key to figuring out where to catch all of the action.
Everyone will be able to catch the game of the day on Sunday with the Dallas Cowboys vs. New York Giants on Sunday Night Football. However, the NFL slate up to then isn't shabby by any means. There are plenty of games that you won't want to miss.
The Denver Broncos vs. Tennessee Titans has plenty of playoff implications in the early slate, as does the clash between the Houston Texans and Indianapolis Colts, among others. In the late afternoon game, it'll be the Seattle Seahawks vs. Green Bay Packers stealing the show. Needless to say, you need to know when you can catch each game and what game is on in your area.
Here is the NFL TV schedule for Week 14:
| | | | |
| --- | --- | --- | --- |
| Away Team | Home Team | Time (EST) | TV Channel |
| Steelers | Bills | 1 p.m. | CBS |
| Broncos | Titans | 1 p.m. | CBS |
| Redskins | Eagles | 1 p.m | FOX |
| Cardinals | Dolphins | 1 p.m. | FOX |
| Chargers | Panthers | 1 p.m. | FOX |
| Bengals | Browns | 1 p.m. | CBS |
| Bears | Lions | 1 p.m. | CBS |
| Texans | Colts | 1 p.m. | CBS |
| Vikings | Jaguars | 1 p.m. | FOX |
| Jets | 49ers | 4:05 p.m. | CBS |
| Saints | Buccaneers | 4:25 p.m. | FOX |
| Falcons | Rams | 4:25 p.m. | FOX |
| Seahawks | Packers | 4:25 p.m. | FOX |
| Cowboys | Giants | 8:30 p.m. | NBC |
Obviously Week 14 is building to a huge crescendo with the Cowboys and Giants. However, there is plenty to keep everyone occupied until then. The early state has a handful of crucial AFC matchups while the late games feature crucial NFC battles. It should quite the day throughout.
But of course, you still need to know which games are on in your area. Here are the NFL Week 14 broadcast maps (via 506 Sports):
CBS Single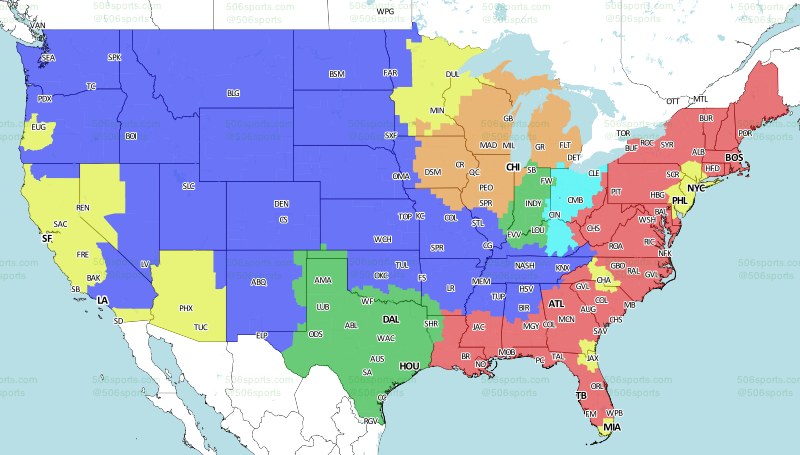 Key: Steelers at Bills (Pink), Broncos at Titans (Blue), Texans at Colts (Green), Bears at Lions (Orange), Bengals at Browns (Turquoise), Jets at 49ers – Late (Yellow)
FOX Early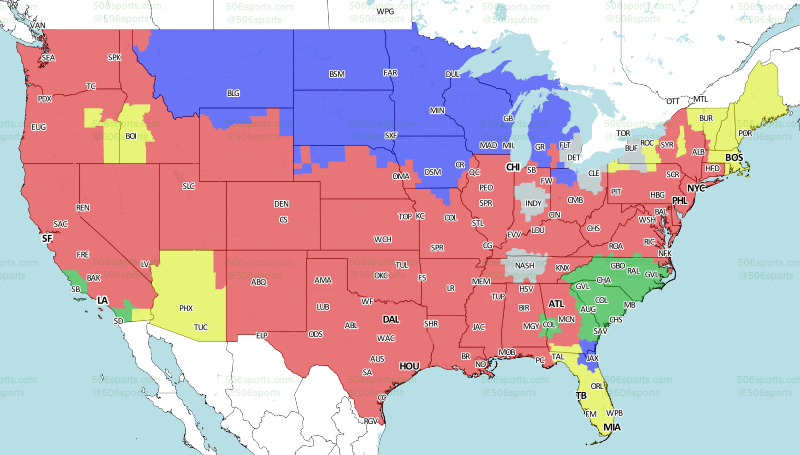 Key: Redskins at Eagles (Pink), Vikings at Jaguars (Blue), Chargers at Panthers (Green), Cardinals at Dolphins (Yellow), No Game with Local Team on FOX (Gray)
FOX Late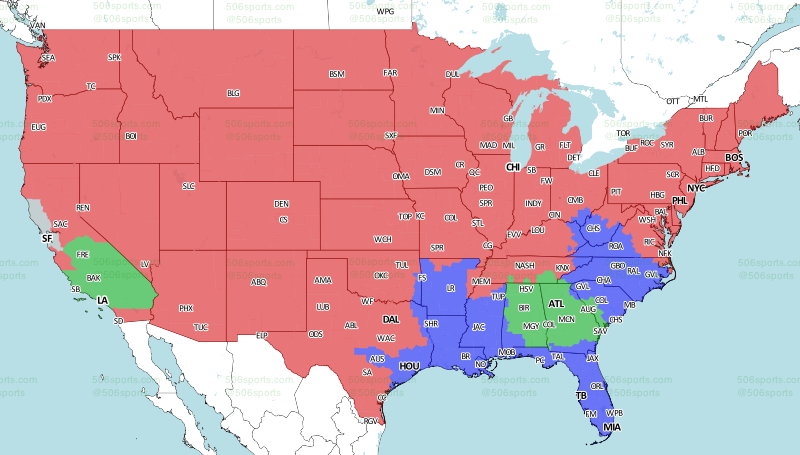 Key: Seahawks at Packers (Pink), Saints at Buccaneers (Blue), Falcons at Rams (Green), No Game with Local Team on CBS (Gray)
Perhaps the biggest question here should be why a portion of North Carolina is getting the 49ers and Jets on Sunday afternoon on CBS. There are always plenty of interesting broadcast choices, but that's among the most perplexing.
Regardless, the slate of games should be wholly entertaining and absolutely fantastic on Sunday. Fans should be in for a treat that features a ton of great football. More importantly, Sunday should got a long way to further clearing up the playoff picture with only three games remaining after Sunday.
More from NFL Spin Zone
This article originally appeared on