NFL Week 13: TV Schedule and Broadcast Map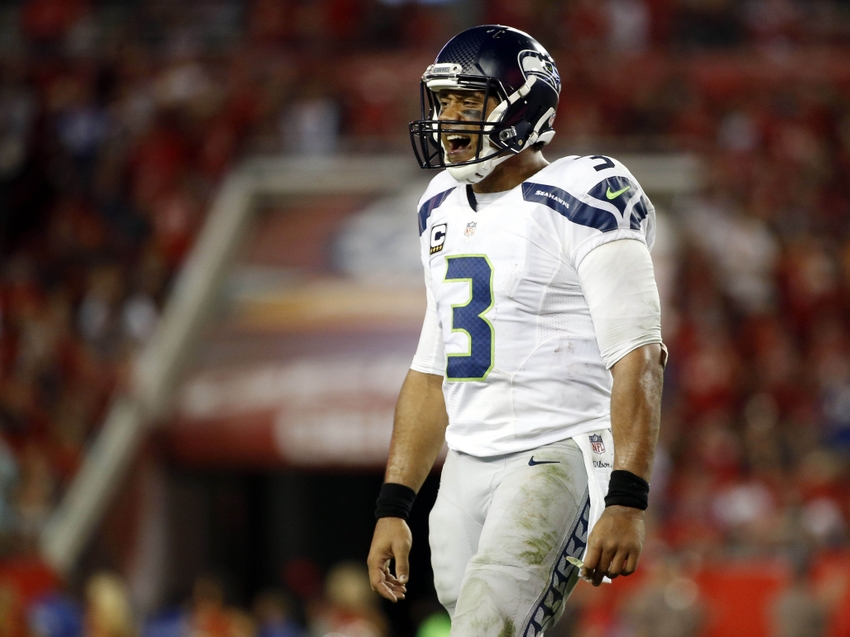 Looking at the NFL Week 13 TV schedule and broadcast map so you know when your game is on and where it's airing.
NFL Week 13 is upon us as fans and suffice it to say that there's a great deal to follow. Not only is it the final week with teams on bye, but it's also the time when the playoff races are really heating up in a major, major way. Cue the high stakes, high drama, and general fun that this time of the season brings.
There's a mixed bag of games on the docket for NFL Week 13. On one hand, we have a battle for essentially the No. 2 overall pick in the 2017 NFL Draft at this point. That game will see the San Francisco 49ers and Chicago Bears (and all three of their combined wins) square off. However, there are also matchups on the opposite end of the spectrum that could be huge.
Starting on Thursday Night Football with the Dallas Cowboys and Minnesota Vikings face off, postseason implications are all around. The New York Giants and Pittsburgh Steelers have a huge matchup in that regard. Moreover, so do the Kansas City Chiefs and Atlanta Falcons as they go head to head. Then you have a Sunday Night Football game between the Carolina Panthers and Seattle Seahawks that's full of intrigue.
Clearly you won't want to miss a minute of the action, so you then need to know when every game is kicking off. We've got you covered. Here's a look at the NFL Week 13 TV schedule:
| | | | |
| --- | --- | --- | --- |
| Away Team | Home Team | Time (EST) | TV Channel |
| Cowboys | Vikings | 8:25 p.m. (Thur.) | NBC |
| Chiefs | Falcons | 1 p.m. | CBS |
| Lions | Saints | 1 p.m | FOX |
| Rams | Patriots | 1 p.m. | FOX |
| Broncos | Jaguars | 1 p.m. | CBS |
| Texans | Packers | 1 p.m. | CBS |
| Eagles | Bengals | 1 p.m. | FOX |
| Dolphins | Ravens | 1 p.m. | CBS |
| 49ers | Bears | 1 p.m. | FOX |
| Bills | Raiders | 4:05 p.m. | CBS |
| Giants | Steelers | 4:25 p.m. | FOX |
| Redskins | Cardinals | 4:25 p.m. | FOX |
| Buccaneers | Chargers | 4:25 p.m. | FOX |
| Panthers | Seahawks | 8:30 p.m. (SNF) | NBC |
| Colts | Jets | 8:30 p.m. (Mon.) | ESPN |
As opposed to how it's been the past two weeks, the schedule is at least slightly more balanced between the early and late afternoon games. However, the late games are once again loaded with high quality matchups. It's going to be hard to choose (if you have a choice) which game to watch. See which options you have in you area, though.
Here's a look at the NFL Week 13 broadcast maps (via 506sports.com):
CBS Single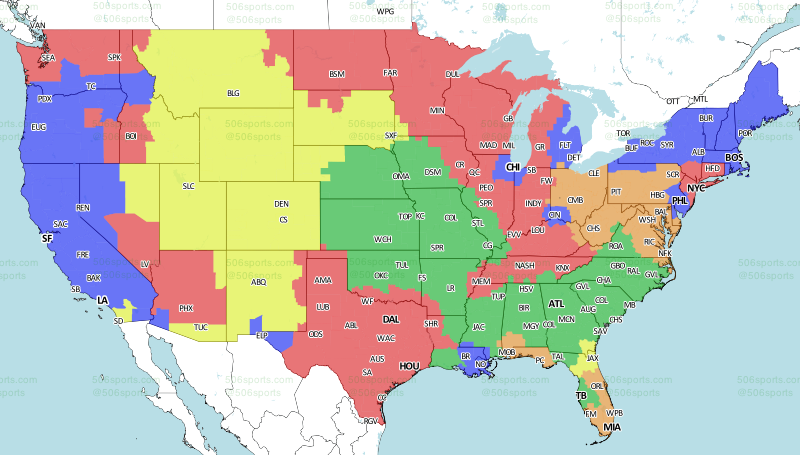 Key: Texans at Packers (Pink), Chiefs at Falcons (Green), Broncos at Jaguars (Yellow), Dolphins at Ravens (Orange), Bills at Raiders – Late (Blue)
FOX Early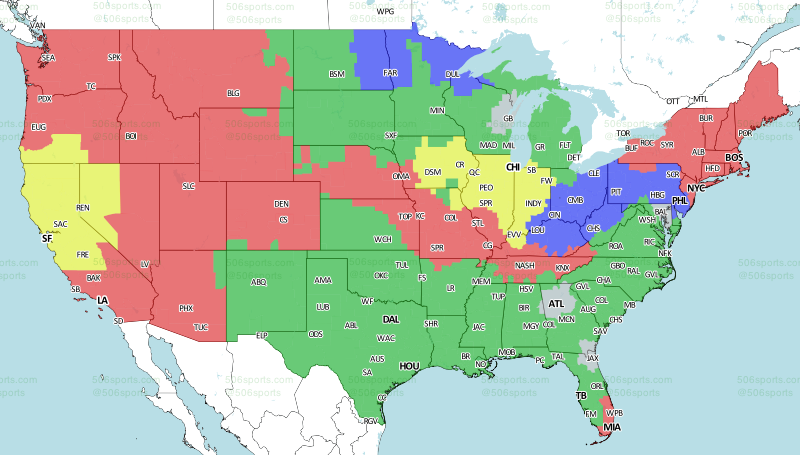 Key: Rams at Patriots (Pink), Eagles at Bengals (Blue), Lions at Saints (Green), 49ers at Bears (Yellow), Local Team on CBS, No Game (Gray)
FOX Late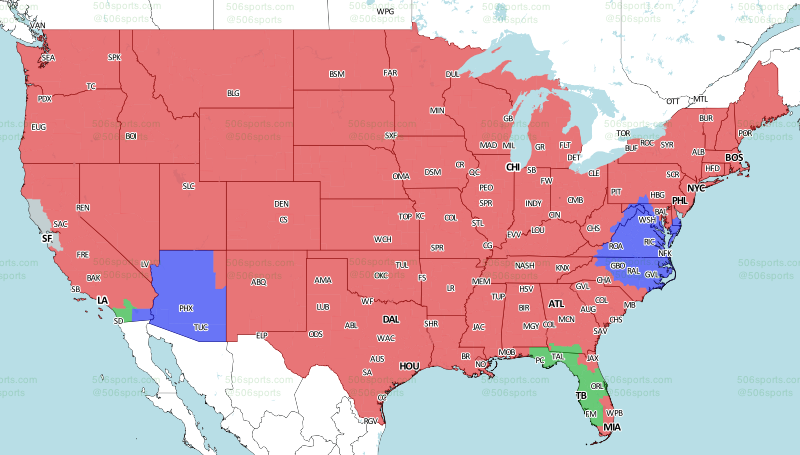 Key: Giants at Steelers (Pink), Redskins at Cardinals (Blue), Buccaneers at Chargers (Green), Local Team on CBS, No Game (Gray)
As you can tell, the Giants and Steelers will be the national game on Sunday afternoon. That makes sense considering the big implications of that matchup both in each of their respective divisions and for the Wild Card Races in each conference.
However, those kinds of consequences are going to come from plenty of other matchups throughout the week. So write down when your game is, prepare your couch for Sunday, and get ready to sit back and soak in what promises to be a wild, entertaining, and game-changing NFL Week 13.
This article originally appeared on