NFL Week 11: Survivor Pool Stone Cold Locks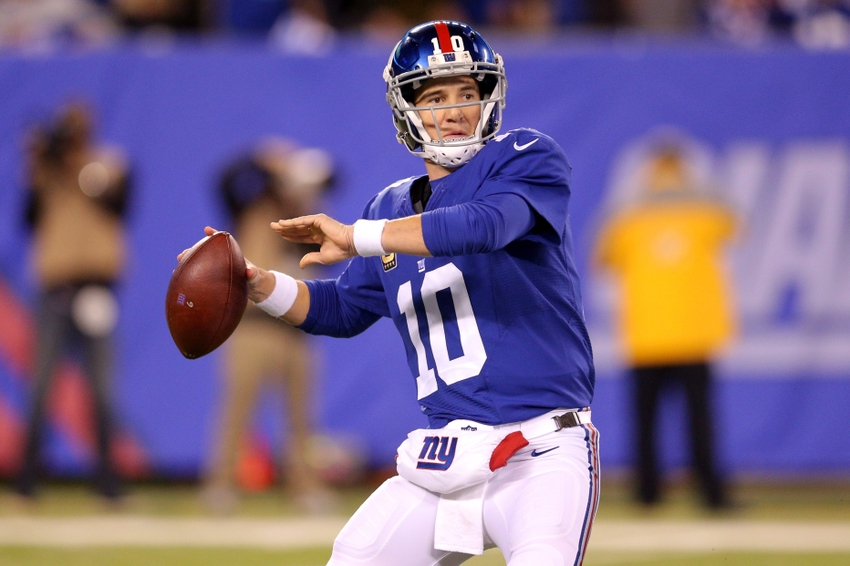 If you somehow survived the carnage of NFL Week 10, here are a slew of stone cold locks for your NFL Survivor Pool in Week 11.
In Week 10, my record was 2-2. It's the first time all season two of my picks didn't pan out. The Baltimore Ravens blew out the Cleveland Browns and the Arizona Cardinals just slipped past the San Francisco 49ers. But the San Diego Chargers lost to the Miami Dolphins due to two late-game interceptions and the New England Patriots couldn't cash in against the Seattle Seahawks. Now, both Miami and Seattle are trending upward.
In Week 11, there are 14 games on the schedule. Unlike the previous week in which the majority of matchups had slim point spreads (and 10 of 14 games had outcomes of a touchdown or less), there are seven contests with spreads of six or more. So, there's no shortage of picks you could roll with to survive.
To be honest, all of the big spreads are appetizing. There's not one I'd avoid. You'd think with so many lopsided lines coming out of Las Vegas, there would be at least a couple upset specials or trap games that set off some alarms.
I know you've only got one shot each week, so let's dig into the options to see if we can weed out the weaker selections and whittle down the one winner to hang your hat on.
Pittsburgh Steelers Over Cleveland Browns
Trouble's afoot in Pittsburgh. Ben Roethlisberger's criticism of the team's discipline after their late-game loss to the Dallas Cowboys has caused many to assume a rift is brewing. Can Mike Tomlin right the ship to make a playoff run? The cure for what ails them comes in the form of the Browns.
Cleveland actually held the lead against the Ravens heading into the second half then Cody Kessler got benched for a spark from Josh McCown. Instead, the Browns allowed 21 consecutive points on three second half touchdown passes and McCown finished with a QB rating of 19.9. D'oh!
Pittsburgh has only lost three of the past 24 contests against the Browns since Roethlisberger entered the league. The last loss came in Oct. 2014 when Big Ben only completed half his attempts, punter Brad Wing fumbled, and Browns quarterback Brian Hoyer connected on two deep throws to tight end Jordan Cameron.
Though this season's Steelers are still susceptible to the big play, one shouldn't expect another slip-up. Expect Cleveland to put up a fight for the first half, but a breakdown in the second. The Browns should be able to run the ball well, but without a secondary receiving threat to complement Terrelle Pryor, Kessler (or McCown) will struggle to hit deep balls.
The Steelers are favored by 8 points on the road.
Dallas Cowboys Over Baltimore Ravens
Rookies Dak Prescott and Ezekiel Elliott continued to carry the Cowboys in a huge win against Pittsburgh in Week 10. The victory also made Tony Romo's status as backup official.
If there's any area of concern for Big D as they head down the home stretch, it's their defense. Granted, the Steelers have one of the most potent offenses in the NFL and are even deadlier at home, but the 448 total yards allowed was the most given up by Dallas this season. A win's a win, but with Seattle's upset of New England, Dallas is no longer the favorite in the NFC.
Fortunately for the Cowboys, they go up against a Baltimore team that's banged up and below average on both sides of the ball. The offense is 24th in scoring and 25th in total yards while the defense is fifth worst in the league in scoring, despite giving up the fewest total yards per game of any team.
Opponents traditionally haven't been able to run on Baltimore's defense. The Birds held the Browns and Steelers to less than 40 yards rushing each the past two weeks. However, that might change against the NFL's leading rusher and one of the league's best offensive lines.
It'll be interesting to see how Dak does without much of a ground game. Dallas' lowest rushing total in Week 1 versus the Giants resulted in the Cowboys' lone loss. Their second lowest rushing total in Week 2 against Washington probably should've been a loss had it not been for a bad Kirk Cousins interception.
This is the second most important game in the NFC. If this clash were in Baltimore, the Ravens might have been able to pull off a stunner. In JerryWorld, Joe Flacco and Company will be outmatched.
The Cowboys are favored by 7 points at home.
Detroit Lions Over Jacksonville Jaguars
As the Minnesota Vikings and Green Bay Packers have crumbled in the NFC North, the Lions have capitalized. There's a good chance Detroit will secure a playoff spot and decent odds they'll win the division. After their major overtime triumph over the Vikings in Week 9, Detroit got to enjoy the spoils with a bye week. In Week 11, the Lions get to host an exasperated Jags squad that's on the verge of self-destructing.
Detroit's offense has been powered by Matthew Stafford, who's become a candidate for league MVP. Stafford's fifth in completion percentage and quarterback passer rating, seventh in touchdown percentage, and has only thrown interceptions on 1.6 percent of attempts. He also leads the league in fourth-quarter comebacks and game-winning drives.
So far this season, Detroit's 3-1 at home. The sole defeat on their own turf was to an underrated Tennessee Titans team that dismantled the Packers. Meanwhile, the Jaguars have been an enigma on the road. They only lost by five to the Chiefs in Kansas City, but got trounced by the Chargers in San Diego and Titans in Nashville.
No quarterback has thrown the ball more than Blake Bortles, yet his yards per attempt is among the worst in the league. However, he'll be facing a Lions pass defense that has allowed the highest quarterback rating in the league. Jacksonville's run offense is last in "expected points contributed" according to Pro Football Reference, averaging 88.1 yards per contest.
Jacksonville leads the all-time series 3-2, but the last time they visited Motor City, they got smoked in November 2012. Pass-happy fans should get their fill in this shootout, but Detroit's confidence and ability to spread the ball around should help them prevail.
The Lions are favored by 6.5 points at home.
Kansas City Chiefs Over Tampa Bay Buccaneers
Early on it looked like the Chiefs would get blown out by the Carolina Panthers in Week 10 then KC's defense came alive for a thrilling three-point comeback win. The Bucs stuck it to the Chicago Bears for only their second home win of the season. Tampa's 3-1 on the road this season, taking down the Falcons in Atlanta and the Panthers in Carolina. The Chiefs are 4-0 at home, but three of those wins came by a touchdown or less.
Jameis Winston has thrown interceptions on 2.9 percent of pass attempts, which is sixth most in the league. What's worse is that 13.5 percent of Tampa's drives end in a turnover. Meanwhile, the Chiefs pass defense leads the league in interception percentage—picking off passes 3.9 percent of the time—and turnover percentage. While Tampa can play tough (remember their overtime loss to the Oakland Raiders), it will be Winston's picks that do them in.
The Bucs should lean on Doug Martin, who returned from a lengthy absence, to cut down on Jameis' mistakes and open up the passing game. In Week 10, Martin had more carries than Peyton Barber, but averaged fewer yards per carry. The Chiefs run defense has allowed 4.7 yards per carry (tied for 2nd most league-wide) and 121.7 yards per game (sixth most in the NFL), so Martin could make a difference.
When the Buccaneers defense forces three or more turnovers, the team wins. However, only 7.8 percent of Chiefs drives end in one. Alex Smith has a sterling reputation for not coughing up the ball while the team has only fumbled nine times (tied for fifth best overall).
Tampa Bay actually owns the series lead, 6-5 and has won four of the previous five meetings. However, Kansas City has only allowed 18.7 points per game, which is sixth best in the league.
The Chiefs are favored by 7.5 points at home.
New York Giants Over Chicago Bears
The Giants defense earned their paycheck yet again in a 21-20 win over the Cincinnati Bengals in Week 10, holding Andy Dalton, AJ Green and crew scoreless in the fourth quarter. Big Blue's defense also only allowed season-lows in first downs (12) and total yards (264).
Meanwhile, the Bears floundered against the Bucs as Jay Cutler threw two picks (one returned for a touchdown), lost one fumble on Tampa's 4-yard line, another fumble for a safety, and completed just over half of his pass attempts. His quarterback rating was around the 50 mark.
If the loss didn't sting enough, Alshon Jeffery has been suspended for four games for using performance-enhancing drugs, rookie sensation Jordan Howard has been listed as questionable with an Achilles injury and guard Kyle Long was lost for the remainder of the season.
After three brutal losses in a row, the G-Men have reeled off four-straight wins, propelling them to second place in the NFC East. While the offense continues to struggle with turnovers and time of possession, the defense has stiffened when the game's been on the line. If New York's offense can build on their Monday Night performance against the Bengals in which they had a season-high 122 rushing yards, they should take care of the Bears easily.
Though Chicago leads the all-time series and has won three of the last five meetings, the Bears are still 0-5 on the road while the Giants are 4-1 at home.
The Giants are favored by 7.5 points at home.
New England Patriots Over San Francisco 49ers
With the Patriots on a roll and the Seahawks coming off a physical, emotionally exhaustive game against the Buffalo BIlls on a short week, many thought New England would overwhelm Seattle in Foxboro. That didn't happen. Making matters worse, Rob Gronkowski has a punctured lung and is listed as questionable for the Week 11 game against the Niners.
Give credit to San Fran for giving the Arizona Cardinals all they could handle in the desert in Week 10. The much-maligned 49ers defense came up with four turnovers, but couldn't stop the Cardinals on the final game-winning drive. The Niners also got called for nine penalties totaling 100 yards.
No one's allowing more points per game than San Francisco and the Pats average 26.8, which is sixth best in the league. Tom Brady's streak of consecutive pass attempts without an interception came to an end against the Seahawks. In Week 11, Brady shouldn't have to worry about throwing against a San Fran defense that's allowed 26.5 fantasy points per game against wide receivers (second most in NFL) and a league worst 28.8 fantasy points per game to running backs. Julian Edelman, LeGarrette Blount and James White should all have big days.
On the other side, New England's defense is only allowing 18.7 points per game, which is fourth fewest league-wide. If San Fran has any shot of pulling off the impossible, Colin Kaepernick and Carlos Hyde will have to put up career games. Seeing as the Pats are undefeated on the road and San Fran's 1-3 at home, it would take blunders galore from New England for the Pats to lose.
The Patriots are favored by 13 points on the road.
Seattle Seahawks Over Philadelphia Eagles
After their monumental road win over the Patriots in Week 10, Seattle has leapfrogged Dallas as the top NFC contender for the Super Bowl. Standing in their way in Week 11 are the Philadelphia Eagles, who fouled up the Falcons at the Link.
Philly's done an exceptional job running the ball with Ryan Mathews and Darren Sproles, averaging more than 118 yards per game (ninth best in the NFL). They'll be tested by a Seahawks run defense that's only allowing 3.5 yards per carry, which is tied for third fewest league-wide.
Passing the ball has been a different Philadelphia story as Carson Wentz has crashed back to Earth. The rookie first round pick has only thrown touchdowns on 2.9 percent of pass attempts, tied for third worst. Philly's 225.1 passing yards per game is seventh fewest overall.
Wentz will try to figure out a Seahawks pass defense that sacks the quarterback on 8.3 percent of attempts, second highest in the league. Opposing quarterbacks have averaged a quarterback rating of 82.5 against Seattle, the seventh lowest league-wide.
Russell Wilson followed up his best game of this season in Week 9 against Buffalo with another outstanding outing against New England, throwing for 348 yards and three touchdowns. He's thrown an interception on only 0.7 percent of attempts, which is tied for third fewest among all quarterbacks. His quarterback rating places is eighth highest in the league.
Meanwhile, the Eagles pass defense has snatched interceptions on 2.9 percent of passes, tied for fifth most overall, and has only allowed 222 yards per game (seventh least in the NFL). The series is all tied at seven, but Seattle has won four of the last five meetings and is undefeated at home while the Eagles are 1-4 on the road.
The Seahawks are favored by 6.5 points at home. Bet the under!
Oakland Raiders Over Houston Texans
Houston's somehow 6-3 despite having a below average quarterback in Brock Osweiler and losing J.J. Watt for the season. The Texans beat the Jags 24-21 in Week 10, but only mustered 92 net passing yards on 27 attempts. Oakland is coming off a bye week following a gigantic win against the Denver Broncos in which they amassed a season high 218 rushing yards.
Houston's offense is 29th in points scored and 30th in total yards. The run game has been bolstered by Lamar Miller as that unit is eighth overall in yards, but last in touchdowns. MIller's averaged 80 yards per game (seventh in the NFL), but can't seem to get into the end zone. Oakland's run defense has given up 4.7 yards per carry, which is tied for second most league-wide.
Osweiler's numbers might improve against a Raiders pass defense that's allowing 283.2 yards per game (third worst overall) and touchdowns on 5.2 percent of pass attempts (seventh highest).
The Texans pass defense has been a top five unit in yards and touchdowns allowed while the run defense has been a bottom ten group. Derek Carr's quarterback rating is ninth highest thanks to his interception percentage (tied for third lowest) and his offensive line's league-leading sack percentage. Only 5.5 of Oakland's drives have ended in a turnover, which is third best in the league. Houston's defense only takes the ball away on 7.5 percent of drives, which is fourth worst.
The Texans are 1-3 on the road while Oakland is 2-2 on their home turf. Houston leads the all-time series 6-3, but has lost two of the last three.
The Raiders are favored by 5.5 points at home.
This article originally appeared on