NFL Week 10: What do Color Rush uniforms look like?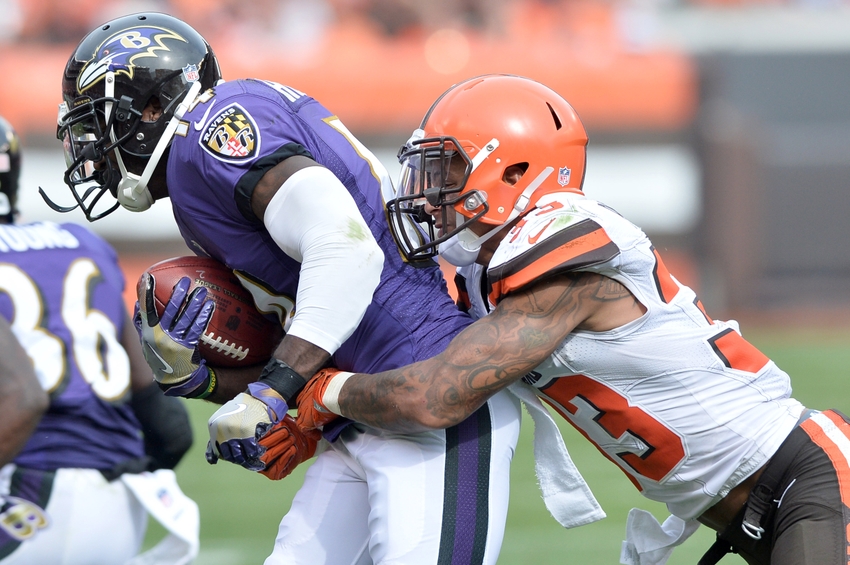 The Baltimore Ravens will host the Cleveland Browns on Thursday Night Football in Week 10. What will their Color Rush uniforms look like?
Thursday Night Football in Week 10 will be at M&T Bank Stadium in Baltimore, as the Baltimore Ravens (4-4) will host their AFC North rivals, the Cleveland Browns (0-9). Kickoff will be 8:25 p.m. ET on Thursday, Nov. 10. The NFL Network will have the telecast.
For the last two seasons, Color Rush has been commonplace with almost all Thursday Night Football games. Let's just say some weeks that the results are better than others.
Here is what the Ravens and Browns will be wearing on Thursday Night Football this week as a part of Color Rush.
Looking clean for #TNF#Madden17 pic.twitter.com/FpCeuxPSPX

— Cleveland Browns (@Browns) November 8, 2016
All purple everything. #TNF #ColorRush
📷: https://t.co/SygwsALwYz pic.twitter.com/PCx6bPmqnY

— Baltimore Ravens (@Ravens) November 8, 2016
The Browns being in all white and the Ravens going crazy with the purple doesn't really come as much surprise. Some teams have looked better in all white than others. Cleveland looks buttoned-up in white jersey, white pants, and white shoes, with orange accents. That's more than can be said about Hue Jackson's winless football team. Cleveland has a shot at beginning the season 0-10 if the Browns lose to the rival Ravens on the road.
Baltimore in all purple is okay. The gold accents make it better if you like Mardi Gras or something. It's bold to go all purple with any outfit. The Ravens are owning it in Week 10.
Overall, Color Rush in Week 10 will be more visually appealing that it has been the last two weeks. The Atlanta Falcons didn't pull off the road whites all that well, and what were the Tampa Bay Buccaneers thinking in looking like beets? Dirty Bird black and Creamsicle orange should have happened but did not.
Week 9 Color Rush in Tampa was only outdone by the toothpaste, cat vomit visual fiasco we had to endure in Nashville when the Tennessee Titans hosted the Jacksonville Jaguars. Color Rush is just kind of okay in this game on Thursday Night Football in Week 10.
This article originally appeared on