NFL Week 10: Super Bowl 51 odds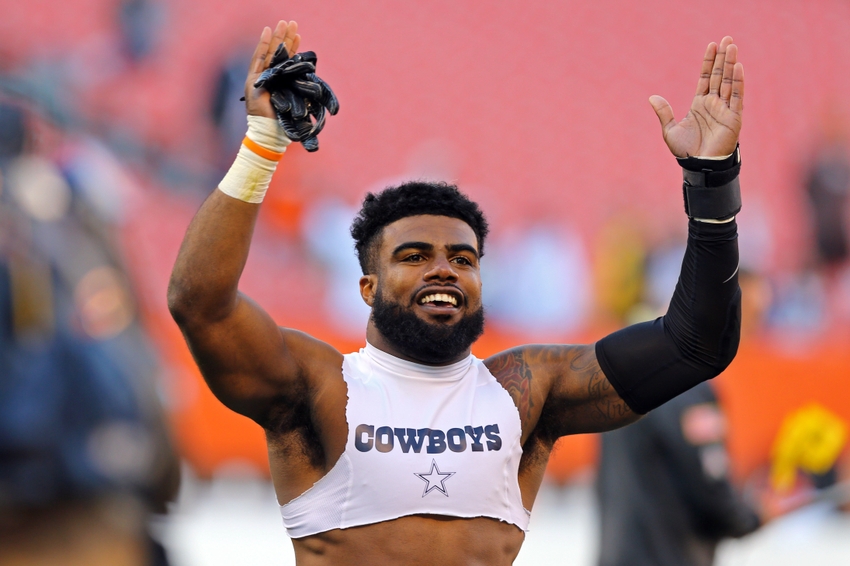 The 2016 NFL season enters Week 10 in mid-November. Here are the latest Super Bowl 51 odds. Which teams have the best shot at hoisting the Lombardi Trophy?
With Week 9 in the books in the 2016 NFL season, here are the latest Super Bowl 51 odds entering Week 10.
According to OddsShark.com, the New England Patriots have the best odds at +200. The winless Cleveland Browns have the worst at +300,000. Those are obvious, but which teams are getting great value and which ones are getting too much love?
Here are the latest Super Bowl LI odds entering Week 10:
Arizona Cardinals: +2,800
Atlanta Falcons: +1,600
Baltimore Ravens: +4,000
Buffalo Bills: +10,000
Carolina Panthers: +2,500
Chicago Bears: +50,000
Cincinnati Bengals: +5,000
Cleveland Browns: +300,000
Dallas Cowboys: +300
Denver Broncos: +1,800
Detroit Lions: +6,600
Green Bay Packers: +1,600
Houston Texans: +4,000
Indianapolis Colts: +2,500
Jacksonville Jaguars: +100,000
Kansas City Chiefs: +1,400
Los Angeles Rams: +20,000
Miami Dolphins: +10,000
Minnesota Vikings: +2,800
New England Patriots: +200
New Orleans Saints: +6,600
New York Giants: +2,800
New York Jets: +30,000
Oakland Raiders: +1,600
Philadelphia Eagles: +7,500
Pittsburgh Steelers: +1,600
San Diego Chargers: +5,000
San Francisco 49ers: +100,000
Seattle Seahawks: +1,000
Tampa Bay Buccaneers: +30,000
Tennessee Titans: +15,000
Washington Redskins: +7,500
There are only three teams in the NFL with +1,000 odds or better: New England (+200), Dallas (+300), and Seattle (+1,000). Which of these three doesn't belong? That would be Seattle. This Seahawks offense can't score points on a consistent basis.
The Seahawks will need a first-round bye and presumably home field advantage to even reach Super Bowl 51 — not sure if that happens. New England and Dallas feel like safe picks to at least reach their respective conference championships. Are we sure Seattle even wins its NFC Divisional game?
Of the six teams with between +1,000 and +2,000 odds, three look pretty good, one is okay, and three are lousy. The three that make sense are Atlanta (+1,600), Kansas City (+1,400), and Oakland (+1,400). Those three teams can definitely reach their respective conference championships if given the right playoff matches. In short, those three can win multiple playoff games this season.
Denver at +1,800 seems about right. The Broncos play great defense, but are leaning too much on quarterback Trevor Siemian to get things done on offense. Not sure that's a good thing. Stay away from Pittsburgh (+1,600) and Green Bay (+1,600). These are two lousy .500 NFL franchises trending in the wrong direction.
Between +2,000 and +10,000, the two best value picks would be Houston (+4,000) and Washington (+7,500). The Texans haven't lost a home yet this season, play great defense, and haven't gotten the best play out of their offense yet. If Houston wins the AFC South, the Texans should be able win its AFC Wild Card game.
Washington at +7,500 is an absolute steal. The Redskins are a more consistent team than the Eagles and Giants in the NFC East. They may not be better than Dallas, but Washington is well-rounded enough to win in the NFC Wild Card round and play spoiler in the NFC Playoffs.
In that +2,000 to +10,000 range, stay away from Arizona (+2,800) and San Diego (+5,000). Don't kid yourself into thinking the NFC West is getting two teams into the 2016 NFC Playoffs this year. It is mathematically impossible for four AFC West teams to get in.
Of +10,000 and above, the best value has to be the Miami Dolphins at +10,000. This team can run the football, has a great pass rush, and has a navigable schedule the rest of the way. It wouldn't be shocking to see Miami get the No. 6 seed if the AFC West does end up cannibalizing itself.
This article originally appeared on