NFL TV Schedule and Broadcast Map: Week 12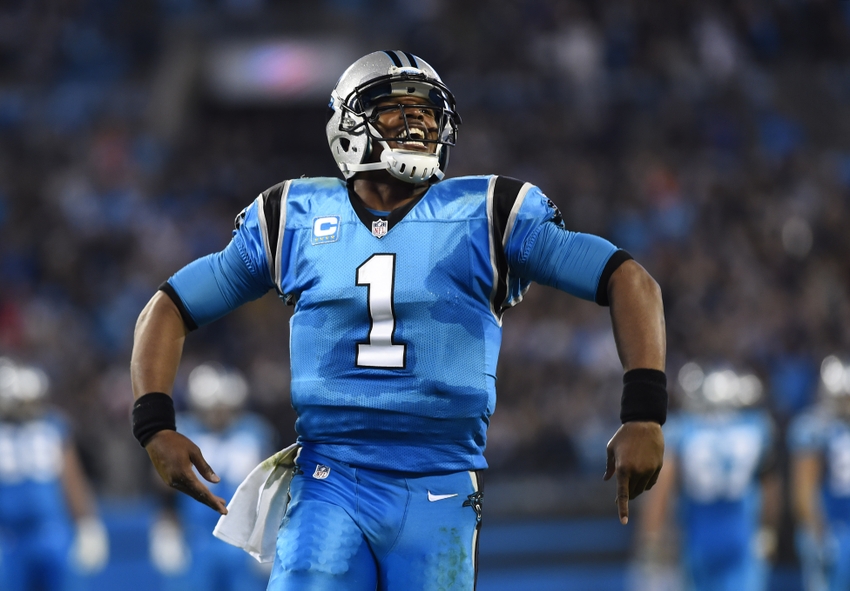 The NFL TV schedule for Week 12 of the 2016 season as well as the broadcast maps to see which games air in your region.
After a trio of Thanksgiving Day games, NFL Week 12 rolls on this Sunday with a full slate of action. As no teams are on bye for the holiday week, that still leaves 12 games on Sunday throughout the day. Rest assured also, there are slew of great matchups ready to occupy the field on Sunday.
On the early slate, there's intrigue with an AFC matchup between the Baltimore Ravens and Cincinnati Bengals as well as the San Diego Chargers vs. Houston Texans. In the NFC, we also get a nice matchup between the Arizona Cardinals and Atlanta Falcons ready to go.
Then, of course, there is the Sunday Night Football matchup out of the touted AFC West. The Kansas City Chiefs and Denver Broncos will do battle for second in the division and the Wild Card spot. Needless to say, you won't want to miss the action on Sunday.
Here's a look at the Week 12 NFL TV schedule so you don't miss any of the action:
| | | | |
| --- | --- | --- | --- |
| Away Team | Home Team | Time (EST) | TV Channel |
| Titans | Bears | 1 p.m. | CBS |
| Jaguars | Bills | 1 p.m. | CBS |
| Bengals | Ravens | 1 p.m. | CBS |
| Cardinals | Falcons | 1 p.m. | FOX |
| Giants | Browns | 1 p.m. | FOX |
| Rams | Saints | 1 p.m. | FOX |
| 49ers | Dolphins | 1 p.m. | FOX |
| Chargers | Texans | 1 p.m. | CBS |
| Seahawks | Buccaneers | 4:05 p.m. | FOX |
| Panthers | Raiders | 4:25 p.m. | CBS |
| Patriots | Jets | 4:25 p.m. | CBS |
| Chiefs | Broncos | 8:30 p.m. | NBC |
Though it's obviously not as loaded as the Thanksgiving slate or even last week's early slate, the 1 p.m. ET starts feature a few good ones. However, there's going to be high drama in the late afternoon and primetime with those matchups.
Now if you're not sure what games air in your region in Week 12, we have you covered there too. Here's a look at the broadcast maps for Sunday (via 506sports):
CBS Early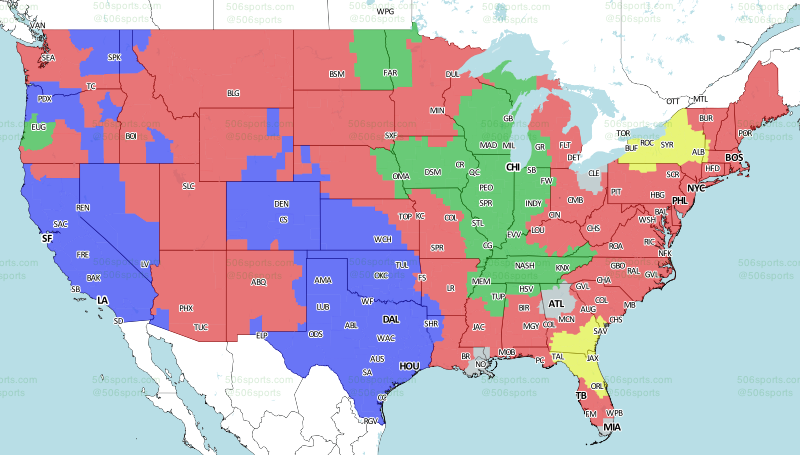 Key: Bengals at Ravens (Pink), Chargers at Texans (Blue), Titans at Bears (Green), Jaguars at Bills (Yellow), Local Game on FOX (Gray)
CBS Late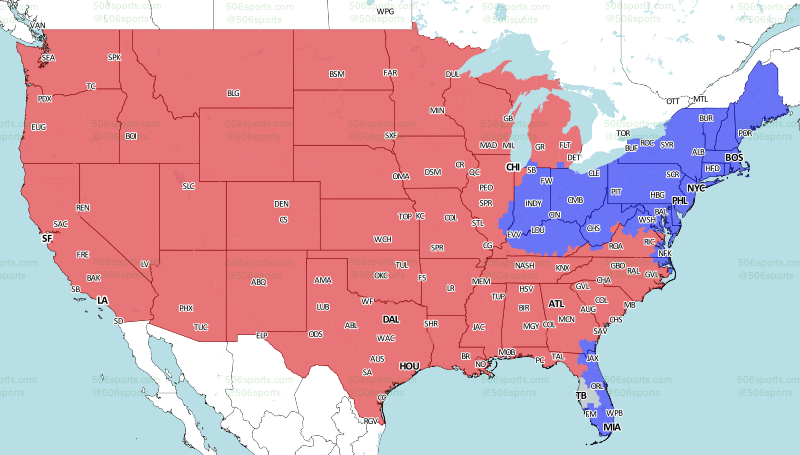 Key: Panthers at Raiders (Pink), Patriots at Jets (Blue), Local Game on FOX (Gray)
FOX All Day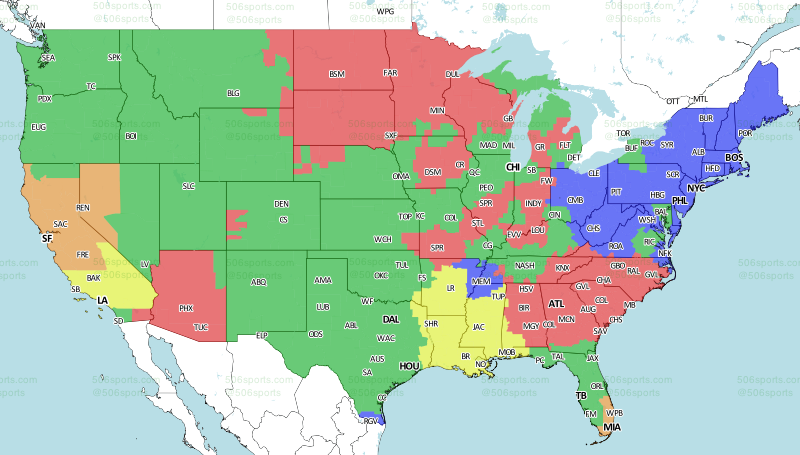 Key: Cardinals at Falcons (Pink), Giants at Browns (Blue), Rams at Saints (Yellow), 49ers at Dolphins (Orange), Seahawks at Buccaneers—Late Game (Green)
Now that you know what games are on in your region, you should be ready to set your own personal Sunday lineup for Week 12.
With the playoff race ramping up, we should have some fantastic matchups on the docket for Sunday afternoon and evening. Teams who disappointed early could start making moves while others could start trailing off. In the end, though, that makes for a fantastic week of NFL action.
More from NFL Spin Zone
This article originally appeared on