NFL TV Schedule and Broadcast Map: Week 11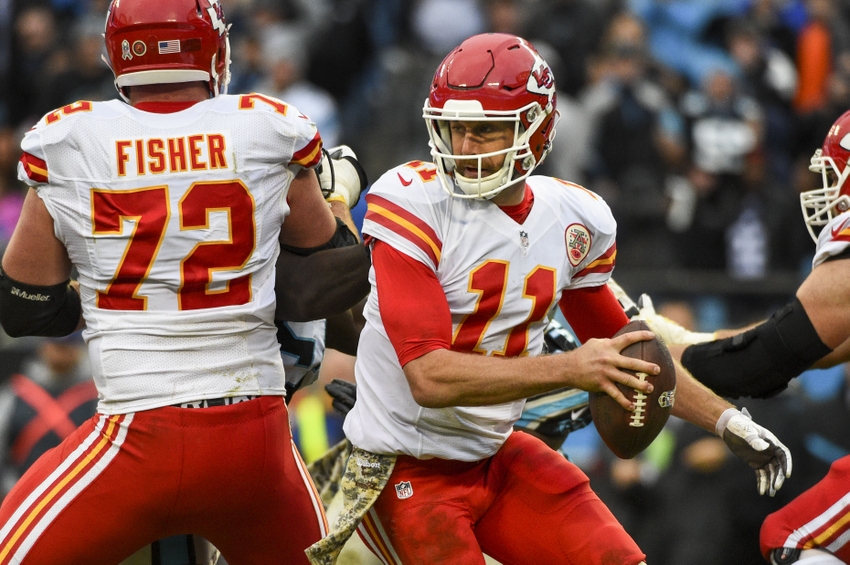 Taking a look at the Week 11 NFL TV schedule and broadcast maps to help you find out which game is on in your area and when.
NFL Week 11 has arrived and there is plenty of reason to be excited for it. The matchups throughout Sunday are going to be huge for a number of reasons. For one there is simply going to be some great football being played. However, it's also the time of year when playoff races start heating up and so on. Subsequently, you'll want to make sure you have your NFL TV schedule straight.
The two big marquee matchups not in primetime this week have to be the Baltimore Ravens vs Dallas Cowboys and the Philadelphia Eagles vs Seattle Seahawks. The former will feature the red-hot NFC-leading Cowboys trying to take down arguably their toughest test to date. In the latter, the Seahawks will look to keep on the tail of Dallas by knocking off a dangerous Philly team.
What's more, Week 11 is also monumental as the first start of Jared Goff for the Los Angeles Rams is slated to finally happen. This could be a pivotal moment for both the rookie and the franchise. Subsequently, count that as another game you won't want to miss. However, you don't really want to miss any of it. Therefore, let's figure out when and where you can watch these Week 11 games.
Here's a look at the Week 11 NFL TV schedule:
| | | | |
| --- | --- | --- | --- |
| Away Team | Home Team | Time (EST) | TV Channel |
| Ravens | Cowboys | 1 p.m. | CBS |
| Steelers | Browns | 1 p.m. | CBS |
| Jaguars | Lions | 1 p.m. | CBS |
| Titans | Colts | 1 p.m. | CBS |
| Bills | Bengals | 1 p.m. | FOX |
| Buccaneers | Chiefs | 1 p.m. | FOX |
| Bears | Giants | 1 p.m. | FOX |
| Cardinals | Vikings | 1 p.m. | FOX |
| Dolphins | Rams | 4:05 p.m. | FOX |
| Patriots | 49ers | 4:25 p.m. | CBS |
| Eagles | Seahawks | 4:25 p.m. | CBS |
| Packers | Redskins | 8:30 p.m. | NBC |
For the second week in a row, the NFL frustratingly loaded up the early-afternoon slate of games. However, there are plenty of good ones in that early slate. Moreover, a few of the later games deserve to be featured, particularly the Eagles and Seahawks, as we previously mentioned.
Now let's take a look at where these games will be airing with the Week 11 broadcast maps (via 506 Sports):
CBS Early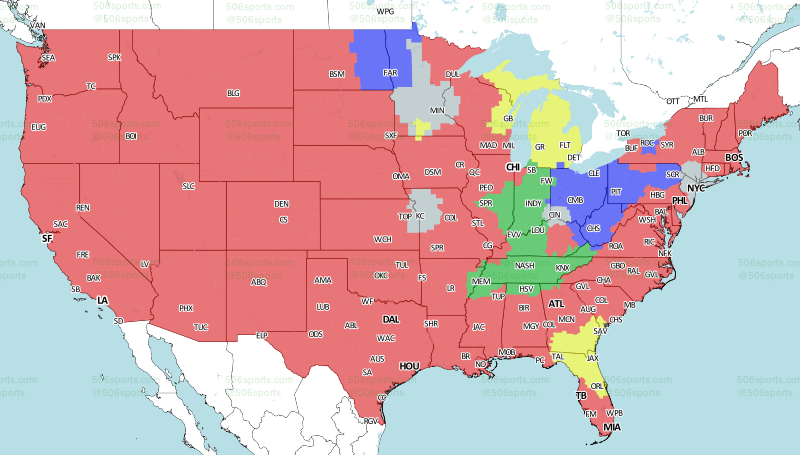 Key: Ravens at Cowboys (Pink), Steelers at Browns (Blue), Titans at Colts (Green), Jaguars at Lions (Yellow), Local Game on FOX (Gray)
CBS Late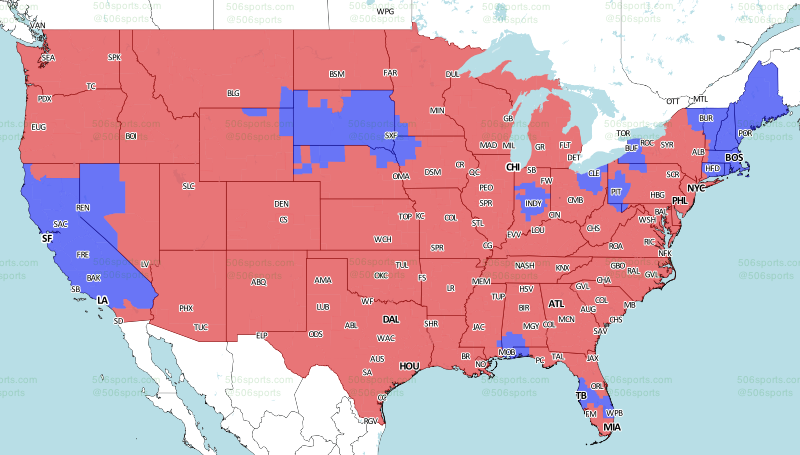 Key: Eagles at Seahawks (Pink), Patriots at 49ers (Blue), Local Game on FOX (Gray)
FOX Single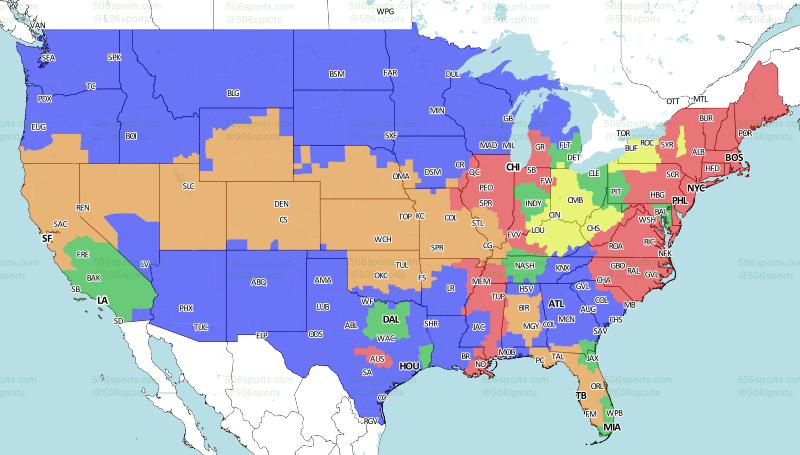 Key: Bears at Giants (Pink), Cardinals at Vikings (Blue), Bills at Bengals (Yellow), Buccaneers at Chiefs (Orange), Dolphins at Rams—Late (Green)
The FOX broadcast map is obviously all over the place throughout the day, but the CBS map makes a bit more sense.
Now you know when you can catch each of the great Week 11 games and where in the United States they'll be shown. This should be a huge week with playoff races heating up in a major way. This isn't a week you want to miss a minute of the action.
More from NFL Spin Zone
This article originally appeared on