NFL Thanksgiving Day: 10 Best Individual Offensive Performances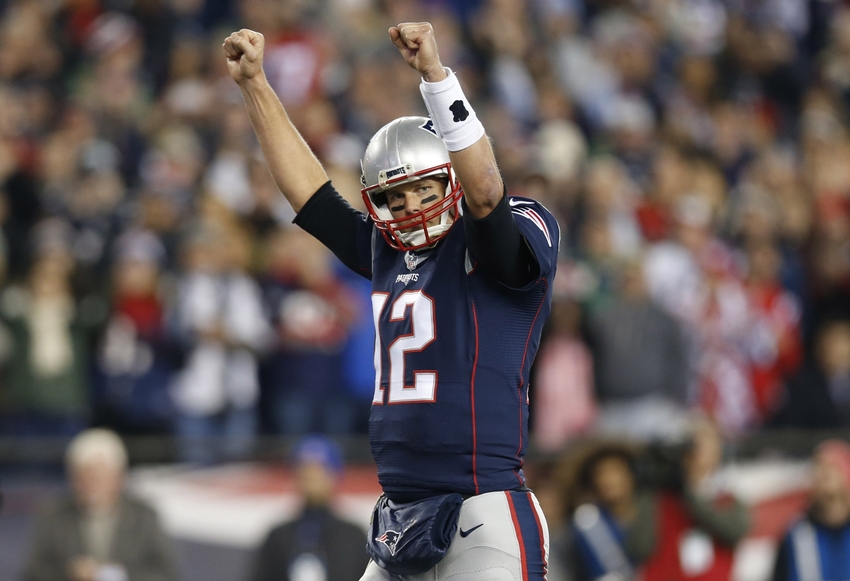 There have been plenty of incredible NFL individual performances on Thanksgiving. Here are the top 10 players to feast on defenses on Turkey Day.
Finding history making performances on Thanksgiving is as easy as a quick Google search. Simply reading others' work and regurgitating it isn't a difficult task. While it's important to know how the rest of the NFL media world feels, I have to do my due diligence and research like crazy to present a different take on Thanksgiving's finest. Some may go by aesthetics or emotions, I'm going by the numbers with my selections.
It helps to let you know about the reasoning and methodology that went into compiling this list. Scoring and yardage were paramount, when both categories are considered. A wide receiver could rack up a ton of yards, but not put anything on the scoreboard. Is that worthy? On the flip side, some fullback gets three one-yard touchdowns, but no yardage otherwise. That doesn't seem laudable.
With any list, there's bound to be oversights, omissions, and lapses in judgment that result in hot heads and furrowed brows. I'm the type of guy who wants to make sure every square inch of NFL history gets coverage and credit. So, let's address some of the more memorable performances that didn't make the cut.
There were a trio of pre-Super Bowl Era efforts that deserve a nod:
Here are some notable rushing performances:
Here are some notable passing performances:
Lastly, here are some notable receiving performances:
Yeah, believe it. Randy Moss is not  in the top 10. If arguably the most talented wide receiver to play the game can't crack the top 10, you know it's got to be good. Buckle up for the best of the best on Turkey Day in history.
10. Sterling Sharpe, TE – Green Bay Packers (vs. Dallas Cowboys)
The 6-5 Green Bay Packers trekked into Texas to tackle the 9-2 Dallas Cowboys, who were favored by six points, despite not having starter Troy Aikman or backup Rodney Peete. Instead, third stringer Jason Garrett started and saw his squad fall behind the Pack 17-6 at halftime, thanks to two Sterling Sharpe touchdown catches and a short field goal.
A flurry of scoring kicked off the second half with a big return from Dallas' Kevin Williams to set up an Emmitt Smith rushing touchdown. That was almost immediately followed by a big return from Green Bay's Corey Harris and another Sterling Sharpe touchdown grab. Sharpe's Packers wouldn't relinquish their lead until Daryl Johnston's short rushing touchdown with around five minutes left in the third quarter.
The Cowboys wouldn't give up that lead for the rest of the game, though Green Bay threatened halfway through the fourth quarter with another Sterling Sharpe touchdown reception that pulled them within eight points. Dallas would win 42-31. Still, Sharpe finished with an absolutely ridiculous line. The game ended with him having been targeted 13 times, catching nine balls for 122 yards and four touchdowns.
Green Bay would finish 9-7 to secure a Wild Card berth. They beat the Detroit Lions in that round, but got trounced by the Cowboys the next week. The 1994 season would be Sharpe's last as he was forced to retire due to neck issues at the age of 29. Sharpe made the Pro Bowl after leading the league in receiving touchdowns that year and was fifth in receptions.
9. Jim Braxton, RB – Buffalo Bills (vs. St. Louis Cardinals)
The 6-4 Buffalo Bills galloped into the Lou to lock horns with the 8-2 Cardinals. Jim Braxton, the fifth-year fullback/running back from West Virginia, carried the ball 34 times for 160 yards and three rushing touchdowns while adding three more receptions for 33 yards in Buffalo's 32-14 win over the Cards. Braxton's backfield mate O.J. Simpson rushed for 85 yards on 23 attempts and got into the end zone once.
Good thing Braxton and Simpson found success because Buffalo's passing game didn't help much as quarterback Joe Ferguson went 11-of-22 for 128 yards, throwing two interceptions to earn a rating of 30.1. Buffalo's defense also did their part by forcing seven turnovers, picking off four passes and recovering three fumbles.
Braxton opened up Buffalo's scoring with a one-yard touchdown run to get within one point in the first quarter. The Bills would score five more times, two of those courtesy of Braxton's carries.
The 1975 season was Braxton's best as he gained 1,105 yards from scrimmage and scored 13 total touchdowns. He'd play about two and half more years for Buffalo before ending up with Miami to round out his career. The Bills finished 8-6 and missed the postseason in 1975, while the Cardinals went 11-3 to win the NFC East, but lost to the Los Angeles Rams in the Divisional Round.
8. Walter Stanley, WR – Green Bay Packers (vs. Detroit Lions)
The 2-10 Green Bay Packers packed their bags to hit up their neighbors in Detroit and ruin Thanksgiving for the 5-7 Lions, who were favored by five points. The over-under was set at 40, yet each team managed to score that many points.
Detroit got out to the early lead in the first quarter, but would go down by 10 when Stanley scored on a 21-yard touchdown pass in the second. The Lions wouldn't regain the edge until the second half when Jimmie Giles hauled in a touchdown pass from Joe Ferguson. Detroit would extend their lead to 14 with another Ferguson touchdown pass before Stanley caught another touchdown pass from Randy Wright.
When Stanley's receiving day was all done, he would have two more catches, one for a long of 62 yards. Yet, he still had one more score in him. Down 40-37 with less than a minute remaining in the game, Stanley fielded a punt and went 80+ yards for the game-winning touchdown.
All in all, the second-year returner out of Colorado accumulated 287 all-purpose yards, with 124 yards receiving and 163 return yards.
The 1986 season was Stanley's best as he picked up 1,617 all-purpose yards, 735 of which came from receptions. He would play two more season for Green Bay before ending up with Detroit, where he led the league in yards per punt return.
7. Earl Campbell, RB – Houston Oilers (vs. Dallas Cowboys)
The 9-3 Houston Oilers looked to spoil Thanksgiving for the 8-4 Dallas Cowboys, who were favored by just a point at Texas Stadium.
"America's Team" would get on the board first with a long touchdown pass from Roger Staubach to Drew Pearson, but the Oilers responded with a 61-yard touchdown run from Campbell. Each team would trade scores with Campbell's second touchdown rush cutting the Cowboys lead to four, 21-17. Earl would finish with 33 carries for 195 yards and two touchdowns.
Houston went up 23-21 on a 47-yard touchdown pass from Dan Pastorini to Mike Renfro and would get another touchdown pass from Pastorini in the fourth quarter to seal the 30-24 win. Pastorini only attempted 17 passes and connected on nine, but ended up with 163 yards and passer rating of 125.4. The bulk of Pastorini's yardage came on three throws (32, 47, 29).
Dallas would out-gain Houston through the air and picked up more first downs, but also turned the ball over three times, twice via interception and once from a lost fumble. The Oilers finished 11-5 that season. They beat the Denver Broncos in the Wild Card, the San Diego Chargers in the Divisional Round, but lost to the Super Bowl Champion Pittsburgh Steelers by two scores.
In 1979, Campbell earned First-Team All-Pro and Pro Bowl honors, as he led the league in rushing yards, rushing touchdowns, and rushing yards per game. Though his numbers were mostly better across the board in 1980, 1979 would be his most valuable season for Houston. Earl would play there until halfway through 1984 when he went to New Orleans.
6. Emmitt Smith, RB – Dallas Cowboys (vs. Green Bay Packers)
Sterling Sharpe wasn't the only player to have a big game in this classic NFC clash. Dallas had Emmitt Smith (along with that vaunted offensive line and Jason Garrett) to thank for the win. Smith gained 228 yards from scrimmage on this day, carrying the ball 32 times for 133 yards and two touchdowns, adding another six catches for 95 more yards through the air. Those numbers made him Dallas' leading rusher and receiver.
Five of the first six Cowboys plays had Smith touching the ball. Green Bay contained Emmitt, for the most part, until the end of the third quarter when he took a pass 68 yards to the Packers 7-yard line.
Emmitt's five-yard touchdown run at the beginning of the second half got Dallas within four points of Green Bay, 17-13. He'd add another score on the ground from 18 yards out in the fourth to pad Dallas' lead, 32-24.
With the score 39-31 and with less than four minutes left to play, Dallas fed Smith the ball to salt away the clock. Starting at Green Bay's 42, Emmitt ran the ball seven times to set up a chip shot field goal to close the book on the Packers.
The four-time First-Team All-Pro and seven-time Pro Bowler led the league in rushing attempts and rushing touchdowns in 1994 at the age of 25. The 94 Cowboys would finish 12-4, beat the Packers again in the Divisional Round of the playoffs, but lose to the eventual Super Bowl Champion San Francisco 49ers.
It was hard to pick just one great Thanksgiving game for Smith as he's had a bunch of to be thankful for (almost all of which were against Washington):
If you had to pick one, though, the dominant performance in 1994 is my choice.
5. Peyton Manning, QB – Indianapolis Colts (vs. Detroit Lions)
The 7-3 Indianapolis Colts stormed into Detroit to tame the 4-6 Lions and put up 41 points in three quarters for a blowout win. Indy was favored by 8.5 points, but ended up five points shy of the over/under, no thanks to their opponent.
Manning went 23-of-28 for 236 yards and threw six touchdowns against zero interceptions while not getting sacked once to earn a quarterback rating of 141.4. The league MVP's favorite target was Marvin Harrison, whom Manning tossed to 16 times, completing 12 passes for 127 yards and three touchdowns. Brandon Stokley also caught three touchdown passes.
The Lions turned the ball over five times, four on fumbles, once on an interception. The offense allowed three sacks and only converted on 5-of-13 third-down opportunities. Detroit finished 6-10 in 2004, then started 4-7 in 2005 before firing Steve Mariucci in favor of Dick Jauron, who would end up 1-4 that season.
In 2004, Manning led the league in passing touchdowns (breaking Dan Marino's single-season record), touchdown percentage, yards per attempt, yards per completion, quarterback rating, and approximate value (according to Pro Football Reference). The 2004 Colts would finish 12-4, beat up the Broncos at home then lose by 17 to the New England Patriots at Foxboro.
4. Tony Romo, QB – Dallas Cowboys (vs. Tampa Bay Buccaneers)
The 6-4 Dallas Cowboys hosted the 3-7 Tampa Bay Bucs and if it were up to Tampa Bay, they'd leave a negative review on AirBnB. Dallas was favored by 11 points heading into the contest and ended up winning by 28.
The Cowboys collected 27 first downs and generated 435 total yards while converting seven of 12 third-down opportunities and holding the ball for more than 37 minutes. Terry Glenn caught two touchdown passes, Terrell Owens caught one, and Marion Barber caught two more.
The big story was Romo, who completed 22-of-29 passes for 306 yards and five touchdowns against no interceptions to earn a 148.9 quarterback rating. It would be Romo's best game of the 2006 season and the third-highest rated effort of his career. He would only throw for five touchdowns one other time, on Oct. 6th, 2013 against the Denver Broncos in a 51-48 loss.
Dallas would lose three of their next five games to finish 9-7, but still made the playoffs as a Wild Card. In that opening round, the Cowboys would lose to the Seattle Seahawks when Romo botched the hold on the game-winning field goal attempt.
Romo would end up leading the league in yards per attempt and net yards per attempt that season. He cemented himself as the Cowboys starting quarterback for years to come until Dak Prescott took over in 2016.
3. Walter Payton, RB – Chicago Bears (vs. Detroit Lions)
The 5-5 Chicago Bears met up with the 5-5 Detroit Lions at the Silverdome and went scoreless in the first half. That changed in the second half as the Bears rattled off 31 points to win by 17 and get the season sweep.
Payton was peak Sweetness as he gained 244 yards from scrimmage on 20 rushes for 137 yards and a touchdown, plus four catches for 107 yards and another score. His first touchdown came on a 75-yard pass from Bob Avellini to give Chicago the 14-7 lead and the second came in the fourth on an eight-yard rush to close out the day.
Chicago wouldn't lose another game, finishing in second place in the NFC Central. The Bears rode a six-game winning streak to a record of 9-5. But, the winning stopped with a 37-7 loss to the Cowboys in the Divisional Round the day after Christmas.
Payton would be a First-Team All-Pro, Pro Bowler, and league MVP in 1977. He led the NFL in rushing attempts, rushing yards, rushing touchdowns, rushing yards per attempt, and rushing yards per game. Walter also gained more than 2,100 yards from scrimmage that year and would play 10 more seasons for the Bears before entering the Hall of Fame in 1993.
2. O.J. Simpson, RB – Buffalo Bills (vs. Detroit Lions)
The 1-10 Buffalo Bills trotted into the Silverdome to butt heads with the 5-6 Detroit Lions and wasted a career day by O.J. Simpson en route to a 27-14 loss.
Detroit went up 20-0 before the Bills got on the board in the third quarter when Simpson scored on 48-yard run. After a Lions rushing touchdown put them back up by 20 in the fourth, Simpson found paydirt again on a 12-yard touchdown run. O.J. ended up running for a then-NFL-record 273 yards on 29 carries.
Bills quarterback Gary Marangi completed only four passes for 29 yards on 21 attempts and threw an interception. His quarterback rating was 19.7. More than a third of his yardage came on one completion and he was sacked four times. The 15 net passing yards has to be a Thanksgiving record—one that belongs nowhere near this list.
Simpson led the league in rushing attempts in 1974, but his better years were sandwiched around that season. The previous year, O.J. led the league in rushing attempts, yards, touchdowns, and yards per game to win the league MVP. He would be tops in those same categories in 1975, but wouldn't win most valuable player despite having the highest approximate value according to PFR.
1. Tom Brady, QB – New England Patriots (vs. Detroit Lions)
The 8-2 New England Patriots paraded into Ford Field and pummeled the 2-8 Detroit Lions for a 45-24 win. Tom Brady completed 21-of-27 pass attempts for 341 yards and four touchdowns against zero interceptions to earn a perfect passer rating of 158.3.
Detroit actually made a game of it for three quarters as the game was tied 24-24 entering the fourth. The Lions had a 14-3 lead at one point in the first half and led at halftime, 17-10. Looking at team stats, Detroit had more first downs, more rushing yards, and more time of possession. But, Shaun Hill completed less than 60 percent of his attempts, threw two costly interceptions and only averaged a little more than six yards per attempt.
On the other hand, Brady completed 11 consecutive passes to finish out the game and led the offense to touchdowns on five consecutive drives in the second half. Deion Branch caught two touchdown passes and gained 113 receiving yards, 79 of which came on a score. Wes Welker snagged eight passes for 90 yards and a pair of scores as well.
The Pats would finish the 2010 season 14-2 on a eight-game winning streak, but lost to the New York Jets at home in the Divisional Round. Brady would be named First-Team All-Pro and made the Pro Bowl by leading the league in passing touchdowns, touchdown percentage, interception percentage, and quarterback rating.
This article originally appeared on