NFL teams primed to be playoff spoilers down the stretch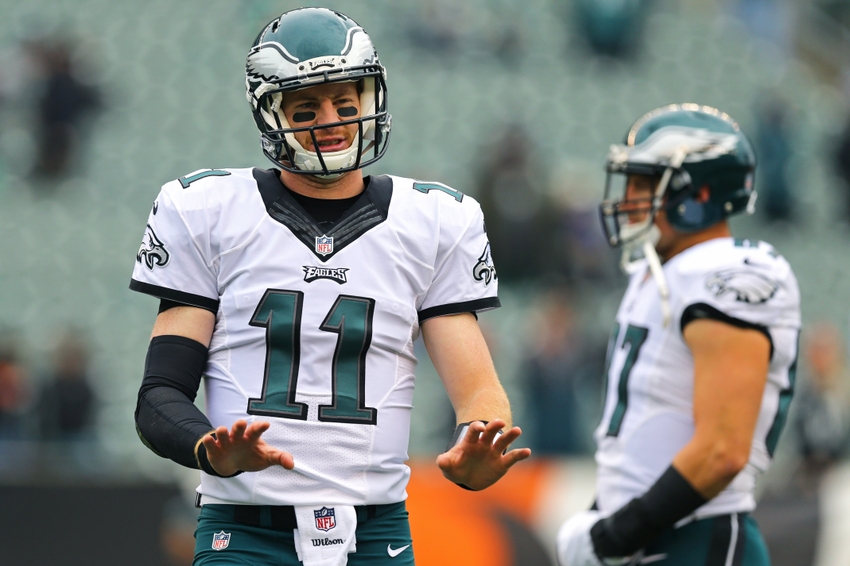 We all know the old saying: If you can't beat 'em, ruin the season for 'em. Here are five clubs determined to ruin some postseason plans.
Define an NFL playoff spoiler. It's a team that's won its share of games but realistically is probably out of the postseason picture.
But that doesn't mean they can't ruin the year for other aspiring teams and close the year with a little smirk on their face.
Entering Week 14, the Dallas Cowboys are the only team in the league that has secured a playoff berth. Here are five clubs that probably won't be joining them. But that doesn't mean they won't have a say in the matter.
5. San Diego Chargers
Remaining schedule: at Carolina Panthers (4-8), vs. Oakland Raiders (10-2), at Cleveland Browns (0-12), vs. Kansas City Chiefs (9-3)
Yes, there are a pair of last-place teams on the Bolts' four closing opponents. One is the defending NFC champion Carolina Panthers and the other the winless Cleveland Browns. Hence why this team isn't No. 1 on this short list of spoilers.
So it's the other two foes – both scheduled to visit San Diego – that has Mike McCoy's club in a prime spot to cause a little chaos in the AFC West and the conference as well. And given the magnitude of the division this season, the Chargers are ripe to make things very interesting for both the Silver and Black as well as the red-hot Chiefs.
Now there's one little caveat here. This is a team that is just 1-11 in its last 12 divisional contests dating back to late in the 2014 season. Earlier this year, San Diego squandered a 27-10 third-quarter lead at Arrowhead Stadium in Week 1 which resulted in a 33-27 overtime loss. Four weeks later, Philip Rivers and company came up short at Oakland, 34-31. The Chargers failed to get the job done in each instance but will host each team this time around.
4. New Orleans Saints
Remaining schedule: at Tampa Bay Buccaneers (7-5), at Arizona Cardinals (5-6-1), vs. Tampa Bay Buccaneers (7-5), at Atlanta Falcons (7-5)
With four weeks to go, the New Orleans Saints still have three games with their NFC South brethren. And each of those contests involves the two teams tied atop the division.
Sean Payton's club comes off a rough afternoon at home against the surging Detroit Lions. A 28-13 loss to the NFC North leaders saw quarterback Drew Brees picked off three times without throwing a touchdown pass. Despite that performance, the prolific signal-caller has enjoyed a big year. The 16-year pro is completing 71.4 percent of his throws and averaging 326.1 yards per game through the air. He's connected for 30 scores and thrown only 11 interceptions.
Yes, we realize it's a different era in Tampa with quarterback Jameis Winston. But the fact remains that the Saints are 8-1 in their last nine meetings with the Bucs.
Back on a Monday night in Week 3 at the Superdome, the Saints fell to Dan Quinn's team by a 45-32 count. But Brees' track record against the Falcons is pretty solid. Since his arrival in the Big Easy, New Orleans is 15-6 in this longtime divisional rivalry. He's thrown nearly twice as many touchdown passes (40) as interceptions and served up 300-plus yards in 15 of those 21 meetings. Given the state of Atlanta's defense, Payton's club is more than capable of another win at the Georgia Dome.
The Saints could also put a crimp in the playoff plans of the Cardinals. Arizona is still in the postseason race despite being one game under .500. But that could change this week with a road victory over the Miami Dolphins.
3. Cincinnati Bengals
Remaining schedule: at Cleveland Browns (0-12), vs. Pittsburgh Steelers (7-5), at Houston Texans (6-6), vs. Baltimore Ravens (6-6)
First things first. Could the disappointing Bengals possibly be the Browns' first victim of 2016 on Sunday? Not if recent history is any indication. Marvin Lewis' club has won two straight at Cleveland by a combined score of 67-3.
Of course, the Browns won't be going to the playoffs while the Steelers, Texans and Ravens are all hoping to earn postseason invitations. Cincinnati has already dropped road games at Pittsburgh (24-16) and Baltimore (19-14) this year. Then again, that means very little in the AFC North, one of the league's strongest divisions in recent seasons which happens to be having somewhat of a down year. However, both the Ravens and Steelers appear to be getting their acts together as of late.
In the case of John Harbaugh's club, they have had their issues with the Bengals and in Cincinnati in recent years. The Week 12 win over Lewis' team snapped a five-game losing streak in the series. And the Ravens have dropped four straight and six of their last seven games in the Queen City dating back to 2009. The Steelers have had much more success at Cincinnati (winning their twice in 2015). But Andy Dalton and company still have enough offensive firepower to give Mike Tomlin's unpredictable defensive unit some issues.
And let's not forget that Lewis and company could also have a say in the AFC South. The Texans, Tennessee Titans and Indianapolis Colts all sit at 6-6 with four games to play.
It's been a subpar year for a franchise that has reached the playoffs each of the past five seasons. But they could still make a little noise of sorts over the next four weeks.
2. Chicago Bears
Remaining schedule: at Detroit Lions (8-4), vs. Green Bay Packers (6-6), vs. Washington Redskins (6-5-1), at Minnesota Vikings (6-6)
Admittedly, the Bears have been one of the more disappointing teams in the league this season. They began the year adding players such as defensive end Akiem Hicks and inside linebackers Jerrell Freeman and Danny Trevathan to bolster an already-improving defense. The latter two are currently unavailable for different reasons.
John Fox's club is also on its third quarterback this season. Both Jay Cutler and Brian Hoyer are on the mend. Matt Barkley is currently at the controls of an offensive unit that has reached the end zone just 21 times in 12 games.
Chicago's defense has been very respectable. The team has racked up 30 sacks, more than half of those by outside linebackers Willie Young (7.5) and rookie Leonard Floyd (7), as well as Hicks (6). A big issue has been the lack of takeaways. The Bears have forced a mere eight turnovers in a dozen outings.
While it's been a disappointing showing at 3-9, that doesn't mean Fox and friends won't have a say in the playoff race. The Redskins will have their hands full with this club when they invade the Windy City in Week 16. And keep in mind that two of the team's three victories were at the expense of the Lions and Vikings – both at Soldier Field. Vic Fangio's defensive unit would provide some issues for both Matthew Stafford and Sam Bradford.
And one bright spot for the Chicago offense that bears watching is rookie running back Jordan Howard. The fifth-round pick from Indiana has rushed for 816 rushing yards and five scores in his last nine games, totaling 100-plus yards on the ground in five of those outings.
The Bears could prove to be a very stubborn foe down the stretch.
1. Philadelphia Eagles
Remaining schedule: vs. Washington Redskins (6-5-1), at Baltimore Ravens (7-5), vs. New York Giants (8-4), vs. Dallas Cowboys (11-1)
We are well aware that rookie head coach Doug Pederson and rookie quarterback Carson Wentz have a goose egg in the win column when it comes to facing its divisional brethren this season. But it should also be pointed out that the Eagles have yet to face the Redskins, Giants and Cowboys in their own building this season.
Nevertheless, three games vs. their NFC East rivals in 2016 have added up to a trio of narrow defeats – each by seven points or less. And remember the Birds took the division-leading Cowboys into overtime on a Sunday night at Dallas in Week 8.
While Pederson's club has dropped three straight and is 2-7 following a 3-0 start, those pair of victories came at the expense of the then-unbeaten Minnesota Vikings and the current NFC South co-leader Atlanta Falcons – both of those contests in Philadelphia. And you will also recall that the Pittsburgh Steelers left the City of Brotherly Love back in September on the short end of a 34-3 score.
Also keep in mind that the Eagles could have a say in the AFC North race as well. They head to Baltimore in Week 15 and face a Ravens' team that will be coming off a short week and a huge Monday night games with the New England Patriots.
Yes, Wentz has cooled off considerably and the defense had also had its issues as of late. But we are talking NFC East rivalries here for the most part. By the time the Cowboys come to Philadelphia, they may even have things wrapped up in the conference. But for the Redskins and Giants, these will not be easy tests against a Eagles' squad that has certainly made overall strides from a year ago.
This article originally appeared on