NFL's 8 Biggest Wastes of Talent Since 2010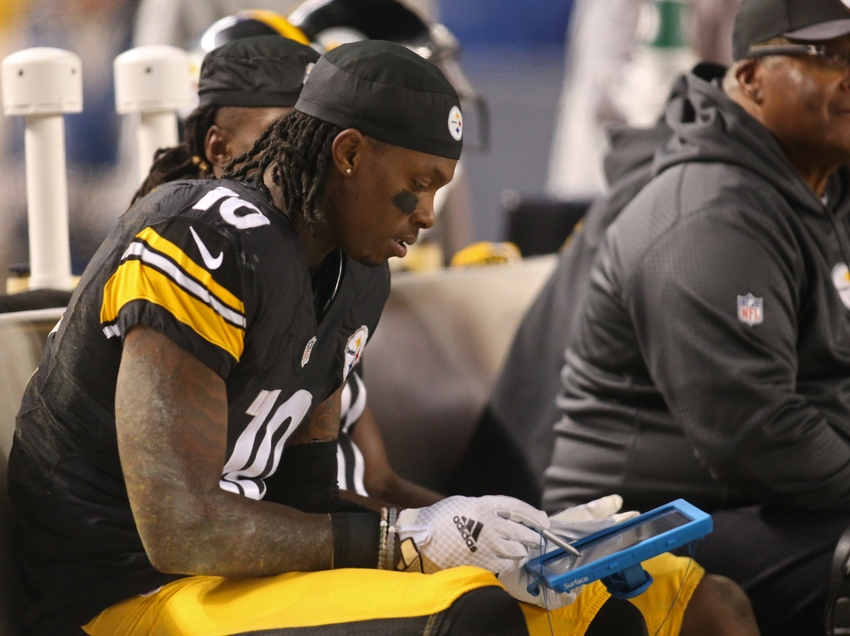 The NFL has seen a lot of wasted talent. Here are the eight worst instances of that since 2010.
There's not much worse than seeing wasted talent. You know, athletes who have a tremendous amount of talent, but fall into a vicious circle of drugs, alcohol and other bad decisions. It's apparent in every sport, which obviously means the NFL's featured numerous cases of wasted talent over the years.
It's never fun to see, as it's tremendously sobering to remember that these great athletes are human beings. They're capable of making mistakes, and they are not perfect in any way. Nothing emphasizes this more than seeing so many talented NFL players' talent get wasted by way of off-field issues.
For this list, I'll be avoiding talking about out-right busts. Was Blaine Gabbert bad? Sure, but the reason his career took a turn for the worst wasn't because of drugs or alcohol. The dude just wasn't good at playing quarterback.
It's much more conflicting and disheartening with someone that has far more talent than a player like Gabbert never reaches their potential because of poor decisions.
Here are the eight biggest wastes of talent in the NFL since 2010.
Daryl Washington, LB — Arizona Cardinals
For a lot of people, hearing Daryl Washington's name may not conjure up any memories. He was an underrated stud for the Cardinals during his most prominent time. Washington earned a trip to the Pro Bowl in 2012 after recording 134 tackles, an interception and two forced fumbles.
Washington's breakout 2012 was his second consecutive year with over 100 tackles. It certainly looked like the TCU product had a bright future. But then the NFL suspended Washington for violating the league's substance abuse policy in April of 2013.
Then in 2014, the NFL suspended Washington again for once again violating the substance abuse policy. However, Washington's second suspension warranted a ban for the entirety of the 2014 season. Washington also pleaded guilty to assault charges from 2013.
Unfortunately for Washington, his career is likely over and his chances have vanished before his eyes. It's really unfortunate to see, as Washington would've been a big part of this current-day Cardinals defense—or any NFL defense, for that matter.
Randy Gregory, DE — Dallas Cowboys
Gregory is the youngest entry on this list, but it's largely well-deserved. When Gregory entered the league, he did so with a litany of red flags surrounding him. Analysts originally tagged the talented Nebraska product as a blue-chip, early first-round pick. However, off-field character issues contributed to Gregory tumbling down draft boards.
Gregory wound up going 60th overall to the Dallas Cowboys. After his rookie campaign, Gregory began proving why scouts questioned his character. Gregory violated the NFL's substance abuse policy and was promptly suspended for the first four games of the 2016 season. Then Gregory failed a second drug test, causing him to be suspended an additional 10 games.
Recently while still serving his previous suspension, Gregory failed another drug test and is due a one-year ban. That's on top of his 14-game suspension. Something's gotta change for Gregory, otherwise his career will be over very, very quickly.
While the Cowboys may be an organization willing to stick with their players in times of hardships, Jerry Jones may very well elect to move on from the troubled, yet talented end.
Will Hill, S
Man, this one hits home. As a Giants fan, I thoroughly enjoyed watching Will Hill during his stint in New York. He displayed a transcendent skill set, which allowed him to fly over the field and make big, high-impact plays. But then he—like so many others—violated the league's substance abuse policy and was issued a six-game suspension prior to the 2014 season.
New York waived the troubled safety. At the time, it seemed like the best thing for Hill. Hill signed with the Baltimore Ravens and it appeared he was entering a career metamorphosis. He recorded the biggest play of his career, returning a blocked field goal against the Browns for a walk-off touchdown.
But as it has a tendency to do, history repeated itself. Hill failed another drug test prior to the 2016 season, which forced the Ravens to release him. I hope Hill gets another chance to prove he's back on the right path. As a player, Hill was so much fun to watch and few safeties in the league possessed his ability to fly and hit.
Dion Jordan, DE — Miami Dolphins
Dion Jordan has played merely 26 games for the Dolphins since being drafted fourth-overall in the 2013 Draft. 26 games. That's less than two full seasons.
He played in all 16 games as a rookie, recording two sacks. It wasn't ground-breaking, but it was something. But then Jordan failed a drug test and was suspended for the first four games of the 2014 season. Then he failed another drug test and "earned" an additional two-games tacked on to his suspension.
Unfortunately for Jordan, he failed a third drug test, causing the league to suspend him for the entire 2015 season. That's bad for any player to endure something like that, but especially when that player was a top-five draft pick like Jordan was.
There's still hope for Jordan, though. Out of every name on this list, I would consider him the best candidate to rebound from his past troubles. He still has an impressive skill set and the ability to get after the quarterback. He just needs to get his head on straight and focus on playing football.
Josh Gordon, WR — Cleveland Browns
Josh Gordon is a special, special player. In his rookie year, he started 13 games and recorded 805 yards and five touchdowns, all while playing with Cleveland's carousel of misery at the quarterback position throwing him the ball. He broke out in his second year, leading the league in receiving yards with 1,646. The Browns, a perennial loser, finally seemed to have found a bright spot to build an offense around.
But then Gordon's off-field issues began catching up to him. They were the same issues that prevented Gordon from being drafted in the traditional sense, forcing him to ultimately enter the supplemental draft.
Gordon only played five games in 2014, serving a suspension. History has a funny way of repeating itself, as Gordon was suspended for the entire 2015 season for violating the substance abuse policy.
The NFL reinstated Gordon prior to the 2016 season, but not without issuing him a suspension for the first four games of the season. Gordon entered rehab to try to get his life together, and that's commendable. The thing with Gordon is that he's still young at 25. He's got the time to turn things around and he appears to be taking the right steps to accomplishing that.
Martavis Bryant, WR — Pittsburgh Steelers
Much like the aforementioned Gordon, Bryant appeared to be one of the league's next superstars. Bryant proved to be a touchdown machine, having a knack for finding the end zone. His most spectacular catch warranted nation-wide attention. Bryant famously hauled in an uber-difficult touchdown catch against the Cincinnati Bengals in Jan. 2016.
Alas, the league suspended Bryant for the entire 2016 season after violating the substance abuse policy. Even worse, Bryant, according to Ben Roethlisberger and The Post-Gazette's Ed Bouchette, lied to his quarterback.
If the Steelers don't win the Super Bowl this year, people will forever play the "what-if" game in regards to Bryant. If he hadn't been suspended, perhaps the Steelers would've won the Super Bowl. You can't quantify having that kind of deep threat in an offense and then having no one to fully replace it without warning.
Next season will axiomatically define Bryant's career. If he can come back from his suspension with the desire and work ethic to succeed, people will be more forgiving of his past mistakes. But if he continues to have miscues off the field, I believe it's only a matter of time before Mike Tomlin replaces him.
Johnny Manziel, QB — Cleveland Browns
Of course Johnny Football's on this list. When he left College Station and entered the NFL Draft, he carried a lot of reputations with him. On one hand, Manziel carried the reputation of a play-making, excitement-inducing dynamo who could do magnificent things with the ball in his hands. But on the other hand, Manziel carried the much heavier burden of being a player synonymous with drugs and alcohol.
Many labeled him the modern-day Joe Namath, as he was truly different than the majority of the league. Unfortunately, the Manziel era was a short-lived one. Despite showing some flashes during his first two years, Manziel's off-field issues truly limited what he was capable of.
The tail-end of 2015 emphasized exactly what was wrong with Manziel. He had an issue, and it truly came to the forefront. NFL Network's Michael Silver reported Manziel literally showed up to practice drunk. Drunk. More bad news followed Manziel, as ESPN covered some of his hotel incident.
The league suspended Manziel for the first four games of the 2016 season, but that was inconsequential, considering no team would want anything to do with the troubled rebel. Perhaps it was all a microcosm of being a high draft pick. The savior for a faceless organization, if you will.
Justin Blackmon, WR — Jacksonville Jaguars
This is the most egregious waste of talent on this list, and it's really not even close. The Jaguars drafted Blackmon with the fifth-overall pick in the 2012 NFL Draft. He looked like a game-changing prospect with big-play ability. He even earned comparisons to the great Terrell Owens.
The worst part about Blackmon is the fact that at times he showed flashes of the potential he had. He recorded 865 yards during his rookie year and also snagged five touchdowns. Blackmon had a 236-yard outing against Houston.
In his second year, Blackmon hauled in 415 yards in merely four games. He almost certainly would've ended his second year with over 1,000 yards. Unfortunately, we'll never know, as the league suspended Blackmon. He was going to be good, a game-changer for a franchise in dire need of one at the wide receiver position.
It's terribly unfortunate looking at Blackmon's career. He seems to have more off-field incidents than touchdown receptions.
Here's a quick run-down.
Blackmon's actions set back the entire Jaguars franchise a few years. Considering his natural physical abilities, what he showed in college, and even the flashes he showed during his brief time in the NFL, he could've been a star. He's easily the biggest waste of talent on this list.
This article originally appeared on