NFL Rumors: Vikings put Shaun Hill ahead of Bradford on depth chart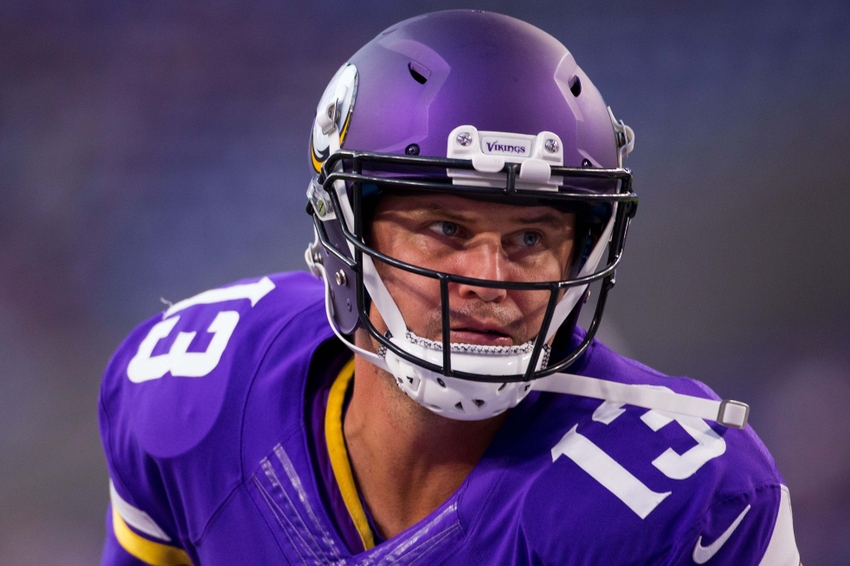 The Minnesota Vikings unofficially announced Shaun Hill as their starting quarterback for Week 1.
When the Minnesota Vikings lost Teddy Bridgewater for the season, their number-one priority was to find an adequate replacement. They wanted to prove that not all hope was lost when Bridgewater went down, and that they could build on the success of last season's NFC North title.
Which is why the Vikings moved quickly to acquire Sam Bradford for a pair of draft picks — including a 2017 first-rounder.
The price was steep, especially for someone who's had trouble staying upright and put up some terrible numbers last season. But the quarterback market was shallow, and Bradford was one of the better names available. Giving up that much for a QB that will probably only last this season should be a solid indicator that he's starting, right?
Well think again, because when the Vikings put out their depth chart for Week 1, they listed Shaun Hill ahead of Bradford:
The #Vikings offense's unofficial depth chart for Week 1 at Tennessee. pic.twitter.com/gFhYMMERQw

— Minnesota Vikings (@Vikings) September 6, 2016

This would mark the second time Hill has upended Bradford before the start of the season. The first time was in 2014 when Bradford suffered a season-ending injury for the St. Louis Football Club, and Hill wound up in a QB carousel with Austin Davis.
This might mean nothing. After all, head coach Mike Zimmer hasn't announced anything yet. Still, it's a strange move nonetheless. Why give up two draft picks for a guy that's going to sit on the bench? It's hard to trust Bradford these days, but Shaun Hill is a career backup, with his most productive season coming in 2010, when he started 10 games and threw 16 touchdowns and 12 interceptions.
While Bradford won't start in Week 1, that doesn't necessarily mean he's going to warm the bench all season long. The Vikings are talented enough to make it back to the playoffs even if they don't win the NFC North, and Bradford stands to be a much more dependable option come January.
With Adrian Peterson already on the wrong side of 30, the Vikings' Super Bowl window is closing fast. But if Peterson has gotten accustomed to anything while with the Vikings, it's playing with bad quarterbacks. (Don't forget that he nearly set the record for rushing yards in a single season while Christian Ponder was the quarterback).
If Hill starting in Week 1 is indicative of anything, it's that Minnesota is going to hand the rock to Peterson — a lot. That's great news for his fantasy owners, and awful news for the Tennessee Titans.
More from FanSided
This article originally appeared on