NFL Rumors: Tony Romo Eyeing AFC Team for Possible Trade Destination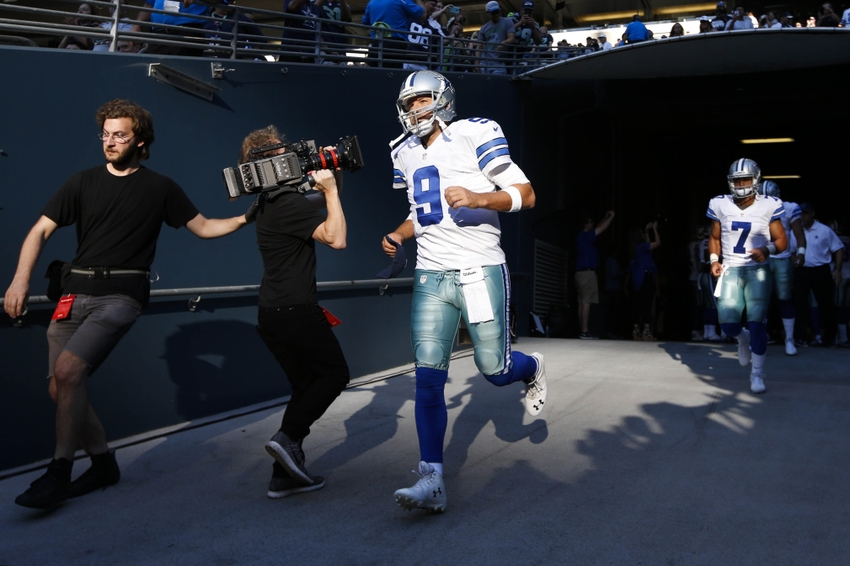 With the Dallas Cowboys almost sure to trade Tony Romo this offseason, the quarterback will have some say and reportedly prefers one AFC West team.
Tony Romo won over even the most vehement detractors and doubters after Week 10. The Dallas Cowboys quarterback read a prepared concession statement early in the week, essentially handing the reigns of the offense to rookie Dak Prescott. It was an emotional scene. But packed into the emotion and the excitement for the youngster was one inescapable notion. This surely means that 2016 will be Romo's last season in Dallas.
While there are other teams around the NFL sure to cut ties with their quarterbacks this offseason, the Cowboys doing so with Romo is at least a bit trickier. Still in the heart of a massive extension, Dallas would take on roughly $19 million in dead money on the salary cap if they cut Romo. Instead, the more likely option has always been to trade him. There are plenty of desperate teams that could use the veteran's services now, but also next season. However, Jerry Jones and the Cowboys are surely going to give Romo a say in where he goes. And reportedly, Tony Romo has at least one idea.
According to a report from Ian Rapoport of NFL.com, Romo has circled the Denver Broncos as a preferred trade destination in the upcoming offseason:
When #Cowboys look to trade Tony Romo this offseason, he'll have significant say. I'm told he has eyes on the #Broncos as a potential spot.

— Ian Rapoport (@RapSheet) November 20, 2016
The Broncos currently have Trevor Siemian under center, who has been more an inhalation of toxic smog than a breath of fresh air in his second season in the league. Current rookie Paxton Lynch is also waiting in the wings. Thus, trading for Romo would make the Cowboys veteran the obvious choice as the starter.
For the Broncos and Romo, you can see why this match would make sense. Denver's defense is good enough to carry them (they have a Super Bowl 50 win to show for it), but they are often asked to do almost too much. A healthy Romo would give them much more on offense and ease the burden on Von Miller and company. What's more, Romo could serve as a mentor to help bring Lynch and/or Siemian along in their development.
However, this could also make tremendous sense for the Cowboys as well. In a trade for Tony Romo, Dallas would surely be looking for either an immediate starter (likely on defense) or draft capital. With the depth and tremendous talent of the Broncos defense, they could provide them the former in exchange for Romo—at least as part of a package.
Again, nothing is written in stone. For all we know, Romo could be forced into action still in Dallas during the 2016 season. However, he has the Broncos circled as a preferred landing spot. And as the trade seems imminent, the Cowboys would be hard-pressed to find a better partner.
This article originally appeared on