NFL Rumors: Redskins Would Franchise Tag Kirk Cousins in 2017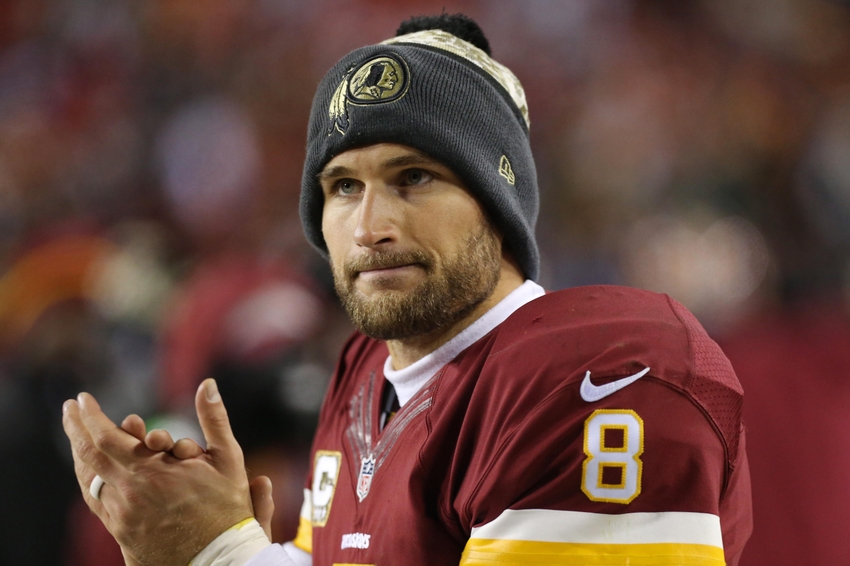 Washington Redskins quarterback Kirk Cousins is coming off of a huge victory over the Green Bay Packers, but his impending free agency is still a mystery.
Currently playing on the franchise tag, Washington Redskins young quarterback Kirk Cousins is doing his best to prove to Scot McCloughan that he is the face of this franchise. Cousins completed 21-of-30 passes for 375 yards and three scores in an electric win over the Green Bay Packers on Sunday Night Football, outclassing Aaron Rodgers by taking advantage of one of the NFL's most disappointing pass defenses.
Cousins has many detractors, but his backers are quick to point to the numbers. The former Michigan State star has completed 67.2 percent of his passes and is averaging a robust 309.1 passing yards per game. He has all the weapons he could ever ask for around him, and Robert Kelley's emergence at the running back position could only mean more good things for Cousins as a passer.
As an impending free agent, though, his future is still a bit of a mystery.
A year ago I reported the Skins would franchise Cousins and I'm told they'll do so in 2017 as well if they can't strike a long-term deal…

— Jason La Canfora (@JasonLaCanfora) November 24, 2016
Washington is paying out $19.953 million to Cousins on the franchise tag, but CBS Sports's Jason La Canfora reports that they are willing to franchise him again for the 2017 season. That is, of course, if the front office fails to reach a long-term deal with Cousins for a second straight season.
It's not an ideal option but Skins are prepared to pay Cousins $24M next year if need be to keep off the open market where he'd be in demand

— Jason La Canfora (@JasonLaCanfora) November 24, 2016
There's no doubt that Cousins, like Joe Flacco and other quarterbacks before him, has a huge amount of faith in himself. It's also clear that the Redskins like the numbers he is putting up and, while they may not be 100 percent on board with him, they are willing to make huge short-term financial consequences to keep him around.
The Redskins are a playoff team with Cousins under center and that means job security for the people working for owner Dan Snyder.
While $24 million for one season is an awful lot of money, it isn't all that much for a starting quarterback who has proven to be successful, particularly numerically. That's not a bad deal for a one-year investment. But it will be interesting to see what the Redskins are willing to invest in him long-term. I wonder how long we'll wait until reports like La Canfora are able to give us some more information on that.
This article originally appeared on