NFL Rumors: Rams Won't Start Jared Goff Until Out of Contention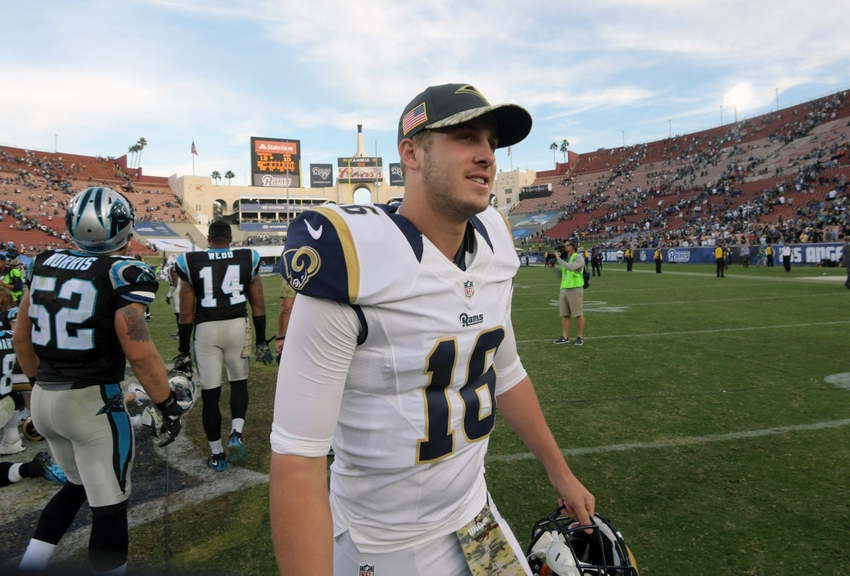 The Los Angeles Rams continue to handle rookie quarterback Jared Goff in the most curious and confusing ways imaginable.
Not starting a rookie quarterback, even one taken first-overall, isn't a unanimously poor decision. If the rookie is developing behind a quality veteran starter, that's the sensible choice. Moreover, it makes sense if the offense of a given team is producing quality results and a team is seemingly progressing. However, it doesn't make any sense at all when you're the Los Angeles Rams having lost four-straight games with Case Keenum middling around (to put it kindly) at quarterback. Hence the outcry of fans to start Jared Goff.
Almost admirably, though, Jeff Fisher and the Rams have continued to roll out Keenum. Despite the fact that he's only completing 61.5 percent of his passes, has thrown only nine touchdowns, has been picked off 11 times, and once gain has not led the Rams to a win in a month.
However, there may be an end in sight for Keenum and a proverbial start date for the rookie Goff. According to Ian Rapoport of NFL.com on Monday's Good Morning Football, the Rams won't start Goff until they are out of playoff contention (per Chris Wesseling of NFL.com). There's still no guarantee that they'd turn to Goff at that point either, but they'll evaluate the situation again at that time.
By the numbers, the Rams are still alive for a playoff berth in the NFC. The conference showcases just two definitively quality teams as of right now. Meanwhile, the middle of the standings are cluttered with mediocrity. Subsequently, the Rams aren't out of it at 3-5 just yet.
But really, aren't they? Not only does 3-5 put them at the bottom of that mediocre pack of teams, but they've been progressively worse. After four games, there was talk of LA shocking everyone this season despite their paltry offensive showings on a consistent basis. Aaron Donald and that defense were good enough to spearhead a 3-1 starting effort. Four-straight losses later and this team's trajectory points definitively south.
Not only is it completely unrealistic for the Rams to consider themselves still in-contention, but they're even wrong by their own flawed logic. With the downward trajectory of this team with Keenum at the helm, would putting an unproven commodity that you selected with the first-overall pick not at least potentially give the team a better chance of winnings? And subsequently give the Rams a better chance of sneaking into the playoffs? Even if Goff plays poorly, that's the status quo for the Rams at this point.
So according to these reports, the Rams at least are going to look at the notion of starting Jared Goff this season. However, the time for them to look at it still seems a ways away—for better or worse. Perhaps the question now, if this team keeps losing, is if this handling of Goff will ultimately cost Fisher his job.
This article originally appeared on