NFL Rumors: J.J. Watt could miss rest of 2016 NFL season after injuring back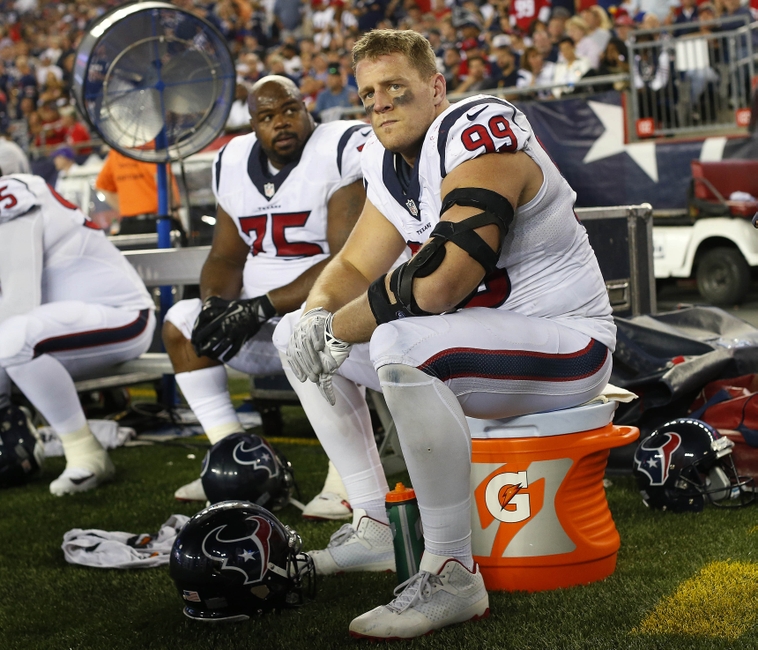 Defensive end J.J. Watt made a quick return from back surgery for Houston Texans this offseason. However, he might have re-injured it, costing him the season.
Recent news for J.J. Watt does not appear to be good. According to Ian Rapoport, Watt has re-injured his back and is expected to miss an extended period of time.
Sources: #Texans star DL JJ Watt has re-injured his back and is expected to be out for an extended period of time. Could be the season.

— Ian Rapoport (@RapSheet) September 28, 2016
Watt was able to make a miraculous recovery from back surgery the first time around. Not many people expected him to be back for the start of the regular season. The hard-working Watt proved them all wrong and was on the field for the Texans to start the season.
More NFL from FanSided: 
NFL Week 4: Quarterback rankings
NFL power rankings: Jets tumble, Eagles soar
This season, Watt has totaled 1.5 sacks for the Texans, which all came against the Kansas City Chiefs in Week 2. While 1.5 sacks in three games is a bit low for Watt, this has the potential of being a huge loss for the Texans.
In the last two seasons, Watt has totaled 38 sacks for the Texans, as many regard him as the best defensive player in the NFL. There is little doubt that he is the best defensive end in the game, and now all focus will turn to the severity of the injury.
Due to the fact that it is once again the back, it is hard to be optimistic for Watt. As an athlete, an injured back is one of the worst body parts to hurt, as you have to be extremely careful with the recovery process.
The injury likely occurred in the loss to the New England Patriots on Thursday Night Football. It now appears the Texans have lost much more than just a game to the Patriots. Stay tuned for more information as it continues to come in about the status of Watt's back.
This article originally appeared on