NFL Rumors: A.J. McCarron the Future for Browns at QB?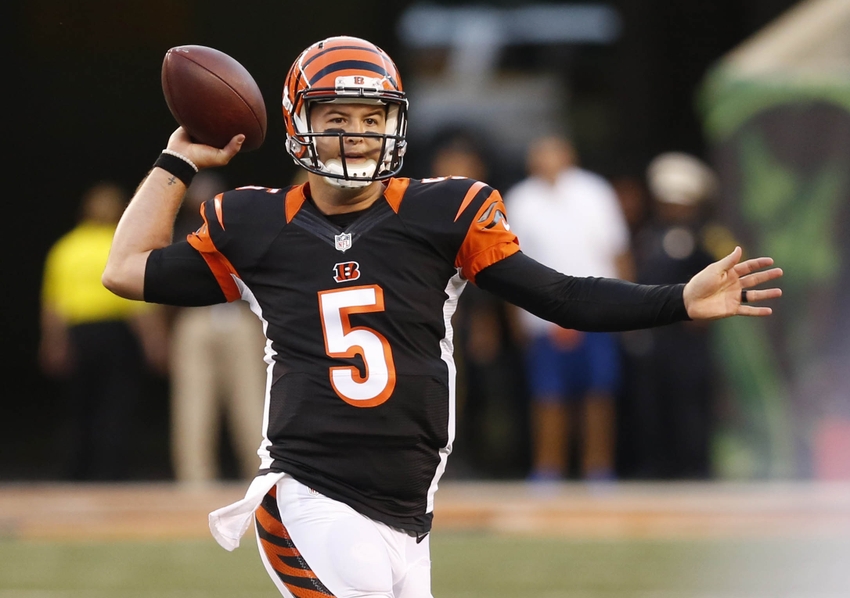 Cleveland Browns head coach Hue Jackson was once the Cincinnati Bengals offensive coordinator, but would consider bringing in A.J. McCarron?
Although the Cleveland Browns have the first-overall pick in the 2017 NFL Draft and will get the Philadelphia Eagles first-round selection (likely in the back-half of the round), there might not be a franchise quarterback they like. Early indications point to UNC's Mitch Trubisky as a favored option, but take all early draft-related reports with a grain of salt due to the nature of the beast.
You should also take the following rumor with a grain of salt.
But keep it in mind going forward, because nobody knows how Hue Jackson and the Browns could address their decades-long quarterback problem. Jackson might have hope for a healthy Robert Griffin III, but I doubt anyone expects that to work out. Instead, the former Cincinnati Bengals offensive coordinator may look to reunite with one AJ McCarron, per FOX analyst Chris Spielman:
McCarron has been mentioned in trade rumors before, as the former Alabama signal-caller looked pretty good at the end of the 2015 season with Andy Dalton injured. Although he has limited physical tools, McCarron moved the ball effectively for the Bengals, averaging 7.2 yards per attempt with six touchdowns and two interceptions.
An accurate passer, McCarron could be the type of quarterback Jackson favors. Jackson worked well with Dalton and McCarron in Cincinnati and he took Cody Kessler a lot higher in the draft than many analysts expected.
That said, going after McCarron makes absolutely no sense. The Browns are quick to fire coaches and Jackson hasn't made a good first impression at 0-11. I get that he doesn't care about winning, but is Jimmy Haslam on the same page?
I doubt the Browns are interested in trading for McCarron, so why would it even be an option to wait until 2018 free agency? Beyond that, is McCarron franchise quarterback material? Having him competing for a starting job in 2018 could help, but I'm guessing the Browns would like to have a better option sooner than that.
One scenario could involve RG3. If Jackson wants to try one more year of the RG3 experiment in 2017 and it fails, then he could target McCarron. Is McCarron a better option than thoroughly mediocre passers like Kessler and Josh McCown? While McCarron fancies himself as the next Tom Brady, we've seen players like Brian Hoyer and Jason Campbell mildly impress in cameos, only to flunk as full-time starters.
The Browns obviously have to figure things out at quarterback and McCarron is one person Jackson ostensibly favors. Chris Spielman is an excellent commentator, but he isn't known as a reporter, even if he has contacts within the Browns. Maybe there's something here, but it just doesn't make sense on any level, true or not.
This article originally appeared on