NFL roundup: Frank Gore passes Tony Dorsett on all-time rushing list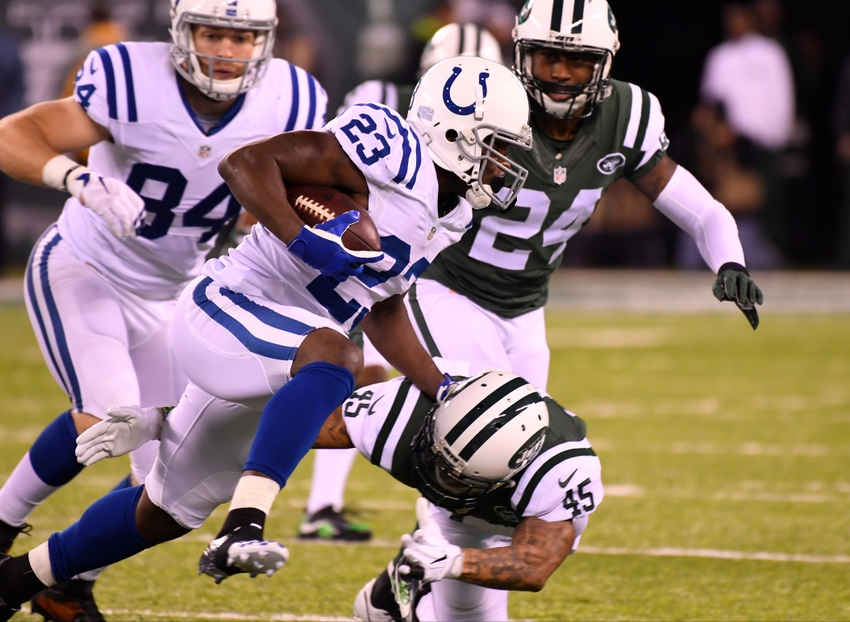 Week 13 of the NFL finished up with a laugher on Monday Night Football. However, the game turned out to be a special one for Frank Gore.
The 33-year old running back for the Indianapolis Colts is running his way up the NFL record books. On MOnday night, Frank Gore passed Dallas Cowboys legend Tony Dorsett for eighth on the all-time rushing list. His 19-yard run in the second quarter moved him past the legend, and Gore now has 12,789 yards after his 79-yard effort last night. His Colts beat the Jets, 41-10.
Staying with that debacle inside MetLife Stadium, the New York Jets will be benching quarterback Ryan Fitzpatrick once again. A year after having one of the most prolific seasons in Jets history, Fitzpatrick has been one of the worst signal-callers in the AFC, and will now give way to second-year man, Bryce Petty. Head coach Todd Bowles will roll with Petty for the last four games of the season, likely in hopes that he will see if Petty is his quarterback of the future.
The Seattle Seahawks played extremely well in their Sunday night win against the Carolina Panthers this past weekend, but the win proved to be quite costly. Star safety Earl Thomas broke his fibular during the game, and will now miss the rest of the season. Thomas had returned for the game after missing the first  game of his career the previous week, and will now have to be on the sidelines for the Seahawks playoff run.
Aldon Smith was suspended by the NFL last year for violating the league's substance abuse policy, and he now wants to meet with commissioner Roger Goodell about a possible reinstatement. Smith has been suspended for over a year, and his goal is to return to his Raiders teammates in time to help them in their first playoff appearance since 2002. As a member of the San Francisco 49ers, Smith was the most dominant force to come into the league in a long time, as he set an NFL record by recording 33.5 sacks during his first two years in the league.
Finally, some college news, as the Heisman Trophy finalists were announced on Monday. The list includes three quarterbacks, on wide receiver, and one defensive star. These five players will be in New York for the Heisman Trophy presentation this Saturday at 8:00pm ET. The list features front-runner Lamar Jackson of Louisville, Deshaun Watson from Clemson, Jabrill Peppers of Michigan, and Baker Mayfield and Dede Westbrook from Oklahoma.
This article originally appeared on