NFL roundup: Derek Carr making a case for NFL MVP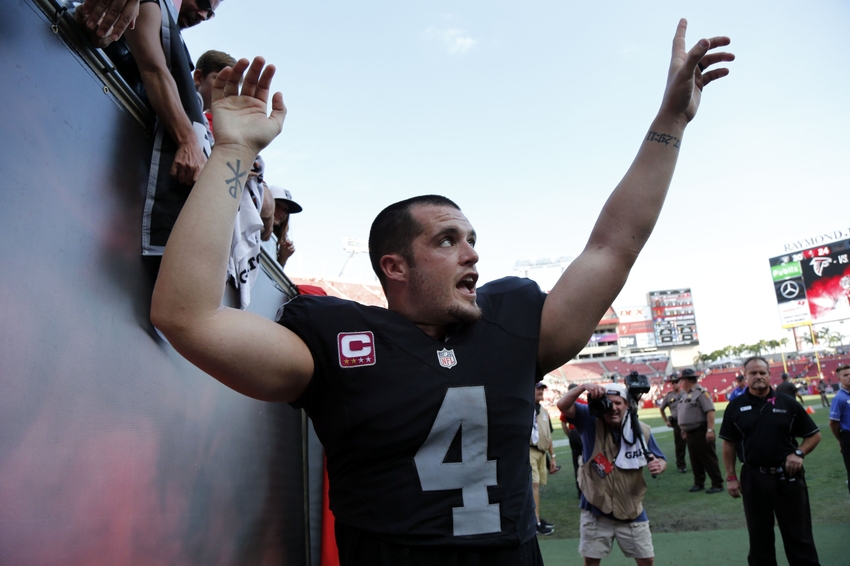 In Week 8 of the 2016 NFL season, Oakland Raiders quarterback Derek Carr threw for over 500 yards in his team's 30-24 overtime victory.
On a day when his team set the NFL record for most penalties in a game, Oakland Raiders quarterback Derek Carr was cementing his name in the race for the NFL MVP award.
During his team's 30-24 overtime victory, Carr passed for 513 yards and four touchdowns, while throwing zero interceptions. He became only the third player in NFL history to pass for 500 yards, throw four touchdowns, and not have a pick.
With the win, the Raiders ran their record to 6-2, as they stayed atop the AFC West. In overtime, Carr hit wide receiver Seth Roberts for a 41-yard touchdown on a fourth down try, giving the Raiders their fifth road win of the season. On the year, Carr has thrown for over 2,300 yards, tossing 17 touchdowns against only three interceptions.
Staying in the AFC West, the Kansas City Chiefs got some bad news about their star running back on Sunday. It appears that Jamaal Charles will head to see Dr. James Andrews about his knee, which has been giving him trouble ever since tearing his ACL last season.
Charles has been used sparingly this season, but was ruled out against the Indianapolis Colts this Sunday. His replacement, Spencer Ware, suffered a concussion during the team's 30-14 win.
Speaking of concussions, Carolina Panthers quarterback Cam Newton, who missed time due to a concussion this season, is sick of the pounding he has been taking.
After his team's win against the Arizona Cardinals on Sunday, Newton said he is going to talk to commissioner Roger Goodell about the lack of calls he has been getting this season. Newton stated that he does not feel protected by the officials, and the hits are taking the fun out of the game.
More on FanSided:
Over in London, the Cincinnati Bengals and Washington Redskins played to a tie on Sunday morning, though it was arguably the best game put on across the pond this season. Redskins kicker Dustin Hopkins missed a 34-yard field goal with a little over two minutes left in overtime, which would eventually lead to the team's tying, 27-27. Kirk Cousins threw for 458 yards in the game, but the two teams had to settle for the tie, and head back to the States with a bad taste in their mouths.
Cleveland Browns wide receiver Josh Gordon was released from a rehab facility on Sunday, though he still remains suspended indefinitely by the league. Gordon has had trouble with substance abuse during his time in the NFL, which has derailed what appeared to be a very promising career.
There is speculation that the Browns plan to part ways with Gordon, though he still remains a part of the organization. Back in September, head coach Hue Jackson said the team planned to move on from Gordon.
Finally, during the Denver Broncos and San Diego Chargers matchup, there was a scary scene on the Denver sideline. Broncos defensive coordinator Wade Phillips was blindsided by Chargers running back Melvin Gordon, who sent Phillips smashing to the ground. Phillips had to be carted off the field, and ended up in the hospital. The good news is that he checked out OK, and has been released from the hospital.
This article originally appeared on