NFL roundup: A.J. Green may be done for the season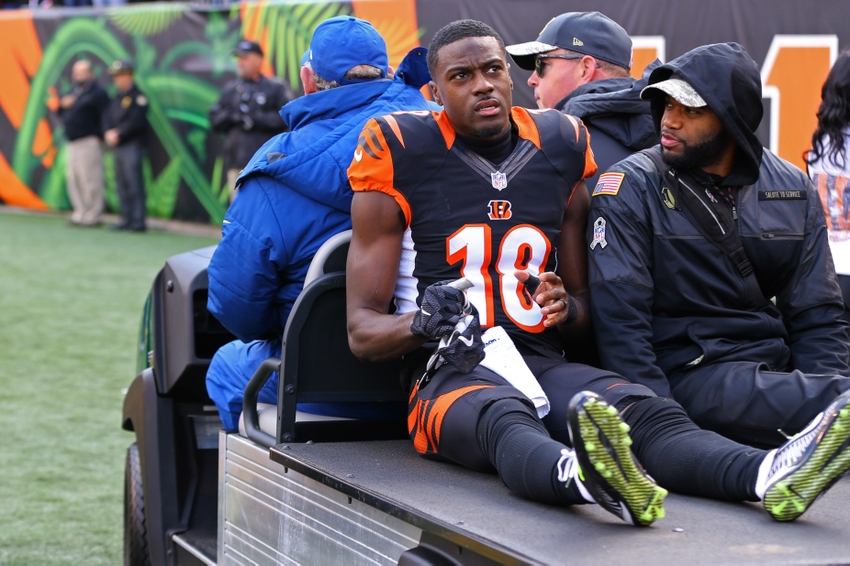 The Cincinnati Bengals lost A.J. Green for their NFL Week 11 matchup against the Buffalo Bills early due to injury, and he may be out for the season.
The Cincinnati Bengals took a big loss on Sunday, as they fell at home to the Buffalo Bills. During the game, star wide receiver A.J. Green was carted to the locker room with a hamstring injury, and he may be done for a while. Green has a tear in his hamstring, and without him in their lineup, the Bengals chances of making the playoffs may have taken a fatal hit.
The Los Angeles Rams unveiled their new starting quarterback on Sunday, but he was quite underwhelming. Jared Goff, the first overall selection in the 2016 NFL Draft, completed 17 of 31 passes for the Rams, throwing for only 134 in the team's loss to the Miami Dolphins. The 134 yards passing were the lowest total by a Rams quarterback since Week 1. Not a great start for a player the organization mortgaged the future for.
No Christine Michael, no problem for the Seattle Seahawks, who put on a show offensively on Sunday. Playing against a tough Philadelphia Eagles team, the Seahawks were able to move the ball on the ground, and through the air, winning the game 26-15. Tight end Jimmy Graham continued his resurgence with the team, catching a touchdown from Russell Wilson, while running back C.J. Prosise scored on a 72-yard run.
It appears that Blair Walsh isn't the only kicker who cannot make extra points. Kickers missed an NFL record 11 extra points on Sunday, in another horrible display since the league moved back the PAT before last season. Two kickers had a worse day than the others, as Mike Nugent and Robbie Gould each missed two PATs on Sunday. Rough weekend for the kickers.
The Baltimore Ravens were the latest victim at the hands of the Dallas Cowboys, but one player on their roster had a milestone day. Steve Smith Sr. caught his 1,000 career reception on Sunday, becoming the 14th player in league history to accomplish the feat. The diminutive wideout has put together a Hall of Fame career during his 13 year career, and is proof that you do not have to have the elite size to be an elite player in the NFL.
This article originally appeared on