NFL Roster Cuts: 5 Biggest Mistakes the 49ers Made in Creating 53-Man Roster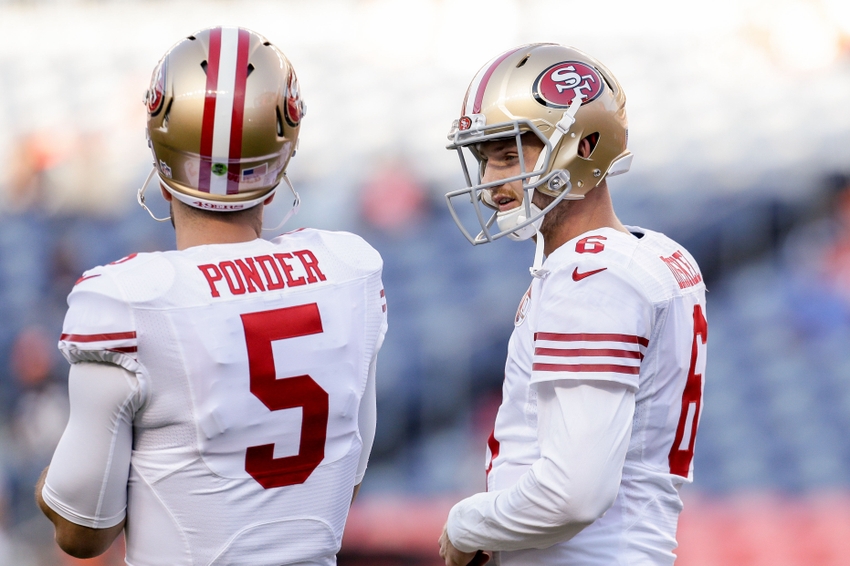 NFL rosters are now at 53 players, and the San Francisco 49ers were also forced to make some tough decisions regarding who would stay and go. Most of the cuts made sense, but Niner Noise looks at the five biggest roster-cut mistakes the team made.
Roster cuts are never an easy period on the NFL calendar.
Carlos Hyde: Identifying 49ers RB's Scheme Fit in 2016
The San Francisco 49ers are not immune from this. Even with a very young team and a questionable roster, the Niners were forced to make some tough decisions on September 3.
Check out the 49ers' official roster, per the team's website.
Most of these cuts and keeps made sense. And yet a few are more than just the proverbial "head scratcher."
Niner Noise will focus on those.
Let's break down the five worst decisions San Francisco made with its roster. Not all will be cuts, necessarily.
A few will be keeps. But those selections certainly warranted someone else not making the team.
And some of those cuts could wind up making impacts elsewhere, which hurts even more.
No. 5: Waiving Wide Receiver Devon Cajuste
The 49ers signed former Stanford wide receiver Devon Cajuste as an undrafted free agent. The 6-foot-4, 227-pound wideout was a proven red-zone threat in college.
Considering the Niners' woes in this area over the last few years, head coach Chip Kelly could have used a player of Cajuste's stature.
Granted, Cajuste didn't make much of an impact during the preseason. He did have one catch for 40 yards though, and his hands were certainly something of note.
But the Niners didn't keep him on the roster. And the team still has plenty of questions at wide receiver.
As such, the 49ers released Cajuste and did not place him on their practice squad.
Per Eric Branch of SFGate.com, Cajuste will be joining the Green Bay Packers practice squad instead.
It may take a year or so, but Cajuste could be a nice piece in the Packers offense.
San Francisco missed out on this one.
No. 4: Waiving Wide Receiver Bryce Treggs
Former Cal standout receiver Bryce Treggs enjoyed one of the better training camps out of all San Francisco wideouts.
The UDFA did injure himself during the preseason, but the 49ers had plans to keep him on the practice squad. Unfortunately for San Francisco, the Philadelphia Eagles picked him up before he could clear waivers, per Matt Barrows of the Sacramento Bee.
The Niners have more than a few questions at wide receiver entering this season. So the decision not to retain Treggs is a little confusing.
I don't think the #49ers realize they won't be good this year. Arguably the best WR w/eye towards future was Bryce Treggs. Let him go.

— Jerod Brown (@jerodbrown62) September 4, 2016
Treggs might not have provided an immediate impact right away. But he certainly had good enough potential to be a major part of head coach Chip Kelly's offense in a year or two.
We'll never know.
No. 3: Placing Wide Receiver Dres Anderson on Practice Squad
OK, so the 49ers lucked out by getting second-year wideout Dres Anderson onto the practice squad — a move first reported by CSN Bay Area's Matt Maiocco.
Anderson was one of the Niners' bigger standouts during the preseason. He hauled in a 30-yard touchdown grab versus the Denver Broncos in Week 2 of the preseason. And he also helped set up another end-zone score with a physical catch from quarterback Colin Kaepernick at the goal line against the San Diego Chargers.
It seemed as if that play cemented Anderson's roster spot. At least according to CSN Authentic's Dylan DeSimone:
Another team could still grab Anderson and place him on its own 53-man roster. But, for now, Anderson will remain in Santa Clara.
Still, the Niners have all sorts of questions at this position — notice a trend here?
Perhaps the 49ers have a need at some point this season, and Anderson gets promoted. So at least this one is in a wait-and-see mode.
No. 2: Keeping Quarterback Christian Ponder over Rookie Jeff Driskel
Quarterback Christian Ponder's return to the NFL is a good story. To think he went from painting his house to being on a 53-man roster in just a few weeks is pretty remarkable.
But it also stunts any growth the 49ers might have hoped for with their sixth-round pick of the 2016 NFL Draft, Jeff Driskel.
Driskel ended up being waived. Shortly thereafter, the Cincinnati Bengals claimed him off waivers.
Beyond excited to be apart of the @Bengals organization. Can't wait to get to work. Also would like to thank @49ers for the opportunity.

— Jeff Driskel (@jeffdriskel) September 4, 2016
Not sure Ponder was worth losing Driskel over. NFL-ready or not. Already know what Ponder isn't, while Driskel's future is TBD.

— Dylan DeSimone (@DeSimone_80) September 4, 2016
CSN Authentic's Dylan DeSimone said it best — we have an idea of Ponder's ceiling at this point. While yet to be determined, Driskel could be a rising talent simply in need of a year or two of development at the NFL level.
San Francisco's quarterbacks — Blaine Gabbert, Colin Kaepernick and Ponder — don't exactly inspire a lot of confidence moving forward.
In all likelihood, the 49ers will be looking for a quarterback again this upcoming offseason.
No. 1: Using a Roster Spot on Center Marcus Martin
This one was a major head-scratcher.
Center Marcus Martin — the same guy who posted a minus-45.6 overall grade last year, per Pro Football Focus (subscription required) — will be on San Francisco's 53-man roster this year.
The 49ers had been working with guard Zane Beadles at center, which led one to believe the team would be moving from Martin after two disappointing seasons.
Just take a look at this following play. Never mind quarterback Christian Ponder scoring the touchdown. Just watch Martin at center:
TOUCHDOWN #49ers! @cponder7 with the 1-yard run. 🏃🏻 #SFvsSD pic.twitter.com/7ybcVhGoir

— San Francisco 49ers (@49ers) September 2, 2016
Martin falls flat on his face after the snap.
Perhaps Beadles wasn't picking up snapping duties. Still, keeping Martin doesn't make any sense whatsoever.
This could have been a roster spot used on pass-rushing linebacker Marcus Rush who, at least, made it to the Niners practice squad. San Francisco needs pass-rushing help to start the season. While Rush's run-stopping abilities aren't the best, a situational pass-rusher would help a lot.
More from Niner Noise
Martin, at best, is a third-string offensive lineman. At least at this point in his career.
True, he's only 22 years old. He may still develop into something worthwhile. And maybe that's what the 49ers were thinking.
Still, it's a strange move to make. And it caps off our list of worst Niners decisions made regarding their 53-man roster.
All statistics, records and accolades courtesy of ESPN.com, Pro-Football-Reference.com and Sports-Reference.com unless otherwise indicated.
This article originally appeared on