NFL Roster Cuts: 3 players teams will regret releasing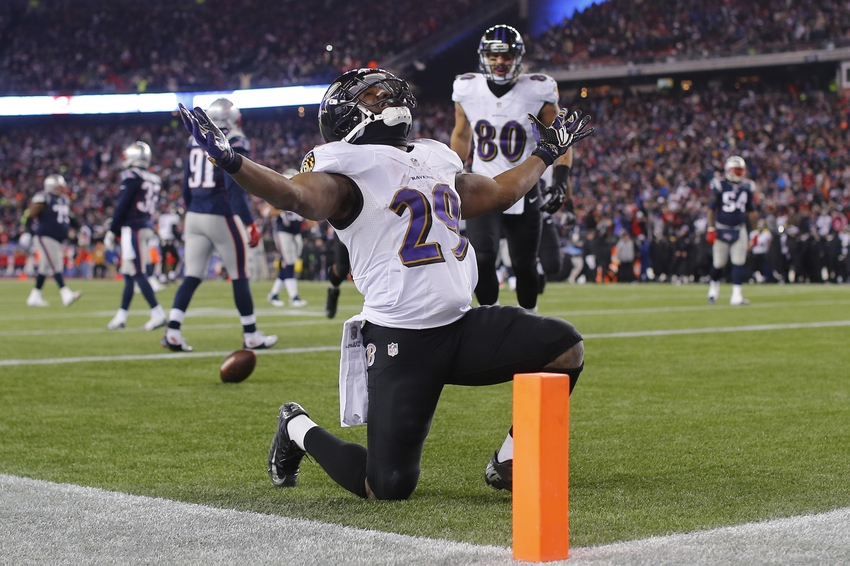 Here are three players who NFL teams could regret cutting this past weekend. 
The toughest time of the year for NFL teams tends to be the weekend before the regular season starts. That time is known by some as "Black Saturday" since teams have to finalize their 53 man roster by 4:00 PM on Saturday. Tough decisions are made around that time of year. Some cuts are necessary and they are rarely easy.
However, some cuts made this year were not smart. Valuable players will have to find a new team. The teams that released them could wind up regretting it. Here are three players who could make their old teams regret letting them go.
3. Justin Forsett
Perhaps the most surprising cut on Saturday, the Baltimore Ravens let go of running back Justin Forsett. Forsett is not an elite running back, but even with a terrible offensive line last season, Forsett averaged 4.2 yards per carry. He averaged 5.4 yards per carry in 2014. Forsett has also proven himself to be an effective receiving option out of the backfield.
What caused the Ravens to cut Forsett? A huge reason is that the team has been blown away by rookie running back Kenneth Dixon. Javorious "Buck" Allen and Terrence West have also impressed them. Forsett recently had his 30th birthday, which likely had a role in his release as well.
The Ravens are reportedly trying to bring back Forsett. He's a great fit with the team. It's worth noting that Forsett never gave an official "goodbye" to his team and nor did his teammates. But let's say the Steelers sign Forsett to help replace Le'Veon Bell or the Broncos sign him because of his good relationship with head coach Gary Kubiak. The Ravens would be going into the season with West as their starting running back. Cutting Forsett might not matter, but it's not hard to see the Ravens regretting it.
2. Mark Sanchez
The Denver Broncos originally signed Mark Sanchez to be one of their options to replace Brock Osweiler, who signed with the Houston Texans. Sanchez got released by the Broncos and will most likely sign with the Dallas Cowboys. Now, Sanchez isn't that great of an NFL quarterback, but the Broncos will most likely miss him.
Denver is going into the season with 2015 seventh round pick Trevor Siemian as their starting quarterback since 2016 first round pick Paxton Lynch is not ready to start yet. Siemian is quite unproven as a quarterback. If things get ugly for him, the Broncos could have to turn to an unprepared Lynch. Rushing a quarterback into a starting job tends not to end well. Ironically, Sanchez himself is an excellent example of that.
Sanchez would have a solid offense to work with in Denver. Denver wouldn't need him to be a star. They would simply need him to be Trent Dilfer in 2000. That is a role that perhaps Sanchez would thrive in. The Jets put too much pressure on him. Philly never really worked for him either. But with the league's best defense and some interesting weapons around him, Sanchez would at worst buy time for Lynch to develop into an NFL starter. Can the same be said for Siemian?
1. Josh Sitton
The Green Bay Packers have not been able to build a consistently strong offensive line to protect their star quarterback Aaron Rodgers. That makes their decision to cut long-time guard and three-time Pro Bowler Josh Sitton a bit baffling, to say the least. Keeping Rodgers healthy is key for the Packers because he is arguably the best quarterback in the NFL. Sitton did his part in keeping Rodgers upright.
Green Bay is going to regret cutting him unless JC Tretter proves that his strong play in the preseason isn't just a fluke. That's quite a gamble and it's one with a significant amount of risk for the Packers. Sitton was due to make over $6 million in 2016, but the Packers had the cap space required to keep him under contract.
That's not the only reason the Packers will regret cutting him. Sitton is planning on visiting the Chicago Bears. If the Bears sign him, the Packers will have to face him twice each season. Anything that helps the Bears hurts the Packers. The Bears desperately need help on their offensive line and the Packers might have just handed them a solution by releasing Sitton.
This article originally appeared on