NFL quarterback rankings, Week 13: Matt Ryan rolls, Brock Osweiler terrible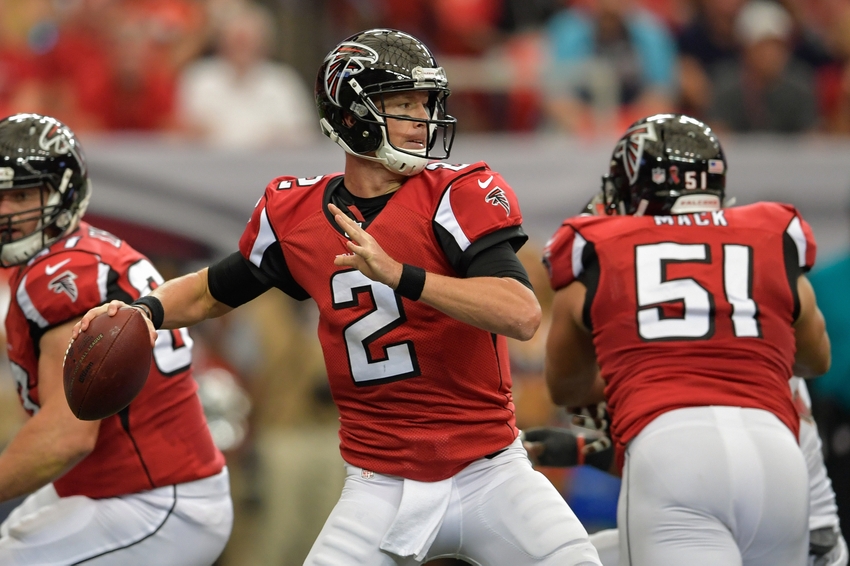 In our Week 13 NFL quarterback rankings, we see continued greatness out of Matt Ryan while Brock Osweiler is proving to be a horrible investment.
As always, these are based off this year's play with a dash of historic context. Here's the link to last week's rankings.
Blake Bortles Memorial Division
32. Blake Bortles
Bortles has thrown 13 interceptions and has a windup that takes longer than a Ken Burns doc. At some point, he's got to get benched.
Billy Joe Tolliver Division
31. Jared Goff

Goff made his debut and it was ugly. He threw for 140 yards and went for less than five yards per attempt. Let's see where the rookie goes from here.
30. Ryan Fitzpatrick

Fitzpatrick is back in the saddle to take on the Patriots. Smart money here is a couple more interceptions and a different quarterback in Week 13 for Gang Green.
29. Josh McCown
I just feel for this guy. He's tough, he's a journeyman, and he's going to get a concussion behind Cleveland's offensive line.
28. Brock Osweiler
Osweiler might prove to be one of the worst $72 million investments in world history. He's completing 58.6 percent of his throws with nine interceptions.
27. Colin Kaepernick
Kapernick played well against the Patriots on Sunday, albeit in another loss. His completion percentage is an appalling 53.1, but he has absolutely no help.
Bobby Hebert Division
26. Trevor Siemian
Siemian is not good, but he's good enough for Denver to win with. This Sunday, the kid faces Alex Smith in what should be a defensive battle for the ages.
25. Carson Wentz
Wentz is struggling to throw the ball downfield. He's averaging 6.57 yards per attempt and has led the Eagles to only two wins in his last seven games.
24. Tyrod Taylor
Taylor continues to be rock steady. He's not going to win games for you, but he typically won't lose them. His 1,935 passing yards rank 27th, right behind Fitzpatrick.
Kyle Orton Division
23. Jay Cutler
Cutler is basically auditioning for another team. Currently, that audition is seeing a cane come out from the side curtain. He's been brutal.
22. Joe Flacco
Flacco has 10 touchdowns and nine interceptions, and his passes travel approximately six inches in the air. The Ravens have no offense, and Flacco isn't helping that cause.
21. Alex Smith
Smith was statistically great on Sunday, except for the worst interception you'll ever see in the end zone. The Chiefs were trailing 12-10 at the time, in the fourth quarter. If Smith starts throwing interceptions, he's worthless.
Neil O'Donnell Division
20. Carson Palmer
Palmer and the Cardinals are sinking quicker than the Titanic. The veteran has 13 touchdowns to 10 interceptions, and he's been skiddish in the pocket. Not a good look.
19. Sam Bradford
Bradford is completing 69.8 percent of his throws, nothing short of a miracle behind the Vikings' offensive line. So why a ranking so low? He doesn't make the big throws on tape.
18. Jameis Winston
Winston was brilliant against the Chiefs on Sunday, throwing for more than 330 yards. If he can cut down on interceptions, he'll be a top-10 quarterback in no time.
17. Cam Newton
Newton continues to play bad football. Yes, the Panthers beat the Saints last week, but Newton hit on below 50 percent of his throws. He has to be much better.
Jeff Hostetler Division
16. Andy Dalton
Without A.J. Green and Giovani Bernard, Dalton's life is about to become much more difficult. The TCU product has 2,760 passing yards but just 11 touchdowns to six interceptions.
15. Ryan Tannehill
The numbers are not overly-impressive for Tannehill, but he's been playing like a franchise quarterback over the past five weeks. Miami has to be thrilled with this development.
14. Eli Manning
Manning is always going to be the same dude. He's going to throw for yardage (2,708) and touchdowns (17) while tossing a ton of ridiculous interceptions (10).
Len Dawson Division
13. Marcus Mariota
Mariota struggled in the first half against a rancid Indianapolis defense on Sunday. However, he's still having a breakout season with 23 touchdowns and 2,772 yards, sixth in the NFL.
12. Ben Roethlisberger
Big Ben is having a very inconsistent year. He's thrown 20 touchdowns but they come in bunches. If the Steelers want a playoff berth, he needs to be good each week.
11. Kirk Cousins
This man is going to be paid. Cousins is third in the NFL with 3,091 yards and 17 touchdowns, showcasing the ability to let fly. He's going to get $100 million this offseason.
Kurt Warner Division
10. Aaron Rodgers
Rodgers is going to miss the playoffs for the second time as a starter, but it's not all on him. The defense is a complete sieve. As for Discount Doublecheck, he's racked up 2,761 yards and 25 touchdowns.
9. Philip Rivers
Rivers is also going to be sitting out the postseason dance, but it has nothing to do with his performance. He has thrown for 2,886 yards, fourth-best in the league. Now, name one of this receivers.
8. Dak Prescott
Prescott is the typical "more than just stats" guy. He has 2,640 yards and 17 touchdowns against two interceptions, but his presence might even be more important. Prescott has shown the way for a franchise long lost.
Check out these other NFL posts from FanSided:
Top 10 craziest NFL fan bases
Top 15 NFL Draft busts of all-time
Top 15 Heisman winners who flopped in the NFL
Brett Favre Division
7. Andrew Luck
Luck has no semblance of an offensive line and his coaching staff might as well be the fans in the third row. Yet, he has the Colts at 5-5 while tossing 19 touchdowns. He's incredible.
6. Drew Brees
Brees will have another year of playing meaningless December football, but he's a first-ballot Hall of Famer. He's leading the NFL with 3,277 passing yards to go with 26 touchdowns. Absurd.
5. Matthew Stafford
Stafford only ranks 12th in passing yards, but he is getting the job done and then some. The Lions are 6-4 and he's completing 67.8 percent of his throws without Calvin Johnson. He's in the MVP race.
Joe Montana Division
4. Russell Wilson
Wilson has thrown for 2.714 yards and has just two interceptions. The Seahawks might just be the best team in football, and Wilson is leading the charge.
3. Derek Carr
Carr is having a tremendous season in his third campaign. The Raiders are going to make the playoffs for the first time since 2002. Carr, a major reason why, will get MVP votes.
2. Matt Ryan
Ryan is having one of the best seasons we've witnessed. He has 24 touchdowns and 3,247 yards. Most of all, he has 9.38 yards per attempt, the best in the NFL. He has been incredible.
1. Tom Brady
Along with Montana, the GOAT.
More from FanSided
This article originally appeared on