NFL Power Rankings: Where Do All 32 Teams Sit Entering Week 13?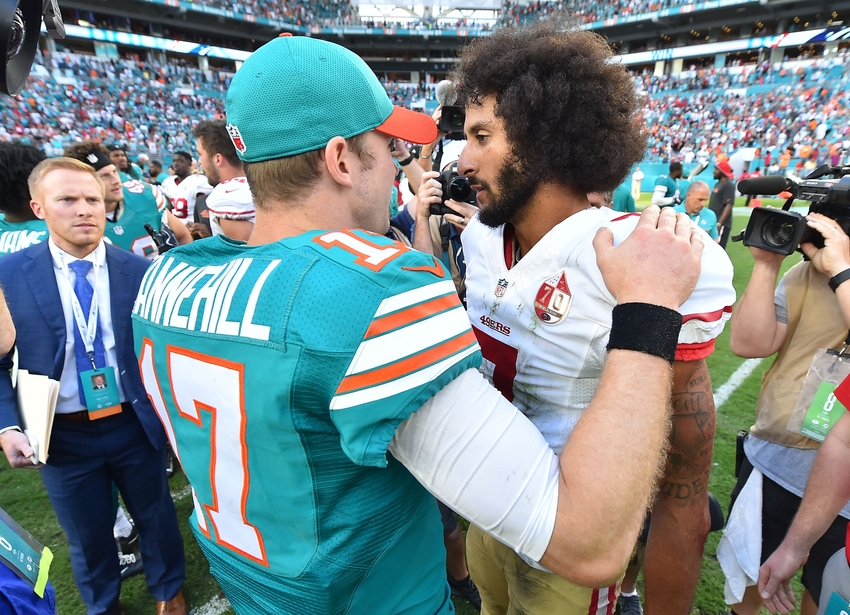 Last week's action certainly jolted Niner Noise's NFL power rankings heading into Week 13. And where do the San Francisco 49ers land after nearly upsetting the Miami Dolphins on the road?
The Oakland Raiders can't be considered flukes anymore in NFL power rankings, but the San Francisco 49ers are still towards the bottom in spite of a near win over the Miami Dolphins in Week 12.
That's the story for the Bay Area right now. The roles have reversed for Northern California football fans, and we've seen plenty of surprising risers and fallers 12 weeks into the 2016 season.
Heading into Week 13, where do the 49ers and the remaining 31 teams fall in our NFL power rankings this week?
Could anyone have predicted the Seattle Seahawks would lose to the Tampa Bay Buccaneers on a baseball-like score? And how did the much-heralded AFC West matchup between the Kansas City Chiefs and Denver Broncos on Sunday Night Football shake things up?
We'll take a look at all of it here on our own NFL power rankings breakdown.
Starting off, of course, with a team that can't seem to get out of the basement, let alone its first victory.
It seems as if the Cleveland Browns have finally settled on a passer, for now.
Yes, quarterback Josh McCown is your guy under center for head coach Hue Jackson. McCown wasn't particularly bad, throwing for 322 yards and a touchdown. The problem is he has zero help around him. And turning the ball over twice won't help matters either.
Cleveland's running game doesn't exist, and the Browns had zero answers for the duo of quarterback Eli Manning and wide receiver Odell Beckham Jr.
Did you expect anything else from a team likely not to win a game in 2016? Didn't think so.
Quarterback Blake Bortles isn't the answer for the Jacksonville Jaguars, who fall down to the No. 31 spot in our NFL power rankings this week.
He was a mere 13-of-26 for 126 yards and two touchdowns and also had 81 yards rushing. Great numbers? Not at all. And he certainly didn't deliver when the game was on the line against the Buffalo Bills in the fourth quarter.
This team is bad, offensively, and equally as bad defensively — not the marks one would want for a franchise that invested heavily to upgrade in free agency this offseason.
At least the Jaguars can look forward to a likely top-five pick in the 2017 NFL Draft.
Quarterback Matt Barkley might be the answer for the Chicago Bears.
No, who are we kidding? Although he did go 28-of-54 for 316 yards and three touchdowns against two picks.
The Bears are a mess this season, although their Week 12 loss to the Tennessee Titans offered up more excitement than Chicago has been used to this season.
Chicago might want to think about getting wide receiver Marquess Wilson involved a bit more down the stretch. He had 125 yards and a touchdown during the 27-21 loss.
Yes, the 49ers managed to climb two spots in NFL power rankings despite their 10th loss in a row.
Why? Well, this is a Niners-biased site. I'm biased. And I watched San Francisco nearly pull off an upset against a Miami Dolphins team that had won five games in a row up to that point. Oh, and the near victory would have happened on the road.
OK, so the 49ers stink. But they didn't look like it on Sunday. It's weird because the Niners actually looked like a cohesive NFL team over 60 minutes. Holding Dolphins running back Jay Ajayi to an average of 2.5 yards per carry is a step in the right direction.
Quarterback Colin Kaepernick doesn't have many weapons to support him outside of running back Carlos Hyde.
But Kap still managed to throw for nearly 300 yards and had three touchdown passes against one pick, which bounced off wide receiver Torrey Smith's hands.
Kaepernick also was the leading rusher for both teams, amassing 113 yards on the ground.
If only his final scramble found the end zone.
Credit the New York Jets for hanging in there against the New England Patriots in Week 12, only to lose by a final score of 22-17.
Quarterback Ryan Fitzpatrick's 22-yard pass to wide receiver Quincy Enunwa in the fourth quarter gave the Jets a critical four-point lead they simply couldn't hold. Back-to-back unanswered Patriots field goals ensured New York's struggles would continue into Week 13.
Fitzpatrick posted a 115.2 passer rating during the effort, which is tied for the second highest he's had on the year in what has been a forgettable season under center.
Where has running back Matt Forte been?
Rookie quarterback Jared Goff's career has finally gotten off to a start, and there are plenty of reasons to get excited about the No. 1 overall pick in last year's NFL Draft.
He was 20-of-32 for 214 yards and three touchdowns against one interception. It was nice to see him get wide receivers Tavon Austin and Kenny Britt involved too, albeit against a bad New Orleans Saints defense.
The major problem for Los Angeles was the sheer inability to stop quarterback Drew Brees and his potent offense. Brees chalked up 310 yards and four touchdowns, while the Rams couldn't stop running back Mark Ingram before he posted up 146 yards and a touchdown of his own in the lopsided 49-21 loss.
It's OK, L.A. A lot of teams have suffered a similar fate at the hands of the Saints.
The majority of teams previously listed on this week's NFL power rankings were expected to be bad this season. But the Arizona Cardinals are now categorized as the league's biggest disappointment.
Well, maybe outside of the next team here.
The Cardinals' season has been a joke, and Week 12's 38-19 loss to the Atlanta Falcons likely has ended Arizona's chances to get into the postseason.
Quarterback Carson Palmer looked as if age was starting to show. And the once-vaunted Cardinals defense had zero answers for Falcons quarterback Matt Ryan.
At least running back David Johnson is fun to watch.
Yes, the other major-disappointment team on this list.
True, the Cincinnati Bengals have a worse record than the Cardinals and managed to drop their third game in a row, falling 19-14 to the Baltimore Ravens on Sunday.
Pound for pound, the Bengals have just a bit more talent than Arizona right now. And quarterback Andy Dalton is a better option than Carson Palmer.
Not like it matters much. Nothing is going right for this former AFC favorite. One has to wonder if head coach Marvin Lewis is on the outs by season's end.
Yes, the Indianapolis Colts suffer a huge drop in NFL power rankings because, if they're without quarterback Andrew Luck (concussion), they're nobody. The defense is terrible, and the Colts simply don't have enough weapons on offense to make backup quarterback Scott Tolzien look effective.
Take a look at the Colts' 28-7 home loss to the Pittsburgh Steelers as a perfect example.
Indianapolis is inconsistent enough to warrant concern heading down the stretch. And somehow, the Colts still remain just one game behind the AFC South-leading Houston Texans.
The Colts better hope Luck returns quickly and ready to go. Otherwise, they'll be staring up in the power rankings for a while.
Quite an impressive win for the San Diego Chargers over the Houston Texans. Of course it helps when Texans quarterback Brock Osweiler throws three interceptions.
Nevertheless, San Diego came out of its bye week and managed to put up 21 points over a tough Texans defense. And the Chargers' own defense ensured Osweiler would stay in his season-long funk.
Quarterback Philip Rivers' three touchdowns against one interception ensured no one on San Diego would force a loss, which has been the case for such an self-inflicted-wound team this year.
The Chargers might have a good offense, but their defense won't have the luxury of playing Osweiler every week. They host the red-hot Tampa Bay Buccaneers in Week 13.
Yes, the Carolina Panthers made a valiant effort to come back from a 17-point first-half deficit to the Oakland Raiders on the road last Sunday. Those 18 unanswered points in the third quarter sure pointed to the possibility Carolina would get back on track, right?
Well, the only problem was the Raiders offense doing Raiders offense things. Not even a busted finger on the throwing hand of Oakland quarterback Derek Carr could stem the silver and black tide.
Panthers wideouts Kelvin Benjamin and Ted Ginn were factors, as was running back Fozzy Whittaker. But Sunday's loss plummeted Carolina to dead last in the NFC South — a far cry from what was seen from the 15-1 Panthers of a year ago.
The problem is Carolina is losing games, like this 35-32 defeat, which wasn't the case a year ago.
My, how the mighty have fallen.
Congratulations, Green Bay Packers. You might have saved your season with a 27-13 win over the Philadelphia Eagles on Monday Night Football.
The Packers proved they can't be counted out of any contest as long as quarterback Aaron Rodgers is under center. He was masterful, completing 30 of 39 passes for 313 yards and two touchdowns.
Wide receiver Davante Adams made a big difference hauling in those two touchdowns and adding 113 receiving yards on top of that.
Right now, Green Bay is still playing for cleanup roles in the NFC North. The Packers aren't out of the picture, but they're anything but right back in it.
Sure, some Packers fans are going to be upset they're listed below the Eagles, who lost to Green Bay on Monday Night Football.
So why does this ranking make sense? Well, look at how far the Eagles have fallen since last week. And yes, Green Bay is climbing. But repeat last night's game four more times, and Philadelphia probably wins three of those contests.
This doesn't mean the Eagles are an elite-level team. Not anymore at least. Sure, quarterback Carson Wentz was fun to watch earlier in the year. And he has some weapons.
But the Eagles are a team collapsing hard right now. They'll be bringing up the rear in the NFC East.
Yes, the Saints actually stay put in this week's NFL power rankings, despite a 49-21 demolishing of the Rams in Week 12.
Why, well a few other teams simply jumped them. And the victory over the Rams, whose quarterback was starting just his second game, doesn't tell us much. We know how good New Orleans' offense is. Quarterback Drew Brees too.
The only problem is this team won't go anywhere with such a porous defense. Just think, this unit allowed nearly 400 yards passing to 49ers QB Colin Kaepernick only a few weeks ago.
Three of the Saints' remaining five games will be against NFC South division opponents. So we'll get a good idea how New Orleans measures up against some better offenses down the stretch.
The Bills sure had to make things interesting hosting the Jaguars in Week 12, narrowly coming away with the 28-21 victory on a touchdown pass from quarterback Tyrod Taylor to wide receiver Justin Hunter in the fourth quarter.
Taylor was efficient enough to ensure the victory. But running back LeSean McCoy was the real reason behind Buffalo's victory. He rushed for 103 yards and two touchdowns during the effort, and it's going to be hard to count the Bills out of any game as long as McCoy is able to contribute.
Buffalo is still alive in the playoff picture, but the Bills now get to travel to take on the Raiders in Week 13 — not a fun-sounding task.
The Titans managed to climb back to .500 after a 27-21 victory over the hapless Bears. And they now find themselves half a game behind the first-place Houston Texans in the AFC South.
Weird to think.
Quarterback Marcus Mariota is doing wonders for this offense, and he led the way with 226 passing yards and two touchdowns. He also added another 46 yards on the ground, further adding to his dynamic abilities.
The win-loss-win-loss dynamic over their last seven games means the Titans need to find some sort of consistency moving forward, although the division remains up for grabs.
Tennessee doesn't change in NFL power rankings this week as the team heads into its Week 13 bye.
The Minnesota Vikings lost possession of first place in the NFC North, falling to the Detroit Lions 16-13 on Thanksgiving.
Minnesota has now lost five of its last six contests, and the team is in a quick tailspin after its hot start had many people thinking an NFC Championship game was in sight.
Quarterback Sam Bradford was stymied by the Lions defense, and the Vikings didn't get any help from their rushing attack either. Not having wide receiver Stefon Diggs (knee) couldn't have helped matters.
Still, Minnesota's defense managed to keep the Vikings in the game, only to see it slip away with two Detroit field goals in the final two minutes.
Unless the offense picks things up, it's going to be a long remainder of the season for head coach Mike Zimmer.
Who saw the Tampa Bay Buccaneers' 14-5 win over the Seattle Seahawks coming?
Probably not too many people. But that's what went down.
It's time to recognize the fact Tampa Bay is pretty good. And it's been fun to watch second-year quarterback Jameis Winston develop as a polished passer. He went 21-of-28 for 220 yards and two touchdowns and an interception against a good Seattle defense.
Although Seahawks cornerback Richard Sherman thinks wide receiver Mike Evans should have been flagged for Evans' touchdown reception. Please, Richard… please.
Evans is coming along nicely and had two touchdowns on the day.
But even more impressive was the Bucs defense, which sacked Seahawks quarterback Russell Wilson six times and held the Seahawks offense to a mere 245 all-purpose yards.
Yeah, that kind of performance will result in an NFL power rankings surge.
The Ravens ensured the Bengals' hard times would continue after dropping Cincinnati 19-14.
Head coach John Harbaugh's squad isn't going to wow anyone with offensive production. Rather it's Baltimore's defense which will carry them deep into any postseason trip. Currently, the Ravens rank No. 4 in fewest points against (201) and No. 2 in yards allowed (3,276).
This defense forced four Bengals fumbles and recovered two of them, reinforcing this notion.
But things won't get much easier for Baltimore, as they host the surging Dolphins next week and visit the Patriots in Week 14.
Boy, the Texans sure have to be wondering about signing quarterback Brock Osweiler to that four-year deal, don't they?
Head coach Bill O'Brien stated there wouldn't be any switch under center, but the quarterback's three interceptions thrown against a lowly Chargers team certainly has to leave the coach scratching his head.
It's exceptionally painful, considering how good Houston's receiving corps is. What's even weirder is Houston's 6-5 record is still good enough to hold onto first place in the AFC South.
At this point, the Texans will only hold onto that position if their defense continues to play at a high level.
Yes, the Dolphins are good now. In fact, Sundays 31-24 win over the 49ers ensures they get into the postseason, if it were to start this week.
Miami has now reeled off six straight wins, which proves head coach Adam Gase's early worries are nothing but a distant memory. Quarterback Ryan Tannehill made easy work of a usually OK San Francisco secondary, throwing for 285 yards and three touchdowns in the process.
Running back Jay Ajayi never really got it going, but it didn't matter for Tannehill and his receivers.
And while Week 12's win was a little too close for comfort, big players make big plays when it counts the most.
So the Dolphins can thank defensive tackle Ndamukong Suh for tackling 49ers quarterback Colin Kaepernick on the two-yard line as time expired.
Are the Steelers starting to turn that rough midseason patch into a winning streak? Or did Pittsburgh merely take advantage of one of the most inconsistent teams in the NFL right now, the Colts?
Maybe a bit of both.
At least the Steelers have a two-game winning streak under their belt and are able to stay in the AFC North discussion.
Sunday's 28-7 dominating win over Indianapolis, on the road, was a masterpiece for quarterback Ben Roethlisberger. He was 14-of-20 for 221 yards and three touchdowns — all three of which found wide receiver Antonio Brown.
These two terrorized a bad Colts defense, so we have to take that into perspective. And Indianapolis was rolling out backup QB Scott Tolzien instead of Andrew Luck (concussion).
Pittsburgh has Week 16 versus the Ravens circled on its calendar right now.
The Washington Redskins fall five spots, not necessarily due to anything they did overwhelmingly wrong. If anything, Washington hanging around with the Dallas Cowboys over four quarters deserves a commendation. The Redskins defense might have gotten a wake-up call in Week 12, and that's an issue moving forward.
Quarterback Kirk Cousins was, once again, exceptional and threw for 449 yards and three touchdowns. He's going to get paid this offseason.
It's also great to see him get receiving targets like DeSean Jackson, Jordan Reed and Jamison Crowder involved on a regular basis.
But Washington's remaining schedule is deceivingly tough. The Redskins take to the road to face the Cardinals, Eagles and Panthers back at home over the next three weeks.
It's fork-in-the-road time for Washington.
The Lions now have sole possession of first place in the NFC North after knocking off the Vikings 16-13 on Thanksgiving.
And boy, 49ers fans still wish they had someone like now-Lions wide receiver Anquan Boldin — 69 yards and Detroit's lone touchdown — back on the roster.
Quarterback Matthew Stafford's numbers were very workmanlike, which is fine when considering how well the Lions defense shut down Vikings quarterback Sam Bradford and the Minnesota offense. The Vikings were a mere 2-of-10 on third down, and that made all the difference for Detroit.
The Lions might be a nice sleeper team in the postseason this year if they can keep this momentum rolling. They visit the Saints next week, and we shouldn't expect another defensive showdown then.
Two weeks' worth of preparation and home-field advantage meant the Denver Broncos couldn't solve the Kansas City Chiefs in regulation and had to settle for overtime, losing 30-27 in the process on Sunday Night Football.
This was no fault to quarterback Trevor Siemian, who went 20-of-34 for 368 yards and three touchdowns in the process. He was superb. And watching wide receiver Emmanuel Sanders and Co. burn past Chiefs cornerback Phillip Gaines with regularity was becoming almost comical.
We all know how good Von Miller is, posting three sacks on Kansas City quarterback Alex Smith. The only problem was Chiefs pass-rusher Justin Houston was slightly better.
And he was a primary reason Denver couldn't wrap up this enticing affair in regulation, in spite of 14 points in the fourth quarter.
It's weird to think the Broncos would be sitting at home if the NFL playoffs started today.
The Chiefs get a nice surge in our NFL power rankings, thanks to their thrilling 30-27 victory over the Broncos on Sunday Night Football.
We expected a defensive game. And that's what it was, early on at least. And Kansas City managed to get to overtime, thanks in no small measure to veteran pass-rusher Justin Houston.
Houston led the way with three sacks and five tackles for a loss. In case you didn't know it, he's good… very good.
So is tight end Travis Kelce, who is quarterback Alex Smith's best weapon on offense.
Sunday night's game was a big mark on the calendar for this Chiefs squad. It won't get any easier though. Kansas City gets to visit the Falcons next week, followed by welcoming the Raiders in Week 14 in what promises to be an epic showdown.
One could argue the Giants should be higher on this list. Heck, they're the only team this season to beat the Dallas Cowboys, right?
Well, the 49ers shut out the Rams in Week 1. And how did that factor into these rankings?
Enough with all that. The Giants are good. Happy? Quarterback Eli Manning and wide receiver Odell Beckham Jr. seem to be back on the same page, and New York will need that down the stretch.
More surprisingly, the Giants defense has been quietly stellar this season and ranks No. 6 overall in 2016.
Sure, New York's last three games — Bengals, Bears and Browns — were relative cakewalks. But the Giants are finally hitting their stride at the exact moment.
Yet there are three more NFC East games remaining, which should be exciting.
Boy, the Falcons offense is fun to watch, isn't it?
Quarterback Matt Ryan continues to do masterful things this season. And even though wide receiver Julio Jones was held to just 35 yards on four catches, Atlanta's offense is diverse enough that negating Jones won't matter.
Ryan targeted seven different receivers in the Falcons' easy 38-19 win over the faltering Cardinals. And he hit all of them in the process.
The Falcons have to be feeling the heat from the Buccaneers though, so wins like these will matter down the stretch.
If only Atlanta could get its abysmal defense in order. For now, the offense is getting it done.
Um… what happened Sunday, Seahawks?
A 14-5 loss sounds more like a baseball game between the Rays and Mariners than it does a football game. Granted, the Buccaneers are playing awfully well right now. And to be honest, Seattle was due for one of these letdown games after all the back-and-forth travel the Hawks have had in recent weeks.
Quarterback Russell Wilson was under pressure all game long, sacked six times in the process. And his 38.8 passer rating marked the lowest since his rookie year in 2012. Those two interceptions hurt.
Seattle gets to host the Panthers in Week 13, so that's a bonus. But this is a game that could come back to haunt the Seahawks, when determining home-field advantage in the postseason.
A year ago, the Oakland Raiders would have lost a game like the one against the Carolina Panthers on Sunday.
Only this year, the Raiders find ways to win — the 35-32 victory over quarterback Cam Newton and Co. solidifies Oakland as the second-best team in the AFC right now, and the Raiders could be a legitimate threat to the next team on this list.
Quarterback Derek Carr is playing at an MVP level. And he has plenty of weapons around him. The only question is whether or not the Raiders defense will let them down in the postseason when they get there.
The Patriots almost had us fooled visiting the Jets in Week 12. It took two fourth-quarter field goals to ensure quarterback Tom Brady and Co. weren't upset by the lowly Jets on Sunday.
Of course, Brady was without tight end Rob Gronkowski (back) for the contest. So that played a significant role. And it isn't as if the future Hall-of-Famer wasn't without options either. Brady tossed for 286 yards and two touchdowns against New York. What else should one expect? He makes it look easy.
Here's a weird stat though — New England was only 4-of-14 on third downs, which doesn't seem very New England-like. Especially against the Jets.
The Patriots are still top dogs in the AFC, even if the Raiders might be wanting a grudge match from the conference championship well over a decade ago.
What more could be said about the Dallas Cowboys this season?
With the Seahawks losing this week, Dallas' hold on the No. 1 seed in the NFC looks all the more stronger. And there's no reason to drop the Cowboys in NFL power rankings this week after their impressive 31-26 victory over the upstart Redskins on Thursday.
Quarterback Dak Prescott continues to dazzle. So does running back Ezekiel Elliott, who managed 97 yards and two touchdowns during the game.
Back-to-back road games against the Vikings and Giants in Weeks 13 and 14, respectively, will provide us with a good gauge of how well this Dallas team is going to play down the stretch.
Minnesota is desperate, after falling in Week 12, and who knows what always-fun NFC East divisional games have to bring?
For now, there's no reason to assume any other team is riding higher than the Cowboys.
This article originally appeared on