NFL power rankings, Week 11: Cowboys ascend, Vikings plummet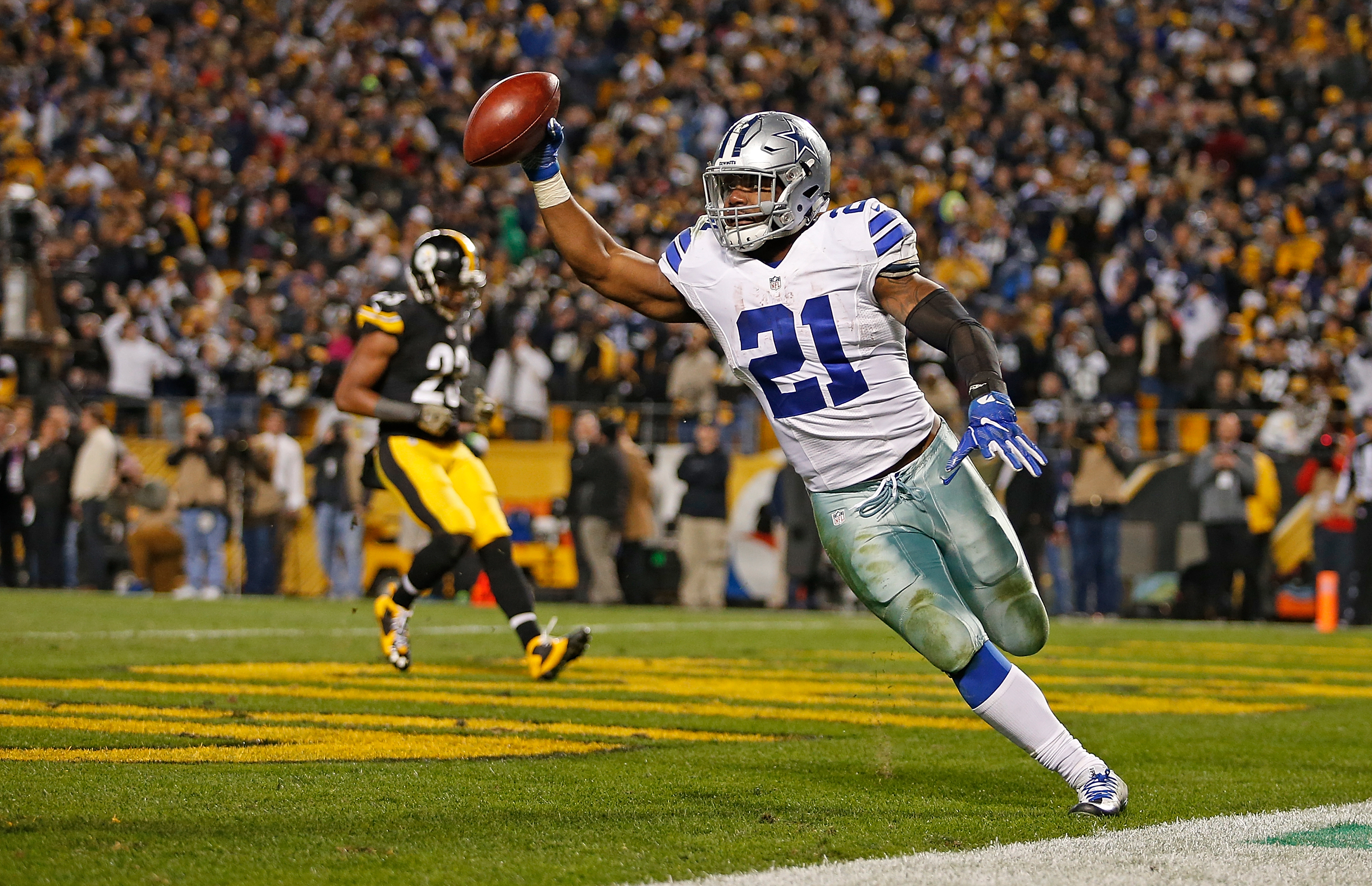 In Week 11 NFL power rankings, the Dallas Cowboys continue to prove they're for real, while the NFC North goes downhill in a real way.
32
Cleveland
Browns
0-10
Last week:
L, 28-7, at BAL
Last rank:
32nd
Just win a game. One. Any time now. Come on, Cleveland, you can do it.
31
San Francisco
49ers
1-8
Last week:
L, 23-20, at AZ
Last rank:
31st
The 49ers might be worse than Cleveland. If these two teams got on a neutral field, I think the line is EVEN. San Francisco is rough to watch.
30
Jacksonville
Jaguars
2-7
Last week:
L, 24-21, vs. HOU
Last rank:
30th
The Jaguars are terrible. Gus Bradley must have pictures of Shad Khan in embarrassing situations. How has Jacksonville not fired him, along with the general manager?
29
Chicago
Bears
2-7
Last week:
L, 36-10, at TB
Last rank:
29th
The Bears are in the midst of a horrid season, but there could be a real bright side. Chicago hasn't had a franchise quarterback since Sid Luckman, but could get one come April.
28
New York
Jets
3-7
Last week:
L, 9-6, vs. LA
Last rank:
26th
This is just a lousy team with losing attitudes across the roster. The Jets need to blow this thing up and start from scratch.
27
Los Angeles
Rams
4-5
Last week:
W, 9-6, at NYJ
Last rank:
28th
Give the defense credit for winning four games, because it is getting no help from Case Keenum. Give Jared Goff a chance. If he's worse than Keenum, you made the wrong pick.
26
Carolina
Panthers
3-6
Last week:
L, 20-17, vs. KC
Last rank:
21st
The Chiefs are a very good team, but blowing a 17-point lead at home? That is likely the swan song for the Panthers.
25
Tampa Bay
Buccaneers
4-5
Last week:
W, 36-10, vs. CHI
Last rank:
27th
Tampa Bay can do some good things when the defense shows up and Jameis Winston doesn't throw interceptions. Can he keep it up in Arrowhead this Sunday?
24
Buffalo
Bills
4-5
Last week:
BYE
Last rank:
24th
The Bills haven't made the playoffs since 1999, and it's hard to see it happening in 2016. Might need to win out.
23
Indianapolis
Colts
4-5
Last week:
BYE
Last rank:
23rd
The Colts face a huge game on Sunday against the Titans. Whoever loses is likely home for the winter, while the winner maintains hope.
22
Cincinnati
Bengals
3-5-1
Last week:
L, 21-20, at NYG
Last rank:
17th
The Bengals are likely going to end up missing the playoffs for the first time in six years because they can't block, and the discipline is lacking.
21
Green Bay
Packers
4-5
Last week:
L, 47-25, at TEN
Last rank:
14th
It's all over in Titletown. The Packers might need to fire Mike McCarthy, who once looked like he would have a tremendous career. This is simply a lost team with too much talent to fail.
20
Pittsburgh
Steelers
4-5
Last week:
L, 35-30, vs. DAL
Last rank:
13th
Four straight losses, and the Steelers are on the brink. Pittsburgh gets a layup this weekend against the Browns, but then it's a Thanksgiving night showdown with the Colts in Indy.
19
San Diego
Chargers
4-6
Last week:
L, 31-24, vs. MIA
Last rank:
15th
The Chargers are going to look back on this season and kick themselves. They have had so many chances to get into the playoffs, but they lose in asinine fashion time and again.
18
Arizona
Cardinals
4-4-1
Last week:
W, 23-20, vs. SF
Last rank:
20th
Beating the 49ers at home with a last-second field goal is nothing to write home about. Now they play Minnesota in a de facto playoff game.
17
Tennessee
Titans
5-5
Last week:
W, 47-25, vs. GB
Last rank:
25th
The Titans quietly have a very potent offense. Can Tennessee challenge the Colts and Texans for the AFC South title? It's trending that way.
16
New Orleans
Saints
4-5
Last week:
L, 25-23, vs. DEN
Last rank:
12th
You can't lose on a blocked extra point getting returned for two points. Teams don't do that and make the playoffs. New Orleans is likely cooked.
15
Minnesota
Vikings
5-4
Last week:
L, 26-20, at WSH
Last rank:
11th
The Vikings have completely derailed. Mike Zimmer is a very good coach, but the proverbial horse is out of the barn.
14
Baltimore
Ravens
5-4
Last week:
W, 23-20, vs. CLE
Last rank:
22nd
The Ravens are not winning the North, mostly because they play an insane schedule moving forward. Still, Baltimore can enjoy this while it lasts.
13
Philadelphia
Eagles
5-4
Last week:
W, 24-15, vs. ATL
Last rank:
19th
Just when you think the Eagles are done, they rise up. Philadelphia is right in the mix in the NFC wild card picture, but face a very difficult game against Seattle on the road.
12
Miami
Dolphins
5-4
Last week:
W, 31-24, vs. SD
Last rank:
18th
The Dolphins are legitimately good. Miami picked off Philip Rivers four times in the fourth quarter on Sunday to win at San Diego. Now, the Rams.
11
Washington
Redskins
5-3-1
Last week:
W, 26-20, vs. MIN
Last rank:
16th
Nobody talks about Washington, but this is a team that could get into the playoffs and win a game. The Redskins are a threat to win 10 games in a tough NFC East.
10
Detroit
Lions
5-4
Last week:
BYE
Last rank:
10th
Who had the Lions winning the North before the season started? Show of hands. Nobody? Alright. Detroit is playing good football.
9
Atlanta
Falcons
6-4
Last week:
L, 24-15, at PHI
Last rank:
5th
The Falcons continue to raise questions. Are they a very good team, a good team, or a mediocre, one-dimensional team in a horrid division?
8
Houston
Texans
6-3
Last week:
W, 24-21, at JAX
Last rank:
9th
Speaking of a potentially mediocre team in a horrid division, the 2016 Houston Texans! Houston should win the division, but Brock Osweiler will put a stop to any kind of playoff advancement.
7
New York
Giants
6-3
Last week:
W, 21-20, vs. CIN
Last rank:
8th
The Giants continue to win ugly, but are starting to look really good for a playoff spot. Their next two games are against the Bears and Browns.
6
Denver
Broncos
7-3
Last week:
W, 25-23, at NO
Last rank:
7th
Denver might be the best third-place team in the history of the NFL. The Broncos don't wow you offensively, but the defense and special teams are excellent.
5
Oakland
Raiders
7-2
Last week:
BYE
Last rank:
4th
The Raiders are the story of the AFC this year, and have a chance to win the West. Still, tough games remain with trips to Denver and Kansas City waiting in the wings.
4
Seattle
Seahawks
6-2-1
Last week:
W, 31-24, at NE
Last rank:
6th
Seattle had the single-most impressive win of the season on Sunday night, beating the Patriots in Foxborough. The Seahawks are starting to look like the Super Bowl contender so many believe they are.
3
Kansas City
Chiefs
7-2
Last week:
W, 20-17, at CAR
Last rank:
3rd
The Chiefs now have two 17-point comebacks this season. Kansas City must improve offensively, but the defense is tremendous and with Justin Houston returning this week, could be even better somehow.
2
New England
Patriots
7-2
Last week:
L, 31-24, vs. SEA
Last rank:
1st
The Patriots remain the team to beat in the AFC, but the loss of Jamie Collins was pronounced against the Seahawks. New England is a truly great team, but there are warts on the defense.
1
Dallas
Cowboys
8-1
Last week:
W, 35-30, at PIT
Last rank:
2nd
The Cowboys are for real. Dallas has the best offensive line, running back and arguably defensive coordinator in the league. Could this be the year in Big D?
This article originally appeared on