NFL Power Rankings Week 10: What Experts Say About Rams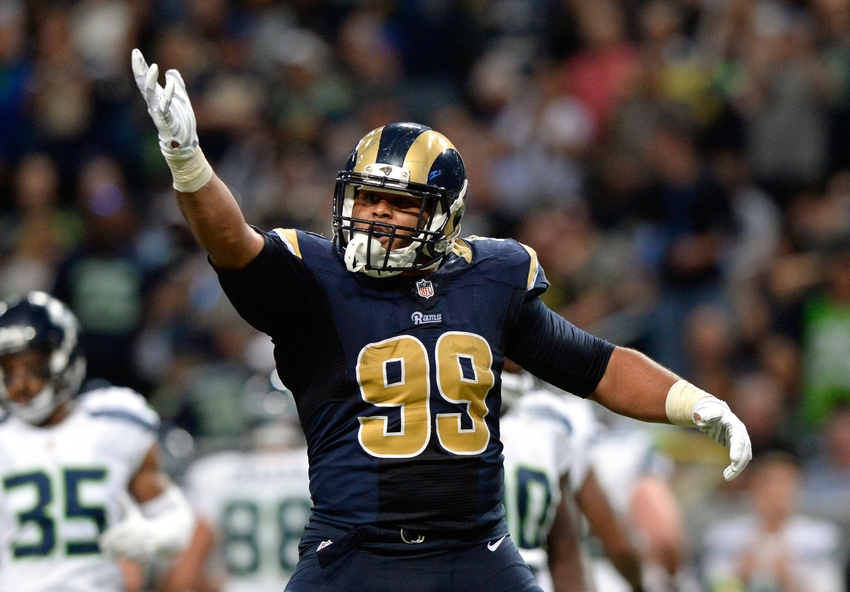 With the Los Angeles Rams coming off a Week 9 loss to the Carolina Panthers, it's time to see what the experts think in their NFL Power Rankings Week 10 versions.
National Football League experts will undoubtedly be down on the Los Angeles Rams in their respective NFL Power Rankings Week 10 editions, and it's understandable why.
Another tough loss for head coach Jeff Fisher and the Rams has the organization sitting at 3-5 and in straight turmoil. Fans want No. 1 overall pick Jared Goff to replace the struggling Case Keenum and Fisher to be fired immediately.
Neither of those things are going to happen at the moment and that fact makes it hard for anyone to believe that things are going to turn around in Los Angeles. With that being said, the Rams aren't going to do well in the power rankings this week, which is exactly what we found when rounding up what the experts are saying and where they are ranking the Rams.
Granted, the Rams were playing a little over their heads at the start of the 2016 season, but now things are approaching rock bottom. What started as a promising season is quickly turning into the usual disappointment that Fisher's tenure is known for.
Before we get into the experts roundup, let's take a look at FanSided's 2016 NFL Power Rankings Week 10 edition.
NFL Power Rankings Week 10: NFL Spin Zone
32. Cleveland Browns
31. San Francisco 49ers
30. Jacksonville Jaguars
29. Chicago Bears
28. Los Angeles Rams
27. Tampa Bay Buccaneers
26. New York Jets
25. Tennessee Titans
24. Baltimore Ravens
23. Carolina Panthers
22. Indianapolis Colts
21. Buffalo Bills
20. Arizona Cardinals
19. Philadelphia Eagles
18. Miami Dolphins
17. Cincinnati Bengals
16. Washington Redskins
15. Green Bay Packers
14. San Diego Chargers
13. Pittsburgh Steelers
12. New Orleans Saints
11. Detroit Lions
10. Houston Texans
9. New York Giants
8. Minnesota Vikings
7. Denver Broncos
6. Seattle Seahawks
5. Atlanta Falcons
4. Oakland Raiders
3. Kansas City Chiefs
2. Dallas Cowboys
1. New England Patriots
NFL Power Rankings Week 10 Rank: 27
On the bright side here, Simms does have the Rams ahead of teams like the New York Jets and Tampa Bay Buccaneers; although neither of those teams are anything to write home about.
Here's what Simms says about the Rams:
The Rams left their proud history of offensive football back in St. Louis.

All that remains is a wandering group of 11 guys. There's no cohesion. There's hardly even a game plan. Case Keenum and Co. went nine drives before scoring. His third-quarter interception was the play that decided a defensive struggle.

Jeff Fisher is clear in his decision not to use Jared Goff. But in doing so, he's wasting a Defensive Player of the Year-caliber season from Aaron Donald—and any playoff hopes his team might harbor in 2016.
Simms, a former NFL quarterback, pretty much nails it here. He doesn't single out Keenum and rightfully so, this team's issues are bigger than just the guy behind center.
While it's nice to see Simms point out Aaron Donald's sensational season, it's doubtful Goff can do anything to waste it less given the overall status of the offense.
NFL Power Rankings Week 10 Rank: 29
We couldn't do a roundup without including our own expert's opinion. The Week 10 version of FanSided's power rankings by Dan Parzych listed the Rams at No. 29, down five spots from last week.
Here's the lowdown:
The frustration from fans over Jeff Fisher still being the head coach of the Los Angeles Rams may hit an all-time high after the team's suffered their fourth loss in a row, falling to the Carolina Panthers in Week 9. Between the struggles at quarterback to having one of the league's weakest receiving corps, the Rams offense looked flat-out awful against the Panthers as it took Case Keenum until the final minute of the game to find the end zone for the first time.

If there's anything to take away from this loss, it would be Keenum doesn't deserve to play quarterback in the NFL as the veteran seems incapable of running any offense. There's a reason why Keenum has only crossed the 300-yard mark twice in his career and fans are frustrated to the point where they want to see Jared Goff take over the starting role.

Keenum was originally handed the starting job at the beginning of the season as Fisher believed he gave the team their best chance of making the playoffs. Obviously, that is far from the case as Los Angeles will be lucky if they can even break the .500 mark by the end of the season.
Great analysis here on the Rams' offense as a whole. Keenum isn't playing well by any stretch, but he isn't helped by mediocre receivers and a bad offensive line. To make matters worse, Todd Gurley has been nearly non-existent this season.
To say this offense is a mess would be an understatement and there is nothing Goff can do to fix it.
NFL Power Rankings Week 10 Rank: 26
NFL.com's Elliot Harrison shares the same sentiment as Rams fans: this team's offense is a mess. He even goes as far to say that Sean Mannion should get a shot
Here's what he had to say:
Another loss for the Rams, and another week of punchless offense. Los Angeles gained 339 yards against the Panthers, but a chunk of that came on their last-gasp drive while down 10 points. When it mattered, Jeff Fisher's group could not convert a third down, which means we will all hear 25 hours of Jared Goff talk — precisely 24:55 minutes more than we want to hear. If the Rams aren't going to play the rookie, or Sean Mannion, maybe they should play left-handed Case Keenum. That guy went 1 for 1 on Sunday.
You've got to love the line about a left-handed Keenum playing. At this point, I think Rams fans might sign up for that.
NFL Power Rankings Week 10 Rank: 28
Maske has a very valid question about the Goff situation in his write-up of the Rams:
Are the Rams afraid that if they go to rookie QB Jared Goff and he really can play, they'll be expected to start actually having winning seasons soon?
That thought echoes what I wrote yesterday about Goff not playing being a way for Fisher to keep his job for longer. The only thing that can save Fisher at this point is if Goff plays and plays well. We're all still waiting for that to happen.
ESPN: Average of Multiple Experts
NFL Power Rankings Week 10 Rank: 27
The Rams fell three spots from No. 24 in ESPN's Week 10 Power Rankings. The worldwide leader in sports points out two stats about the Rams' quarterbacks:
40.2: Case Keenum, who has taken every offensive snap for the Rams this season, has a 40.2 Total QBR, worst in the NFL.
3rd: Jared Goff, the 2016 No. 1 overall pick, has yet to see the field this season. He's now the third quarterback to go first overall and not play in the first half of the season, joining Carson Palmer and JaMarcus Russell.
That QBR Keenum is sporting is sure to make Rams fans sick. As for Goff, it goes to show that it is rare for a No. 1 overall pick to sit out in his first season. Let's hope he ends up better than JaMarcus Russell, though.
NFL Power Rankings Week 10 Rank: 27
Prisco, who dropped the Rams two spots from last week, feels there is no sense in keeping Goff out of the starting job and the Rams should just make the switch now:
Get it over with and please put Jared Goff in the lineup. It makes no sense not to do so.
If only it were that easy. Goff might be the better option, however the team around him simply isn't good enough. It's too risky to put him in there with the roster as is, which could end up hurting his development if things go poorly.
This article originally appeared on