NFL power rankings roundup: Chargers moving up after win over Broncos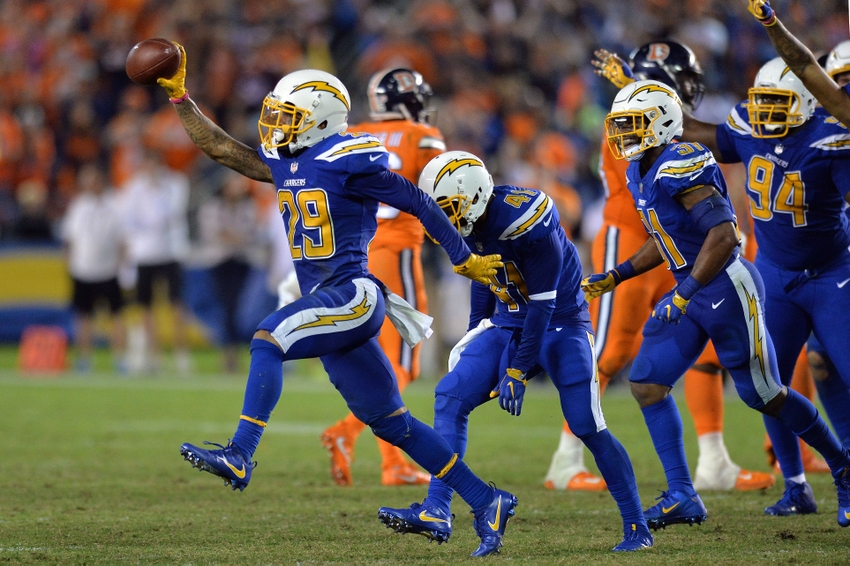 The San Diego Chargers are sitting at 2-4 on the season, but there's no doubt it's an optimistic 2-4. By virtue of their win over the Denver Broncos and Kansas City's victory over the Oakland Raiders, San Diego is currently just two games back in the AFC West.
The Chargers are coming off a 21-13 victory over the Broncos, and the game wasn't even as close as the score indicates. In that game, the Chargers were able to slow down the Denver offense by getting after the quarterback. On offense, Philip Rivers got into a rhythm in the passing game and his open receivers. The only thing the team could really knock themselves for was the fact that they settled for too many field goals.
For most of the season, the Chargers have been sitting towards the bottom of most of the power rankings out there. But those that compile said rankings should respect the victory over the defending Super Bowl champions, right?
Let's go around the web and see if that's the case.
ESPN- No. 19
The folks over at ESPN have the Chargers sitting in the No. 19 slot, which is five spots above where they were ranked last week. The team has yet to crack the top 20 all season on any list, so this shows it is trending in the right direction.
ESPN points out an interesting statistic that the Chargers have ran 230 plays while holding the league this season. Only two teams have ran more. That's quite interesting and indicative of the fact that the team's win-loss record should be flipped around, at worst.
ESPN also blames Philip Rivers, at least partially, for the team's losing record, mainly due to his poor second-half completion percentage this season. Personally, I'd blame anyone on the team but Rivers for the win-loss record.
NFL.com- No. 24
Elliot Harrison over at NFL.com still has the Chargers in the last quarter of teams in the league, but that's also because he had them at No. 28 last week. That said, some of the teams directly in front of the Chargers on his list are the New Orleans Saints, Tennessee Titans and Tampa Bay Buccaneers. Yes, the Saints beat the Chargers, but they're also getting a little too much love for beating a 1-5 Carolina Panthers team. The same goes for Tampa Bay.
Here's what Harrison had to say in relation to the Chargers.
Poor Mike McCoy's hair looked like it was turning Michael McDonald silver right before our eyes. The epic collapses so far this season made me forget that the Chargers were a winning team in both 2013 and '14. Alas, a safety, a hard hit on Demaryius Thomas and the ability to overcome severe Martyball (conservative late-game play-calling) delivered a W for the hard-luck Bolts. It sure makes it easier to ask for a mere $1.1 billion. Well I didn't want to ask ya, Clark, you know … could ya maybe spare a little … extra cash?
Fair assessment, but No. 24 is a bit low after knocking off the defending champions.
CBS Sports- No. 17
Pete Prisco of CBS Sports liked what he saw out of San Diego in Week 6. In fact, the Chargers were his "biggest mover" of the week.
Like Harrison, Prisco listed the Chargers at No. 28 in his last set of rankings, but unlike Harrison, he moved them up 11 spots. That's a huge jump.
There are only seven AFC teams listed ahead of the Chargers on Prisco's list. Since six teams from each conference qualify for the playoffs, it sounds like he may be a believer in San Diego's postseason hopes as well.
Sports Illustrated- No.16
Chris Burke of SI.com does a countdown list, rather than counting up from No. 1. Those are always more fun to read and it's also the place where we find our best rating yet.
Burke lists the Chargers at No. 16.
Last week, the Chargers were at No. 23 on this same list, so this is a nice seven-spot jump for the team which puts them smack dab in the middle of the league's 32 teams. This is also the highest ranking San Diego has seen in some time, even if power rankings mean nothing.
Here's what Burke had to say in his short assessment.
Mike McCoy looked like he was about to vomit or pass out (or both at the same time, college dorm-style) after the Broncos scored and then immediately recovered an onside kick late in Thursday night's game, but his team finally was able to finish out a game in the fourth quarter and win. While the Chargers may wind up 5–11 or 6–10, absolutely no one on their schedule will be itching to play them.
Poor McCoy certainly had the "not this again" expression on his face and in his head, you could tell he was saying "please, just let us have this one." He got his wish when Trevor Siemian's attempt of a Hail Mary on the game's final play landed about 10 yards short of the end zone.
NFL Spin Zone- No. 25
The worst spot for the Chargers that I was able to find comes from Randy Gurzi over at NFL Spin Zone. Not only was he not impressed with the team's Color Rush uniforms, he's also not impressed with the team, despite a win over Denver.
Here's a snippet of what Gurzi had to say in his summary.
Their uniforms on Thursday Night Football were ugly. Their play wasn't a whole lot better, but they still managed to beat the Denver Broncos. Of course they tried to blow it by surrendering 10 points in the fourth quarter, but they still held on. Progress.
Let's start with what I disagree with here. The Color Rush uniforms for the Chargers are terrific, arguably the best the NFL has unveiled to this point. Now let's go to what I agree with. Not much.
Gurzi points out that Joey Bosa and Hunter Henry are two rookies that appear to be the "real deal" and that is a correct analysis. However, No. 25 is way too low for this team. The Chargers are only better than seven teams? I think that's a bit inaccurate.
What do you guys think? What's the appropriate power ranking for the Chargers going into Week 7? Here, we have them anywhere between Nos. 16 and 25. Would anyone place them higher than No. 16?
More from Bolt Beat
This article originally appeared on