NFL Power Rankings: Post-Super Bowl LI Standings for All 32 Teams
Peter Panacy/FanSided via Niner Noise

Fansided
Super Bowl LI is in the books, and Niner Noise breaks down our final NFL power rankings for every team in the league to wrap up the 2016 season.
Fans can finally put a cap on the 2016 season now that Super Bowl LI is over. And Niner Noise can dish out our final NFL power rankings for last year as well.
Standing atop the rankings are the New England Patriots, who edged the Atlanta Falcons at Houston's NRG Stadium by a score of 34-28 overtime thriller.
And with the Lombardi Trophy accolade, the Pats get top bid on our NFL power rankings.
The San Francisco 49ers, of course, aren't that high from the bottom. But the team can feel pretty good about itself with John Lynch in place as the new general manager and Kyle Shanahan coming over from the Falcons to be the next Niners head coach.
This won't implement a drastic change in standings though. San Francisco is still pretty bad. Heck, a number of teams have their issues heading into the offseason.
But with the playoffs finally complete, let's break down how the entire league is looking in final NFL power rankings of the season in advance of free agency and the upcoming NFL Draft in April.
Well, it's hard not to be dead last in NFL power rankings when your team boasts a 1-15 record in the regular season.
But that's exactly where the Cleveland Browns are. At least they'll have the luxury of owning the No. 1 overall pick in the NFL Draft. Cleveland will have a ton of cap space — $97,391,921, to be exact — to hit free agency this offseason.
Things could get very interesting for the Browns if they are actually trying to land Patriots quarterback Jimmy Garoppolo in a trade, as reports have suggested.
The Los Angeles Rams have the lowly distinction of being the only team the 49ers could beat in 2016. And they'll stay near the bottom of NFL power rankings because of it.
Former head coach Jeff Fisher was fired (about time), and the franchise brought in 31-year-old former Washington Redskins offensive coordinator Sean McVay to replace him. McVay also tabbed former Houston Texans defensive coordinator Wade Phillips to fill the same role in L.A.
That's a smart move. But the Rams are still hindered by some bad contracts, most notably to wide receiver Tavon Austin.
This, and the fact Los Angeles will miss the hefty number of draft picks given up to take quarterback Jared Goff last year, will put general manager Les Snead on the hot seat again.
Yes, the Chicago Bears manage to fall a spot in our NFL power rankings this time around.
Why? Well, the two teams on either side of them made changes at head coach, which is at least a sign those franchises want to move in a new direction.
Not so much for Chicago.
Head coach John Fox is staying put, according to a January report from NFL.com's Ian Rapoport. That's a questionable decision at best. And with a free agent like wide receiver Alshon Jeffery hitting the market, the Bears could be taking another step back in 2017.
And there's that Jay Cutler guy too.
Yes, the hirings of John Lynch as general manager and Kyle Shanahan as head coach help move the 49ers up in our NFL power rankings one spot.
San Francisco's roster is still garbage. But the team will be in a good spot this offseason to make some much-needed improvements. The Niners own the No. 2 overall pick in the NFL Draft and will have as many as 11 selections overall.
And Lynch will be able to work with $80,896,264 in cap space too, per Over the Cap.
Sure, questions surround Lynch — who has zero front-office experience — and his abilities to put together a roster. But he's shown the ability to hire good people, as bringing in former Denver Broncos scout Adam Peters shows.
The Gus Bradley experiment in Jacksonville didn't exactly work with the Jaguars, despite one of the more impressive offseasons prior to last year's campaign.
Doug Marrone is now the new head coach, and one can only hope former New York Giants head coach Tom Coughlin — now the executive vice president of football operations — will do some good.
Fortunately the Jaguars have a good number of pieces on the defensive side of the ball. The offense is another story.
Is it time to move on from quarterback Blake Bortles yet?
What are the New York Jets going to do at quarterback in 2017? Ryan Fitzpatrick isn't the answer, Geno Smith is as good as gone and fans shouldn't be hanging all their hopes on Bryce Petty emerging into the next great thing.
Head coach Todd Bowles has a bit of a mess on his hands, including aging and underperforming players like cornerback Darrelle Revis, who will move to safety to hopefully compensate for his down year.
The Jets stay put in our NFL power rankings because they do still have notable talent on both sides of the ball. It just fell well short of expectations last year.
Perhaps the Los Angeles — sorry, San Diego — Chargers should climb a spot or two on our NFL power rankings because, like a few other teams, they're taking a vastly new approach.
Even picking up and leaving town.
Bringing in Anthony Lynn as head coach was a smart move. He'll help make a good offense a bit better, although the Chargers better stock up on the defensive side of the ball this year to help out up-and-coming phenom Joey Bosa.
Things won't be easy though. The AFC West is loaded, and Los Angeles remains at the bottom of the pecking order.
What kind of team will the Carolina Panthers be in 2017?
On paper, the Panthers should be vastly better than the 6-10 record from last year. One would think they'd resemble the kind of squad that got them to Super Bowl 50 a year ago.
So much for that.
Of course, fingers are going to point at quarterback Cam Newton. But Carolina's problems are more than that. They need help at running back, within the secondary and could use some depth.
Bouncing back is a real possibility. But there are plenty of serious questions here.
When they're at their best, the Cincinnati Bengals are a playoff contender, at least to get in if nothing more.
At worst, well, last year happened.
Like the Panthers, it's hard to truly dissect all that went wrong for head coach Marvin Lewis' squad last season. They lost some wide receivers through free agency, but that can't be the entire issue.
Lewis isn't going anywhere this offseason, but the Bengals will think otherwise if these struggles continue in a tough AFC North.
Everything we know about the New Orleans Saints came true in 2016. They're a phenomenal offense with quarterback Drew Brees under center, especially when he's able to utilize weapons like wide receiver Brandin Cooks.
And they're terrible on defense. Absolutely terrible.
They take a fall in our NFL power rankings, because the team hoping over them — the Buffalo Bills — made a big stride to improve their own help-needy defense.
Let's hope it never happens, but imagine a scenario in which Brees is lost for an elongated time due to injury.
That's why the Saints are here.
Letting go of former head coach Rex Ryan and replacing him with former Panthers defensive coordinator Sean McDermott was a smart move by the Bills this offseason.
McDermott is the perfect kind of coach the Bills need to turn themselves into one of the better defenses within the AFC East, which is what they'll need to compete with the perennial division leaders, the Patriots.
The Bills still have plenty of questions though, especially under center. What's going to happen with Tyrod Taylor?
At this point, it's pretty easy to understand the Arizona Cardinals will live, and die, by quarterback Carson Palmer.
They need him to play well. Heck, they just need him to play. Palmer recently debunked rumors he was getting out of the state, which put his status for 2017 in jeopardy, but the whole back-and-forth thing is still weird.
With wide receiver Larry Fitzgerald aging as well, this upcoming year might be the last huzzah before sweeping changes are needed.
Considering those factors, the Cardinals drop a spot in our NFL power rankings.
The Philadelphia Eagles might be the lowest-ranked team in the now-powerful NFC East. But make no mistake, this is a team trending in the right direction.
It hasn't happened yet, but apparently Washington Redskins wide receiver DeSean Jackson and the Eagles have mutual interest, per reports.
That would certainly make things more interesting and give now-second year quarterback Carson Wentz more weapons at his disposal.
Wentz should be fun to watch in 2017. So should Philadelphia.
Quarterback Teddy Bridgewater is likely going to miss all of 2017, which means Sam Bradford will be back under center.
Protecting Bradford will be a key focal point for the Minnesota Vikings this offseason. So will a seemingly likely release of veteran running back Adrian Peterson.
There are some weapons here on both sides of the ball, so the Vikings have to feel pretty good about that. But Minnesota will need more to get past the prowess of both the Green Bay Packers and Detroit Lions anytime soon.
The Redskins drop two spots in our NFL power rankings for a number of reasons.
Losing former offensive coordinator Sean McVay — he's pretty brilliant, in case you didn't notice — to the Rams hurts. And Washington is poised to lose a lot, lot more.
Quarterback Kirk Cousins will be the most sought-after free-agent QB this offseason. The Redskins could re-sign him or place another franchise tag on him — both highly expensive options.
Wide receivers DeSean Jackson and/or Pierre Garcon could leave via the free-agent route as well.
Tough decisions are headed the Redskins way.
One of the main things new general manager Chris Ballard needs to do with the Indianapolis Colts is upgrade the defense.
As much as he can.
The Colts defense is old and not very good. Ponying up all that money for quarterback Andrew Luck means this route can't go via free agency. They'll need to get younger, which means the NFL Draft.
Ballard has some good drafting accolades to tout. Although head coach Chuck Pagano is likely on the hot seat if things don't go well in 2017.
Never doubt Baltimore Ravens general manager Ozzie Newsome when it comes to hitting his best time of year — the offseason.
Newsome has done some incredible things with the Ravens roster, but somehow, Baltimore still managed to finish with a .500 record.
The Ravens could use some playmaking help at wide receiver this offseason, so expect that to be a main focus for Newsome and Co. Their defense should be OK to keep them in contention with the Pittsburgh Steelers for dominance within the AFC North.
The Tennessee Titans are trending in the right direction, so it's not exactly fair they drop a spot in our NFL power rankings.
Rather it's more about what the team ahead of them, the Houston Texans, have in store this offseason than anything the Titans did wrong.
Quarterback Marcus Mariota's season-ending leg injury will be something to monitor, but the Titans should be in a good position to get him some playmakers at wide receiver. Tennessee owns two first-round picks in the NFL Draft — Nos. 5 and 18 — which should help get this franchise to a 10-win season, possibly, in 2017.
A solid defense — check. Playmaking wide receivers — check. A good offensive line — check.
A good quarterback… no.
2016 revealed one glaring problem, and everyone knows it. Brock Osweiler isn't the answer under center, and that lucrative four-year contract hurts a lot. But at least Houston has it's No. 1 problem identified.
And Houston still managed to squeak into the postseason and pull off a win over the Oakland Raiders.
Defensive end Jadeveon Clowney finally lived up to expectation last year, and the Texans will get fellow DE J.J. Watt back. That's scary.
Who knows? Maybe veteran quarterback Tony Romo wants to help.
Another team trending in the right direction, but still fell a bit in our NFL power rankings, is the Tampa Bay Buccaneers.
Yes, the Bucs turned plenty of heads this year and are on the rise within the weakening NFC South.
Quarterback Jameis Winston has been fun to watch, as has wide receiver Mike Evans. Tampa Bay's youth movement is starting to work out and, with some minor tweaks, it wouldn't be shocking to see the Buccaneers in the postseason at the end of the 2017 season.
The Denver Broncos abruptly lost head coach Gary Kubiak to retirement and replaced him with former Miami Dolphins defensive coordinator Vance Joseph.
Not sure that's exactly a great move for Denver, but at least Joseph will have one of the league's better defenses to work with.
Instead, it's the offense everyone will be worrying about.
It wouldn't be surprising to see the reins turned over, under center, to second-year quarterback Paxton Lynch, replacing Trevor Siemian in the process.
And if general manager John Elway has his way, Denver won't have any trouble reinvigorating the offense this offseason.
The Detroit Lions' late-season collapse was hard to witness, especially considering how well the team had played for the majority of the year.
Still, their efforts wound up in a trip to the postseason, which is a good starting point to try to retain some momentum heading into 2017. True, Detroit isn't on par with the Green Bay Packers yet. But quarterback Matthew Stafford looked solid over the course of the season.
With a few minor tweaks and upgrades, the Lions shouldn't have too much trouble making a deeper push into January.
The Las Vegas Raiders may be put on hold for a while, or extinguished altogether.
Regardless, Oakland's 2016 campaign was awesome to watch. And it's such a shame the team lost standout quarterback Derek Carr to a season-ending ankle break.
Who knows what would have been against the Texans in the playoffs if Carr had been healthy.
Still, the Raiders' future is bright. Their offense is superb, and the defense needs just a bit of reinforcing to help out standout linebacker Khalil Mack.
Right now, it's hard to see any team in the AFC West knocking off the Raiders from division dominance.
Head coach Adam Gase worked wonders with the Miami Dolphins in 2016.
No, they're not quite on par with the Patriots, as their loss to New England in the postseason revealed. But it's safe to say Gase has the right formula in place.
Losing former defensive coordinator Vance Joseph to the Broncos could actually be a bit of a blessing, considering Miami's defense wasn't particularly good last year.
Fortunately for Gase and Co., this is about the only area of concern.
Like a few other teams, the Seattle Seahawks manage to jump a spot in our NFL power rankings because they have only one pressing need — the offensive line.
It was clearly identified in 2016, as the Hawks boasted the lowest-paid O-line in the entire league. This showed.
Almost everything else stays intact. And Seattle should be expecting a fully healthy safety Earl Thomas and wide receiver Tyler Lockett back in uniform by Week 1.
As long as the defense remains solid, and quarterback Russell Wilson is under center, it's hard to see Seattle falling on hard times anytime soon.
All those New York Giants wide receivers going on that boat cruise in Florida is probably justification enough for dropping the G-Men down a spot in our NFL power rankings.
Still, the Giants are good on offense and defense. And they're the only team legitimately capable of threatening the now-mighty Dallas Cowboys.
Questions may start arising soon about how well quarterback Eli Manning is going to play. But he still has plenty of weapons at his disposal.
And the defense will continue to look solid, thanks to the notable efforts from last offseason. That will help keep New York in a great position moving forward.
Until otherwise proven, the Kansas City Chiefs will continue to be a solid team and AFC West contender until they're eliminated in the playoffs.
Wash, rinse and repeat.
Such was the case for head coach Andy Reid and Co., after yet another disappointing playoff departure. Signs are also pointing against quarterback Alex Smith, who didn't help his own legacy once the postseason started.
With a key player like safety Eric Berry hitting the free-agent market, the Chiefs have to ask some tough questions this offseason.
They're still an upper-echelon team, which keeps them high in our NFL power rankings.
If it were any other team than the Patriots, the Steelers would likely be representing the AFC in Super Bowl LI.
Pittsburgh's late-season hot streak was something to watch, and it's perfectly clear the Steelers have a championship-caliber pedigree even if their defense isn't good.
No, quarterback Ben Roethlisberger isn't going to retire, so cross that off the rumor list. And it would be nearly idiotic if Pittsburgh traded off one of the best wide receivers in the game, Antonio Brown, as rumored.
The Steelers need to focus this entire offseason on their defense. If they do, they'll remain one of the top dogs in the AFC for the foreseeable future.
So the Dallas Cowboys still have that reputation of being a postseason flop.
But one can't blame quarterback Tony Romo this time. And they shouldn't blame upstart QB Dak Prescott either.
Prescott and running back Ezekiel Elliott were phenomenal last year. They're linchpin players for sure. And with wide receiver Dez Bryant in the mix, one should have zero worries about the offense.
Defensively, the Cowboys could use a makeover. This unit outperformed expectations last year, but don't count on that repeating.
And sorry, Skip Bayless, Super Bowl LI was much better without Dallas in it.
The Green Bay Packers will be a Super Bowl contender as long as quarterback Aaron Rodgers is under center.
This was proven beyond a doubt, especially when the Packers went on their late-season tear and scrambled all the way to the NFC Championship game.
It's hard to find another team climbing so high in our NFL power rankings either.
Rodgers can't play defense though, and that's where Green Bay will need some help. The Packers should also rethink their strength and conditioning, especially after losing so many players to injuries over the course of the year.
Barring anything crazy, the Packers will be right back in the Super Bowl hunt in 2017.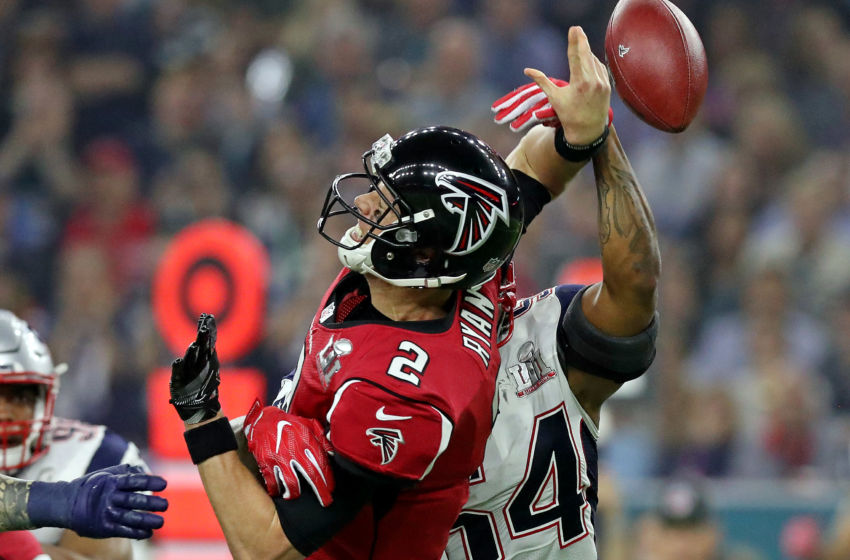 It's hard to say what was worse… blowing a 28-3 lead in Super Bowl LI or electing to pass on third down in a two-possession game — a play that resulted in quarterback Matt Ryan getting sacked and losing the football on a fumble in the process.
Whatever the case, the Falcons will endure a long offseason of heartbreak after falling to New England 34-28 in overtime.
Offensively, there isn't much to question about Atlanta. This unit is still elite.
But while promising, the Falcons defense surely looked gassed from the third quarter onward. This inevitably led to the Patriots' mighty comeback and thrilling victory.
Still, the Falcons have to feel pretty good about themselves. Head coach Dan Quinn's team is going to be towards the top for a long time. And they're worthy of the No. 2 spot on our NFL power rankings.
Here's a lesson for you — never count the Patriots out of anything until, well, they're actually out of it.
Just when you wrote off Super Bowl LI as a Falcons victory, the Pats showed why they are a dynasty. Trailing 28-3 would make 31 other teams crumble. Not New England.
Quarterback Tom Brady is… well, Brady. For all his issues in the first half, Brady remains the elite of the elite.
The Patriots overtime victory might be one of the crowning achievements in a long list of Brady-Bill Belichick accolades. And the win could easily go down as one of the best Super Bowls in NFL history.
So, not surprisingly, the Patriots finish off our NFL power rankings list as the best of the best in NFL power rankings. Congratulations, New England.
You deserve it.
This article originally appeared on