NFL Power Rankings: Panthers Fall Back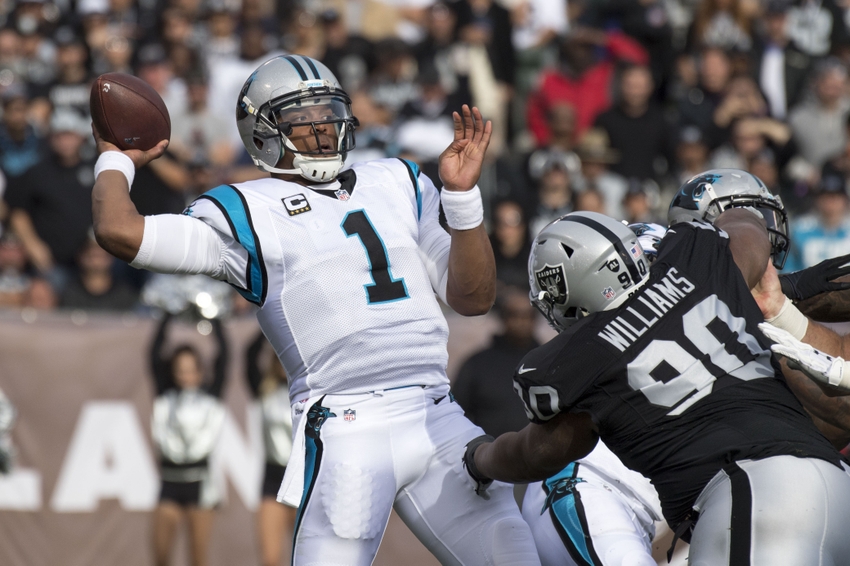 Another Carolina Panthers loss leads to a consensus fall among NFL Power Rankings from around the sports world…
Any momentum gained from a season saving victory over New Orleans disappeared on Sunday afternoon. The Panthers rebounded in the game, showing a willingness to compete, but couldn't upset the resilient Oakland Raiders. Fittingly, Carolina is falling in every NFL Power Rankings poll imaginable.
Facing another team commonly located in the top five of the NFL Power Rankings, the Seattle Seahawks will be another tough test for Carolina. Playing in Seattle is hard enough, but going up against a Seahawks team that recently had a let down against the Bucs after an extended road trip seems insurmountable. Not to mention the plethora of injuries and concussions that have befallen Carolina. Essentially playing for pride from this point forward, any positive movement up the NFL Power Rankings until the end of the season will be positive momentum for next season.
NFL.com – 25 (-1)
Valiant comeback push from the woebegone Panthers in Oakland. Down 24-7, the Panthers were looking like a haggard group ready to pack it in, both for a long plane flight home and, frankly, an even longer offseason. But Carolina didn't quit. Cam Newton, Ted Ginn Jr. and Thomas Davis (as usual) picked it up for everybody else, as the Panthers scored 25 unanswered points in the second half. Unfortunately, lack of protection and a football jussst off the fingertips of the great Greg Olsen did the defending NFC Champs in, probably for the season.
ESPN – 22 (-2)
QB Cam Newton has five touchdown passes in his past five games. Last season, he threw five touchdown passes in a game three times in a five-game span. The struggles continue for Newton, who will face the Seahawks on Sunday in Seattle.
CBS – 24 (-1)
Their playoff chances are about done, which means it's a full Super Bowl hangover. It has never looked right.
FOX SPORTS – 25 (-3)
Ron Rivera didn't appear to trust Cam Newton much, opting to punt to the Raiders on fourth-and-1 rather than going for it in the fourth quarter. It's become clear that Newton has to play like an MVP for this team to win games. The defense is a complete mess that needs rebuilding in the offseason.
Head coach Ron Rivera is 18-4 during the month of December with the Panthers. Any hope of moving back up in the NFL Power Rankings lies in him being able to protect that statistic. However, with four games against Seattle, San Diego, Washington, and Atlanta a 2-2 split with this team would be impressive.
More from Cat Crave
This article originally appeared on