NFL Power Rankings: Giants Continue Steady Climb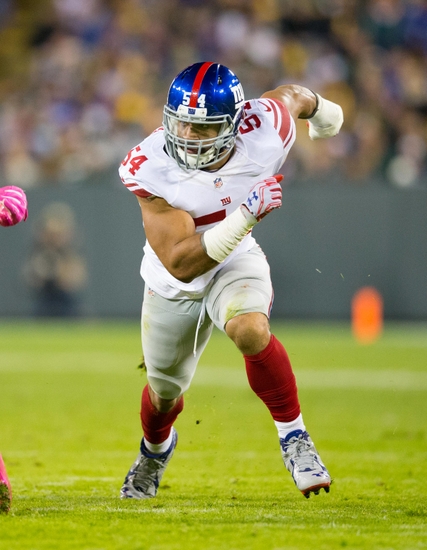 Certainly the NFL experts see the steady improvement of the New York Giants (6-3) each week. But would Big Blue continue its climb up the NFL Power Ranking this week? New York held off a desperate Cincinnati Bengals (3-5-1) squad at MetLife Stadium for their fourth straight victory. The 21-20 win at home was not a work of art, it was a testament to the process. These types of victories are usually devoid of style points for the pundits.
Steady Upward Climb
In the NFL, if you are not moving ahead, you're usually falling behind. Since their three-game losing streak, the Giants see a weekly improvement as a team. Sure there are things to clean-up, but the sum of this team remains greater than its parts.
The Giants climbed onto the adult table this week, rising two places to number 7 on NFL.com. According to Eliot Harrison, "How about those sacks on consecutive plays on the Bengals' last-gasp drive? Getting the quarterback down, with the ball still in his hand, has been rarer than an Eli Manning interception-free game."
The improvement this week was with the pass rush. With all due respect to Ben McAdoo, stats aren't for losers. Quarterback pressure is nice and helpful, but sacks take the steam out of an offense. Fans do not get out of their seats to cheer a quarterback throw away, sorry!
Steady Progress of Team
If you have not noticed, the NFL community is prone to exaggeration. Hell, half the sports writers in America want to put Dak Prescott and Ezekiel Elliott in the Hall of Fame right now. The two rookies are good, but what happens when they face adversity. Losing a 1-point contest in your first NFL game does not count as adversity. Granted these guys have been steady contributors, but nine games is still a small sample.
"These two rookies have to be MVP candidates," Jimmy Johnson declared in the post 35-30 Fox studio, according to SportsDay. "You can't say enough about them."
Nice thought Jimmy, but how can one team have two league MVP candidates? MVP stands for Most Valuable Player. By definition, it can only be one person.
Back to the Giants.
Against the Bengals, the Giants moribund rushing attack saw some life. The 122-yards on the ground, against a stout Bengals defense, is note worthy. Throw out the Bengals' record, they are a quality opponent.
Improvement in the pass rush, check. Improvement in the running game, check.
What's next for Big Blue?
The special teams have not been special, giving up big returns that will end up biting the Giants in a big game. In addition, the return game has been dormant with Dwayne Harris fighting a toe injury. This screams for a bigger dosage of Bobby Rainey.
At this point in the season the die is cast, all that the fan base can ask for is steady improvement. The Giants are providing just that.
This article originally appeared on