NFL Power Rankings: 49ers Near Dead Last Entering Week 10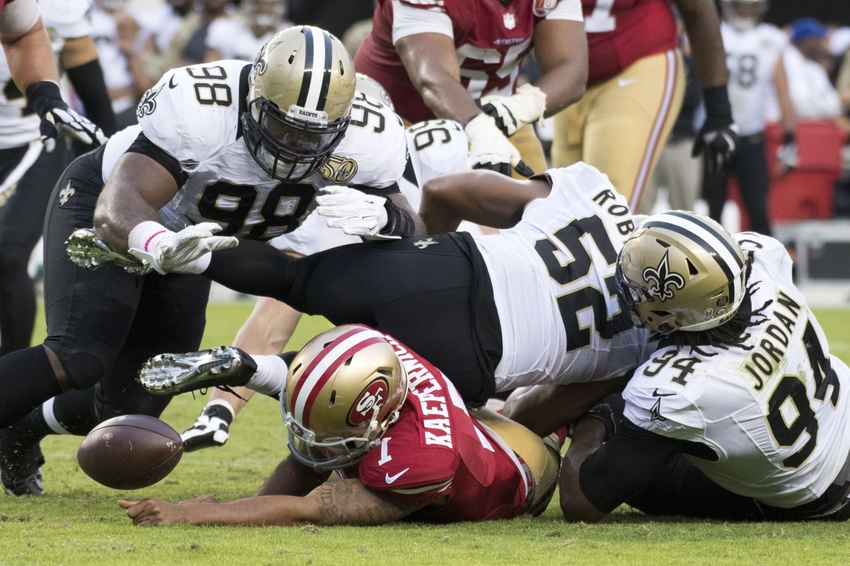 A 41-23 loss to the New Orleans Saints will ensure the San Francisco 49ers won't climb anywhere in Week 10 NFL power rankings. What are experts from around the league saying?
The San Francisco 49ers should thank the Cleveland Browns for being winless on the season. Otherwise, the Niners would be a clear-cut choice to occupy the last spot in NFL power rankings on a week-to-week basis.
San Francisco is coming off a 41-23 loss to the New Orleans Saints in Week 9. While the Niners managed to stay in contention for two-plus quarters of action on Sunday, efforts late in the game simply collapsed.
The 49ers allowed a seventh consecutive 100-plus yard rusher and, not surprisingly, they've lost each game since bottling up Los Angeles Rams tailback Todd Gurley way back in Week 1.
My, doesn't that seem like a long time ago.
Not surprisingly, Week 10 NFL power rankings don't show the Niners making any improvement.
So what are experts from around the league saying? Let's take a look.
The 49ers finally saw what they were hoping for from Colin Kaepernick on Sunday, as the oft-discussed, oft-criticized quarterback threw for 398 yards and two touchdowns against New Orleans. Granted, he was playing the Saints. But, as a team, San Francisco racked up more than 486 yards on offense and still lost by three scores. Hey, give them credit — that's hard to do. It's going to be a dawgfight with the Browns for the No. 1 overall pick.
193.0: In eight games this season, opponents have averaged 193.0 rushing yards against the 49ers, which, as you might guess, is the worst in the NFL.
3,008: The 49ers are on pace to allow 3,008 rushing yards this season. No team has allowed 3,000 rushing yards in a season since the 1980 Saints.
They are horrendous on defense, which was once a calling card for this team. They can't stop anybody.
Colin Kaepernick's 398 passing yards Sunday were 14 off his personal best. Too bad the Saints defense doesn't come to town more often.
I can't believe how bad their run defense is. Next up: at Arizona. David Johnson might go for 250.
Some pundits claim Chip Kelly's uptempo offense is a huge defensive disadvantage.

I'll kindly point those so-called experts in the direction of Sunday's 41-23 trouncing. The 49ers defense couldn't have been tired after 30 minutes of play and still surrendered 344 yards.

New Orleans averaged seven yards per play against this defense. The Saints ran for 248 yards on 42 carries too. Until Kelly gets a double doctorate in defensive football, nothing he draws up—not a big DuJuan Harris run or deep sideline throw to Vance McDonald—will matter.
Nothing the 49ers are doing right now is working. And don't let the seemingly strong San Francisco offensive numbers fool you. The Saints defense is pretty bad in its own right.
Now, the Niners have to travel to take on the Arizona Cardinals in Week 10. And, as a few experts broke down in their NFL power ranking assessments, Cardinals running back David Johnson should be in for a monumental game.
Right now, the best story in Santa Clara is whether or not the 49ers will be able to lose enough to overtake the Browns for the first-overall pick in the 2017 NFL Draft.
This article originally appeared on