NFL playoffs 2016: Contenders in trouble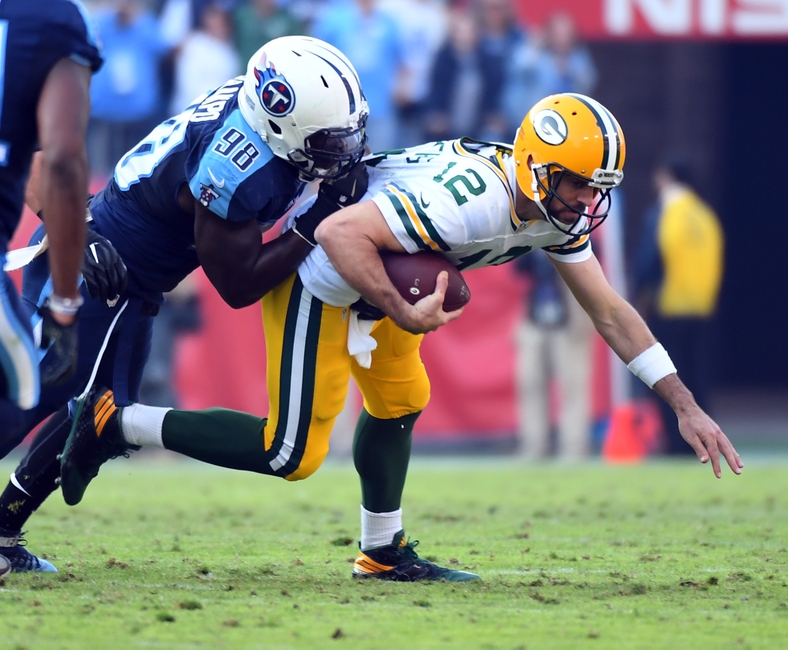 We usually see lots of change when it comes to the NFL playoff field each year. That could be the case again if these six clubs don't figure things out.
We are certainly used to seeing our share of turnover when it comes to the 12 playoff teams in the NFL from year to year. However, we have seen a bit of stability in recent years.
The New England Patriots and Green Bay Packers have been to the postseason seven straight years. The Denver Broncos and Cincinnati Bengals have made five consecutive appearances. The Seattle Seahawks are on a four-year playoff run and the Carolina Panthers have won three straight NFC South titles.
But what's worth noting when it comes to this list is that half of these clubs have been to the postseason at least three straight years.
What can each team count on and what's gone wrong to date? We will take a look at the good and the bad when it comes to these half-dozen franchises (in alphabetical order).
Do we have any solutions for these teams? And how likely is it that one or two get on a roll and still manage to reach the postseason? All six have their work cut out for them.
More importantly, could we see some changes next offseason if a few of these teams fall flat on their facemasks from here on out? Stay tuned.
Arizona Cardinals (4-4-1)
One year after setting a franchise record with 13 regular-season victories, the Cardinals will win no more than 11 games this year. And that's only if they run the table, which is not impossible but certainly would be extremely difficult. The Cards play five of their final eight games on the road.
What's Right: The defense is pretty solid. Only the Baltimore Ravens are giving up more total yards per game. The Denver Broncos are the lone team in the NFL allowing fewer passing yards per contest. Arizona is among the league leaders with 16 takeaways, not bad considering James Bettcher's defensive unit has allowed only 15 offensive touchdowns this year. And thanks in part to newcomer Chandler Jones (7.0), the Cards have already totaled 24 sacks in nine outings.
What's Wrong: Quarterback Carson Palmer has been an enigma dating back to the latter stages of last season. In 2015, he threw a personal-high and franchise-record 35 touchdown passes (tied for second in the NFL) compared to only 11 interceptions. He was sacked 25 times and lost only two of his six fumbles.
This season, he's been almost polar opposite. He's taken a beating, having been sacked 26 times in eight games. Palmer has just as many touchdown passes (11) as turnovers (11). He's already fumbled 10 times this year, losing three of those miscues. He's been a hard player to get a gauge on this season.
Meanwhile, Bruce Arians' kicking game hasn't done him any favors. Chris Cannizzaro has been erratic to say the least. His misses late in games and overtime cost them chances to beat the visiting New England Patriots and Seattle Seahawks early in the year.
Carolina Panthers (3-6)
Just when it appeared that the defending NFC champions were about to get on a roll, they found a way to blow a 17-0 lead at home this past weekend to the Kansas City Chiefs. After losing just one regular-season game a year ago, the Panthers are all by themselves in the division basement with a 3-6 mark.
What's Right: The running game remains respectable as long as Jonathan Stewart stays on the field. He leads the club with 334 yards on the ground, to go along with four touchdowns. Greg Olsen is still one of the top tight ends in the league and wideout Kelvin Benjamin has enjoyed a nice bounce back year. And linebackers Luke Kuechly and Thomas Davis are still among the best in the business.
What's Wrong: Quarterback Cam Newton has taken his licks and missed one game this season due to the effects of a concussion. The 2015 NFL MVP has served up only 10 touchdown passes compared to seven picks. A year ago, he toyed with teams by throwing for 35 scores while serving up only 10 interceptions. He's been on the run as usual, ranked second on the club with 261 yards and four touchdown on the ground.
As a team, the Panthers have already committed 19 turnovers this season – equaling their regular-season total of a year ago.
But here are some real sobering numbers. Carolina has permitted 226 points and 22 offensive touchdowns in nine contests. A year ago, this club allowed 308 points and only 32 offensive TDs. And for those thinking cornerback Josh Norman was expendable, Rivera's club has surrendered 17 scores through the air this season. In 2015, the Panthers gave up just 21 touchdown passes.
Cincinnati Bengals (3-5-1)
This is a team that hasn't won a playoff game since 1990. But the Bengals have been to the playoffs a franchise-record five consecutive years. Is this a good thing that's getting ready to come to an end?
What's Right: Quarterback Andy Dalton has bounced back well after spending the stretch run of 2015 on the sidelines with a broken thumb. He and wide receiver A.J. Green continue to have great rapport and that has been more important than ever.
With tight end Tyler Eifert missing time early in the season and both veteran Brandon LaFell and rookie Tyler Boyd trying to acclimate themselves to the Cincinnati offense, the Dalton-to-Green connection has been essential. The latter leads the club with 66 catches, good for 964 yards and four scores. The second-highest pass-catcher on the team this season is running back Giovani Bernard with just 34 receptions.
Dalton is completing 65.9 percent of his passes for 2,553 yards and 10 scores. He's been picked off only four times in nine games.
What's Wrong: What has happened to this team in the trenches? Thanks in part to running backs Jeremy Hill and Bernard, the Bengals ranks 10th in the NFL in rushing yards per game (115.6). However, Dalton has already been sacked 28 times in nine games this season. This was a club that surrendered only 32 sacks a year ago.
On defense, things are considerably worse. Under head coach Marvin Lewis, this is a unit that has been among the best in the league, especially in recent seasons. This year, Cincinnati is 24th in the league in both total yards and rushing yards allowed per game. Geno Atkins, Carlos Dunlap and company have come up with only 17 sacks this year to date. This was a defense that dropped opposing passers 42 times in 2015. It's been a disappointing showing by this unit, to say the least.
Green Bay Packers (4-5)
You could make a strong case that this is the most surprising team on this list. The Green Bay Packers have been to the playoffs every year since 2009 – seven straight seasons and counting. Bur head coach Mike McCarthy, defensive coordinator Dom Capers and even veteran quarterback Aaron Rodgers are feeling the heat these days. Green Bay is 1-4 in its last five games.
What's Right: It has to be Rodgers, who must feel like Indianapolis Colts quarterback Andrew Luck these days. He may or may not be the first to admit that he's played better football. But where is this club at the moment without him?
Rodgers is now completing 63.1 percent of his passes, up considerably from a year ago and earlier in 2016. He's thrown for 2,410 yards and 22 scores compared to a somewhat-uncharacteristic seven interceptions. The veteran signal-caller has also lost three of his six fumbles. However, Rodgers has also run for 226 yards and has the team's only three rushing touchdowns of the season.
What's Wrong: Combine the lack of a consistent ground attack with a defensive unit that has become a sieve and is it any wonder that the Packers are struggling?
Green Bay has allowed 597 rushing yards in last five games (119.4 yards per game). Consider that this club gave up a total of 171 yards on the ground during the team's 3-1 start. McCarthy's team has allowed a whopping 151 points in its last five contests, compared to 83 in its four outings. The Pack have given up 30-plus points in three straight games and 4 of their last five tilts.
All of the pressure on one man/one unit has the Packers playing sloppy and frantic football. The club has already committed 14 turnovers this year, three less than in all of 2015.
Minnesota Vikings (5-4)
Despite some early devastating injuries, head coach Mike Zimmer had the Purple Gang headed in the right direction. The Minnesota Vikings opened with five straight wins and were the last NFL team to lose a game this season. Now this group suddenly can't find a way to post a victory, losers of four consecutive outings.
What's Right: Minnesota's defense is a Top 10 unit across the board. The team is allowing the third-fewest yards per game in the league. The Vikings have given up 14 offensive touchdowns to date. The defensive front is largely responsible for the club's 22 sacks. Zimmer's squad has also forced 18 turnovers, just four fewer than all of 2016. And this unit as well as the special teams have scored four touchdowns of their own this season.
What's Wrong: The lack of firepower on offense is catching up up to this team. The club has scored a combined 56 points during its current four-game skid. No team in the NFL has managed fewer total yards (302.3) and rushing yards (69.8) per contest. There are currently 10 players in the league that have gained more yards on the ground than Minnesota's total of 628.
Of course, these Vikings were not an offensive juggernaut even with quarterback Teddy Bridgewater and running back Adrian Peterson healthy. And it's somewhat interesting to note that second-year wide receiver Stefon Diggs has caught exactly 13 passes each of the last two games – without scoring a touchdown. And the lack of a reliable offensive attack is slowly but surely taking its toll on a defense that has started to show some vulnerability to the run.
Pittsburgh Steelers (4-5)
Following a 4-1 start and with some impressive victories on their resume, many felt the Steelers were the biggest threat to the New England Patriots in the AFC. Thanks to a four-game losing streak (and counting), those feelings are quickly disappearing.
What's Right: Even with several pieces in and out of the lineup in the first nine games, this team is capable of putting a lot of points on the board.
In his eight games, Ben Roethlisberger has 20 touchdown passes and is averaging just under 300 yards per game through the air. Wide receiver Antonio Brown and running back Le'Veon Bell remain two of the best players in the league at their respective positions. Second-year tight end Jesse James and wideout Eli Rogers have proven to be nice surprises as injuries have limited playing time to Sammie Coates, Markus Wheaton and Darrius Heyward-Bey.
What's Wrong: The Steelers have had problems on defense in recent years and most notably against the pass. But during the club's four-game losing streak, Keith Butler's unit has had its issues trying to contain opposing running backs. We have seen Miami's Jay Ajayi, New England's LeGarrette Blount and Dallas' Ezekiel Elliott all enjoy productive outings against this unit as of late. A defense that was fifth in the NFL against the run in 2015 has slipped to 15th this year in the same category. Losing defensive end Cameron Heyward for a few games didn't help.
So much for a pass rush that should be giving opposing quarterback fits while generating extra opportunities for the offense. One year after totaling 48 sacks and 30 takeaways, Tomlin's team is down near the bottom of the NFL in quarterback traps (13) and has forced only 10 turnovers. Perhaps a bigger workload in terms of carries for Le'Veon Bell could keep this defense off the field a little longer.
This article originally appeared on