NFL picks Week 9: Packers-Colts and every other game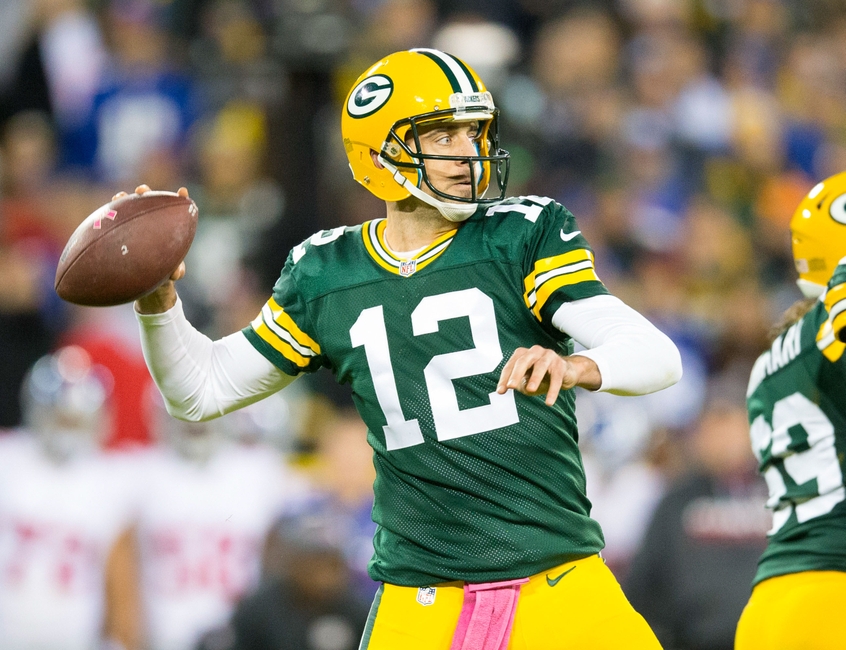 Enter Week 9 of the NFL season. Can the Green Bay Packers get back on track against the Indianapolis Colts?
Last week, I went a strong 11-2 in my weekly picks column. I incorrectly predicted a Cincinnati victory over Washington in London (it was a tie) and picked Minnesota over Chicago.
Will I get as lucky this week? Green Bay hosts Indianapolis in what should be an offensive-filled game, while NFC leaders Dallas travel to winless Cleveland. Inside the NFC North, Chicago sits on bye while Minnesota hosts Detroit.
Let's begin.
Indianapolis Colts (3-5) at Green Bay Packers (4-3)
The Packers offense looked like its old self against Atlanta last week. Aaron Rodgers was at his MVP-best, and the young receivers stepped up and made plays. Back at home against another struggling defense, Rodgers can have a big day.
The key will be pressuring Andrew Luck, who is the most sacked quarterback in the league. Getting Clay Matthews back would be a major boost.
Pick: Green Bay 27, Indianapolis 17
Atlanta Falcons (5-3) at Tampa Bay Buccaneers (3-4)
On paper, the Falcons are easily the better of the two teams. They have the offense to blow this game wide open. Tampa Bay won the first meeting between these two at the Georgia Dome in Week 1, but a lot has changed since then. The Buccaneers have lost running backs Doug Martin, Charles Sims and Jacquizz Rodgers to injury.
Road teams usually struggle in Thursday night games, but I'm edging the Falcons here.
Pick: Atlanta 24, Tampa Bay 21
Detroit Lions (4-4) at Minnesota Vikings (5-2)
All of a sudden, the Minnesota offense is struggling and the Vikings have dropped two games in a row. Detroit's three-game winning run was ended in Houston, but this matchup should be an interesting one. At home, I'm picking the Vikings to bounce back from their dip.
Pick: Minnesota 24, Detroit 17
Pittsburgh Steelers (4-3) at Baltimore Ravens (3-4)
These games are always fun to watch. Pittsburgh boasts a more talented roster, especially if Ben Roethlisberger is back. But this is the NFL, and this is a rivalry game. After losing four straight, the Ravens come up with a crucial win to make the AFC North that much tighter.
Pick: Baltimore 24, Pittsburgh 23
New York Jets (3-5) at Miami Dolphins (3-5)
The Jets are riding a two-game win streak, one that has saved their season. I don't trust Ryan Fitzpatrick to guide New York to a third straight, however. The Dolphins win at home.
Pick: Miami 27, New York 14
Dallas Cowboys (6-1) at Cleveland Browns (0-8)
Will the winless Browns have an answer for Ezekiel Elliott? My guess is no.
Pick: Dallas 38, Cleveland 21
Jacksonville Jaguars (2-5) at Kansas City Chiefs (5-2)
New offensive coordinator or not, the Jaguars are failing to live up to their preseason hype. Meanwhile, the Chiefs are quietly putting together a very strong playoff push.
Pick: Kansas City 30, Jacksonville 20
Philadelphia Eagles (4-3) at New York Giants (4-3)
This game should be fascinating. The Eagles have gone 1-3 over their past four following a 3-0 start, but I think they are the better of the two teams.
Pick: Philadelphia 24, New York 21
Carolina Panthers (2-5) at Los Angeles Rams (3-4)
Are the Panthers back? Not so fast, but for at least one game they looked like at their 2015-best. The Rams are in free fall, and the Panthers keep their season alive.
Pick: Carolina 34, Los Angeles 21
New Orleans Saints (3-4) at San Francisco 49ers (1-6)
Quietly, the Saints remain in the NFC South race. Whether their defense can hold up its end of the bargain for New Orleans to make a playoff push is yet to be seen, but they get back to .500 with a road win over the struggling 49ers.
Pick: New Orleans 27, San Francisco 23
Tennessee Titans (4-4) at San Diego Chargers (3-5)
The Chargers might be the best 3-5 team we've seen in a while. After a season filled with adversity, injuries and heartbreaking defeats, they will be battle tested should they make it into the postseason. With a win, they stay alive.
Pick: San Diego 32, Tennessee 24
Denver Broncos (6-2) at Oakland Raiders (6-2)
The Raiders are living up to the hype and making a serious AFC push. Can their defense be trusted? Time will tell. Offensively, there's a lot to love. At home against the Super Bowl champs and AFC West rival, they have a great opportunity to earn a statement win. That's why I'm picking the Broncos to steal it on the road.
Pick: Denver 24, Oakland 22
Buffalo Bills (4-4) at Seattle Seahawks (4-2-1)
Russell Wilson is dealing with a number of injuries, which is no surprise given the poor protection he's received from his offensive line. Buffalo has lost its past two games, but I'm picking the upset in Seattle on Monday night.
Pick: Buffalo 23, Seattle 17
Last week: 11-2
Season: 75-45
This article originally appeared on