NFL picks Week 7: Packers-Bears and every other game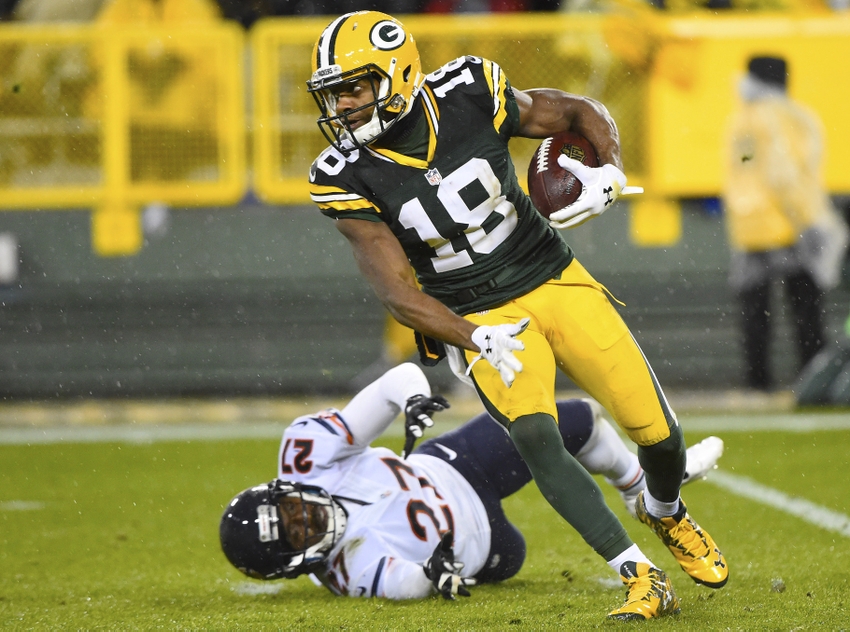 Entering Week 7 of the NFL season, can the Green Bay Packers get back on track?
Playoff hopes are already beginning to end around the league for one- and two-win teams. For some, this week brings a must-win game. For others, it's a chance to take another leap towards to the postseason.
For the Packers, who open the weekend at home to the Bears under the Thursday Night Football lights, getting back on track is crucial. At 3-2, a loss would tie them with the Lions in second-place, while a win would pull them within striking distance of the undefeated Vikings.
Which teams will escape Week 7 with victory? Here's my NFL picks for all 15 games.
Chicago Bears (1-5) at Green Bay Packers (3-2)
It can't get any worse for the Packers offense, right? This may feel like a good bounce-back game for Green Bay, but Chicago's defense is better than many realize. Meanwhile, a banged up Packers secondary takes on the No. 3 passing offense. The Packers will need to win with their pass rush and do enough on offense. They edge it.
Pick: Green Bay 20, Chicago 17
New York Giants (3-3) at Los Angeles Rams (3-3) – London
Los Angeles has been brought back to earth after a strong start to the season. The Giants are inconsistent, but they have more talent than the Rams and get the victory in London.
Pick: New York 17, Los Angeles 14
New Orleans Saints (2-3) at Kansas City Chiefs (3-2)
Drew Brees is a different player on the road, and they will struggle to dominate the Chiefs defense as they did the Panthers last week. Kansas City can wear down the worst defense in the league with a heavy dose of the run, and they get the W.
Pick: Kansas City 24, New Orleans 17
Minnesota Vikings (5-0) at Philadelphia Eagles (3-2)
Will this be the week the Vikings finally lose a game? On the flip side, this is a major test for rookie quarterback Carson Wentz. Expect Mike Zimmer to make life difficult for the Eagles' new passer, leading the Vikings to a sixth win. Meanwhile, Sam Bradford beats the team that traded him away.
Pick: Minnesota 27, Philadelphia 14
Indianapolis Colts (2-4) at Tennessee Titans (3-3)
The Colts are a mess. They should have at least three wins on the year, but threw away a game that was in the bag last week. The Titans lack talent, but they exploit a poor Colts defense to go above .500.
Pick: Tennessee 24, Indianapolis 20
Buffalo Bills (4-2) at Miami Dolphins (2-4)
The Bills are flying. Excellent defense and a dominant run game is exactly how Rex Ryan envisioned this team winning games. The Dolphins beat down the Steelers last week, but don't expect a repeat.
Pick: Buffalo 27, Miami 17
Washington Redskins (4-2) at Detroit Lions (3-3)
The Lions' inconsistencies could cost them a shot at the playoffs, and they welcome a red-hot Washington team to Ford Field. Detroit is playing well on offense, and at home I expect them to halt the Redskins' momentum.
Pick: Detroit 28, Washington 20
Cleveland Browns (0-6) at Cincinnati Bengals (2-4)
This is a must-win for the Bengals, who have made a rough start to 2016. The Browns' winless run goes on, but once again they keep this game close.
Pick: Cincinnati 24, Cleveland 20
Oakland Raiders (4-2) at Jacksonville Jaguars (2-3)
The Jaguars stole a victory in Chicago last week, but they are far from the team many expected in preseason. Over time all the new faces will become more settled, but they run into a talented Raiders team this week.
Pick: Oakland 30, Jacksonville 20
Baltimore Ravens (3-3) at New York Jets (1-5)
The Jets' schedule has been brutal so far, and they must put together a string of victories to have any hope of matching the Chiefs' great escape from last year. The problem is that Geno Smith is starting at quarterback. The Ravens end their losing run.
Pick: Baltimore 27, New York 13
San Diego Chargers (2-4) at Atlanta Falcons (4-2)
The Chargers could easily be sat on four wins, but here they are in desperate need of victory. They impressed against Denver last week and their defense is good enough to slow down (not stop) Atlanta's high-powered offense. As the Falcons are at home, I expect them to continue their roll.
Pick: Atlanta 27, San Diego 21
Tampa Bay Buccaneers (2-3) at San Francisco 49ers (1-5)
Fresh off the bye and potentially with a healthy Doug Martin, the Buccaneers have the perfect opportunity to reach .500 against a poor 49ers team, with or without Colin Kaepernick.
Pick: Tampa Bay 26, San Francisco 14
New England Patriots (5-1) at Pittsburgh Steelers (4-2)
Likely without Big Ben, the Steelers face a very difficult task of holding down the red-hot Patriots. New England has won with a backup quarterback, now the shoe is on the other foot and they beat a backup.
Pick: New England 37, Pittsburgh 17
Seattle Seahawks (4-1) at Arizona Cardinals (3-3)
Arizona is back on track after a poor start to the season, and Seattle hasn't exactly been convincing. Still, at this stage the Seahawks are more talented and add a cushion to their NFC West lead.
Pick: Seattle 23, Arizona 20
Houston Texans (4-2) at Denver Broncos (4-2)
Think this Denver defense has a point to prove to Brock Osweiler? Osweiler has struggled. A lot. This game could get ugly in a hurry.
Pick: Denver 24, Houston 7
This article originally appeared on