NFL picks Week 13: Packers-Texans and every other game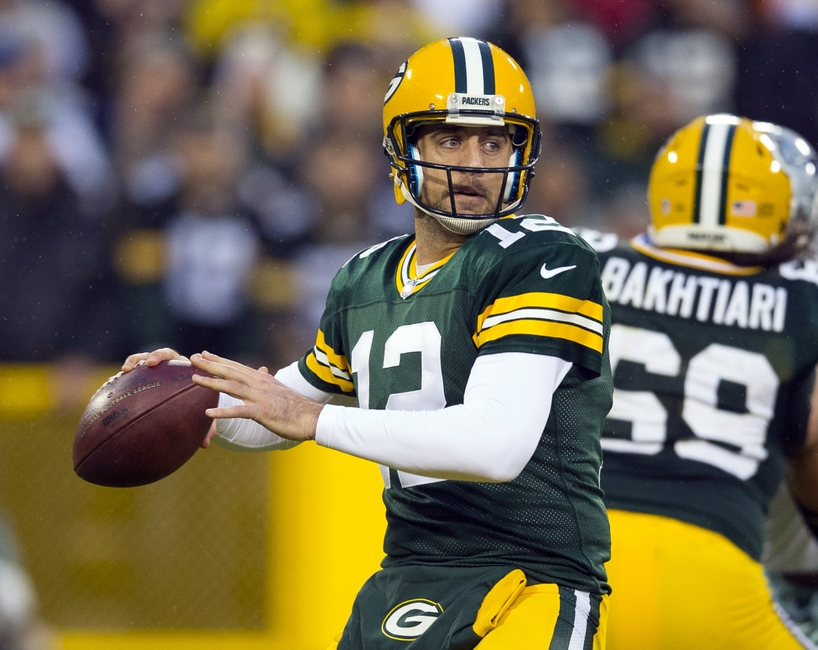 Following a season-saving victory over the Philadelphia Eagles on Monday night, can the Green Bay Packers continue their push towards the NFC North lead?
The Packers enter December in unfamiliar territory, sitting third in the division and two games out of the lead. A near-perfect finale to the season is required to regain the NFC North crown.
Last week, I was happy to be wrong in my prediction of a Packers loss, and I finished 12-4 total for Thanksgiving weekend.
Inside the NFC North, Detroit travels to New Orleans, Minnesota hosts Dallas and Chicago meets San Francisco.
Houston (6-5) at Green Bay (5-6)
The Packers have come a long way on offense over the past six weeks, Davante Adams becoming a more significant factor. Houston has its own offensive struggles, and Green Bay's beat up defense should be able to limit them.
On a short week, I'm picking the Packers to hit .500.
Pick: Green Bay
Dallas (10-1) at Minnesota (6-5) – Thursday
By the time the Packers take the field on Sunday, we'll know whether a win would tie them with the Vikings, who host Dallas on Thursday Night Football. Minnesota has just one win in its past six games, while the Cowboys have won 10 straight. There's no stopping them.
Pick: Dallas
Detroit (7-4) at New Orleans (5-6)
This is a tough game for the NFC North leaders. Detroit's offense has struggled somewhat of late, and I'm not sure their defense can contain the Saints' red-hot passing game powered by Drew Brees.
Pick: New Orleans
Los Angeles (4-7) at New England (9-2)
Jeff Fisher said he won't go 7-9. He's right. It's going to be much worse.
Pick: New England
Denver (7-4) at Jacksonville (2-9)
Jacksonville might be the biggest NFL disappointment this year. Their defense is playing well, but they don't know how to win games. Denver needs this one.
Pick: Denver
San Francisco (1-10) at Chicago (2-9)
The 49ers and Bears are a combined 3-19 on the year. Nobody wins!
Pick: Tie
Kansas City (8-3) at Atlanta (7-4)
This could be the game of the week. The Chiefs are legitimate Super Bowl contenders in the AFC, but it's difficult to pick against the high-flying Falcons inside the dome.
Pick: Atlanta
Miami (7-4) at Baltimore (6-5)
Baltimore, along with Houston, could be the worst team with a winning record. Miami, believe it or not, are vying for an eighth win on the season. And they get it.
Pick: Miami
Philadelphia (5-6) at Cincinnati (3-7-1)
Cincinnati needs the offseason to arrive like yesterday. They can bounce back in 2017, but this season has gotten away from them in a hurry. Philadelphia wins despite travelling on a short week.
Pick: Philadelphia
Buffalo (6-5) at Oakland (9-2)
The Raiders have piled up five wins on the bounce and are hunting for the AFC's No. 1 seed. The Bills are putting together a nice season and have won two straight, leading me to pick an upset. Oakland has to win some games, right?
Pick: Buffalo
Tampa Bay (6-5) at San Diego (5-6)
Tampa Bay walked into Kansas City and won, then took apart Seattle at home. This, then, is going to be the game they lose when it's least expected.
Pick: San Diego
NY Giants (8-3) at Pittsburgh (6-5)
The Steelers are warming up, and I fancy them to end the Giants' impressive winning streak at Heinz Field. Pittsburgh takes control of the AFC North, and don't be surprised if they keep hold of it the rest of the way.
Pick: Pittsburgh
Washington (6-4-1) at Arizona (4-6-1)
Arizona is a shell of its 2015-self, their season, and championship window, crumbling at their feet. Washington takes a huge road victory to charge their playoff push.
Pick: Washington
Carolina (4-7) at Seattle (7-3-1)
What a disappointment the NFC champions have been this year. Their last visit to Seattle was apart of an incredible 14-0 start to 2015. It's been an ugly year this time around.
Pick: Seattle
Indianapolis (5-6) at NY Jets (3-8)
The Jets are always good value when the Patriots come to town, but their season continues to dwindle into nothingness.
Pick: Indianapolis
This article originally appeared on