NFL picks and predictions, Week 6: Patriots, Steelers to roll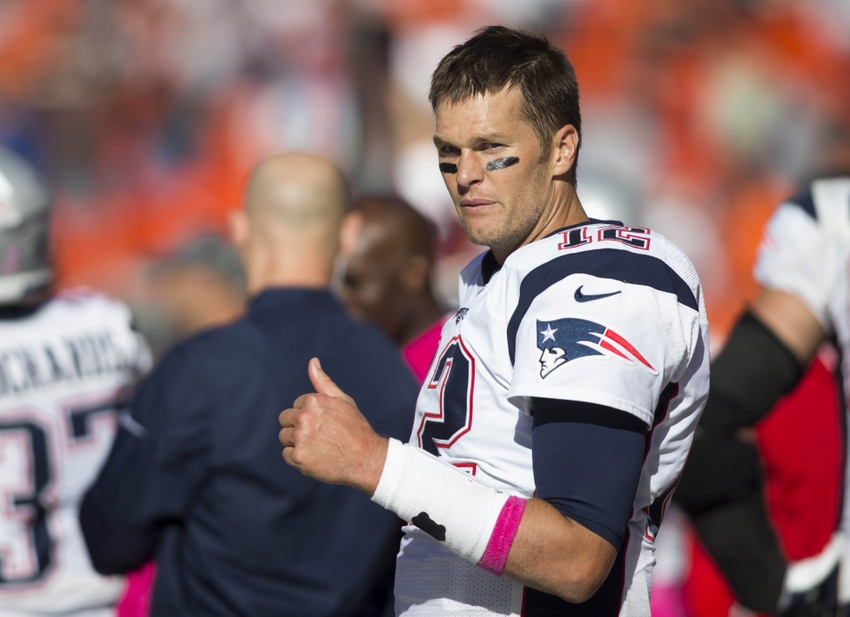 It's time for Matt Verderame's Week 6 NFL picks, and he is probably going to simultaneously delight and enrage folks.
Hey, I finally had a good week (pretty good .. it was decent). After getting back over the .500 mark, I'm looking to make a strong push into barely employable with these picks and predictions. Let's get right into it.
Denver Broncos (-3.5) at San Diego Chargers
This is a tougher call than one would think. If Trevor Siemian can't play, Denver (4-1) is in real trouble. Then again, San Diego (1-4) will find some grotesque way to blow the game.
Pick: Denver 16, San Diego 13
Cincinnati Bengals at New England Patriots (-8.5)
New England (4-1) is the best team in football, with all due respect to the Broncos and Vikings. It's going to be very tough for Cincinnati (2-3) to win this game, even in desperation mode.
Pick: New England 27, Cincinnati 20
Pittsburgh Steelers (-7.5) at Miami Dolphins
Remember the ending scene of Casino? Pittsburgh (4-1) and Miami (1-4) will be very similar to that, except worse.
Pick: Pittsburgh 44, Miami 17
Cleveland Browns at Tennessee Titans (-7)
This game will force unsuspecting viewers to start vomiting uncontrollably. Turn away, don't ever go back. Tennessee (2-3) is going to somehow be a .500 team, and Cleveland (0-5) may never win again.
Pick: Tennessee 20, Cleveland 14
Los Angeles Rams at Detroit Lions (-3)
Detroit (2-3) and Los Angeles (3-2) are both weird teams. The Lions have a solid offense and no defense, while the Rams are the polar opposite. Take the better quarterback at home.
Pick: Detroit 23, Los Angeles 15
Jacksonville Jaguars at Chicago Bears (-2.5)
Chicago (1-4) isn't good, but the Bears are at home and Jacksonville (1-3) is nothing special in its own right. This could go either way, but the Jaguars have no ability to play defense. That's the difference.
Pick: Chicago 30, Jacksonville 24
San Francisco 49ers at Buffalo Bills (-7.5)
Colin Kaepernick is starting for San Francisco (1-4), but it doesn't matter. The 49ers don't have talent around him. Buffalo (3-2) is a faux contender, but the Bills will win this one.
Pick: Buffalo 22, San Francisco 16
Carolina Panthers (-3) at New Orleans Saints
This is an elimination game. Whoever wins this contest will remain a fringe playoff contender while the other dies away. New Orleans (1-3) is coming off the bye. Carolina (1-4) is more talented. In the end, take the better defense.
Pick: New Orleans 37, Carolina 27
Baltimore Ravens at New York Giants (-3)
This is both an underrated and overreacted game. New York (2-3) and Baltimore (3-2) are not contenders, but this could be highly entertaining. The Giants won't lose four straight.
Pick: New York 28, Baltimore 24
Philadelphia Eagles (-2.5) at Washington Redskins
A low-key important game in the NFC East. Philadelphia (3-1) is a better team and will be focused coming off a bad loss to the Lions. Washington (3-2) has won three straight, which means it's due.
Pick: Philadelphia 24, Washington 17
Kansas City Chiefs at Oakland Raiders (EVEN)
Forget all the talk about how great Andy Reid is after a bye week. Kansas City (2-2) is the better, more talented team. Yes, Oakland (4-1) has been prolific offensively, but the defense is terrible. The Raiders are better, but each of their four wins have been heart attacks.
Pick: Kansas City 27, Oakland 23
Atlanta Falcons at Seattle Seahawks (-6.5)
Seattle (3-1) is getting a ton of respect with this line, and rightfully so. Atlanta (4-1) could hang in, though, should the defense have another nice showing. However, this is a bad matchup for the Falcons and their high-octane passing game.
Pick: Seattle 24, Atlanta 20
Dallas Cowboys at Green Bay Packers (-4)
This might be the best game of the weekend, along with Kansas City and Oakland. Dallas (4-1) is for real with a killer ground game, while Green Bay (3-1) is winning despite bad play from Aaron Rodgers. Look for both trends to continue.
Pick: Green Bay 26, Dallas 23
Indianapolis Colts at Houston Texans (-3)
This is the Sunday night game. Thank God for playoff baseball. Indianapolis (2-3) has allowed 20 sacks already. Twenty. Houston (3-2) has Brock Osweiler, who is a human embodiment for a $72 million sunk cost. Fantastic.
Pick: Houston 27, Indianapolis 20
New York Jets at Arizona Cardinals (-7.5)
If Arizona (2-3) doesn't beat New York (1-4) and the Fighting Fitzpatricks, it's time to disband the franchise. The Jets are rancid.
Pick: Arizona 34, New York 17
Last Week: 8-6
Overall: 39-38
This article originally appeared on