NFL Picks Against the Spread for Each Week 11 Game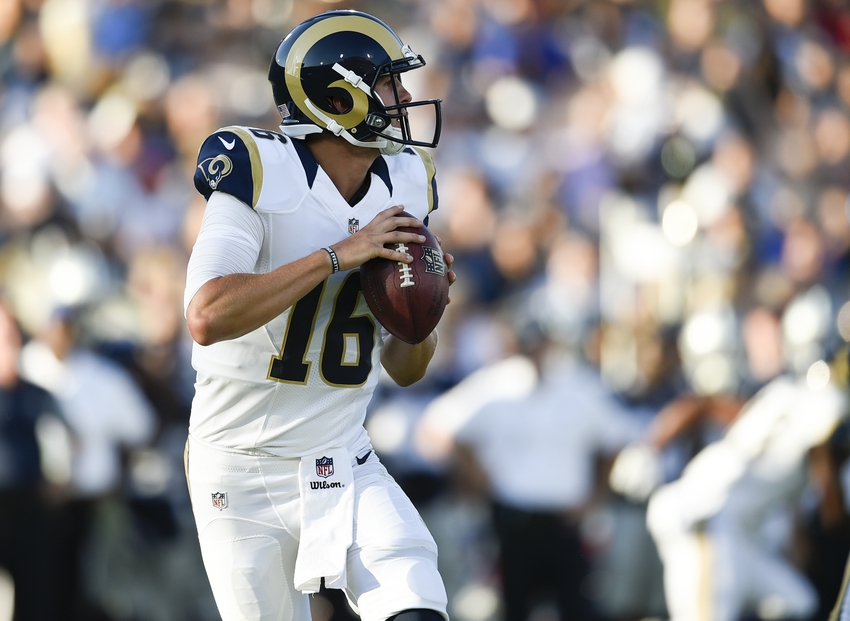 NFL picks against the spread for each Week 11 game as Jared Goff makes his first career start for the Los Angeles Rams.
Battling oddsmakers and making NFL picks against the spread is a fickle exercise. One week, you think you've got it all figure out and are ready to go on a roll. The next week, Tom Brady plays his worst game of the season, the Denver Broncos are blocking an extra-point and taking it to the house (controversially), and Philip Rivers is throwing four interceptions in the fourth quarter. That's a tough road to walk down, but it's now led us to NFL Week 11.
Things are only set to get a bit crazier in Week 11, though. For starters, the Los Angeles Rams have finally made the move to starting Jared Goff. The rookie quarterback has aimlessly been watching Case Keenum flounder all season, but will now get his shot. What's more, plenty of teams will be looking to try and keep playoff hopes alive with a big win.
I got quite lucky to start Week 11 with my NFL picks against the spread on Thursday Night Football. I thought the New Orleans Saints would come out and torch the Carolina Panthers, even as underdogs. Ultimately, they lost. But I took the line at Saints +3.5 and a late Drew Brees rally willed that into reality:
Starting off the week 1-0 is what you want. And considering that I'm 11 games under .500 against the spread in 2016, I need all the help I can get. Let's see if there isn't more ground to be made up. Here are the full NFL picks against the spread for each game.
Week 10 Record ATS: 6-8
2016 Record ATS (No Week 1 Picks): 58-69-4
Tampa Bay Buccaneers at Kansas City Chiefs (-7.5)
There aren't too many reasons to think that this shouldn't be a quality matchup for the Chiefs on Sunday. They've been the far more consistent team between themselves and the Buccaneers this season. Moreover, the Tampa Bay defense has been less than stellar more often than not in 2016. Even more convincing, Jameis Winston and company have been exceptionally prone to turnovers. Meanwhile, the Chiefs thrive off creating turnovers with the likes of Marcus Peters. With Justin Houston also making his return, this looks like an easy Kansas City win.
Pick: Chiefs -7.5
Baltimore Ravens at Dallas Cowboys (-7)
Coming off of the eight-game winning streak of the Cowboys, everyone seems to be circling this matchup as the one where it ends. After all, the Dallas offense thrives off of their running game and the Ravens have the best rush defense in football. Of course, the Cowboys have seen this before when they faced the Green Bay Packers earlier in the season. Ezekiel Elliott ran amuck en route to a victory. Moreover, I don't have any faith in Joe Flacco being able to exploit a banged-up Dallas defense. America's Team keeps rolling.
Pick: Cowboys -7
Arizona Cardinals at Minnesota Vikings (-2.5)
Perhaps I'm missing something here, but haven't the Vikings been absolutely atrocious of late? Moreover, their biggest strength in their defense is banged up coming into this game and has been vulnerable against the run regardless. Despite their lackluster showings littered throughout 2016, the Cards should match up extremely well on Sunday. David Johnson should be able to have his way, as should the pass-rush against the putrid offensive line in Minnesota. The underdog is the play here.
Pick: Cardinals +2.5
Chicago Bears at New York Giants (-7.5)
If this game were last week, I would have recommended riding the Bears to keep this one closer than a touchdown. After what Jay Cutler laid on the field (stinky) and following the Alshon Jeffery suspension, though, the Giants are a near lock on Sunday. They're better and healthier at every level on either side and should ultimately run away with this one.
Pick: Giants -7.5
Tennessee Titans at Indianapolis Colts (-3)
The last time that these two teams met, the Indianapolis Colts took full advantage of the Titans defense and put them to bed. Moreover, Marcus Mariota and the offense for Tennessee still hadn't reached full Super-Saiyan levels of hotness. They're at that point now, which the Packers can attest to. I don't think that the Colts will have any remote answers on defense for Mariota, DeMarco Murray, and this Titans offense. Ultimately, I think Tennessee wins and runs away with it.
Pick: Titans +3
Pittsburgh Steelers (-8) at Cleveland Browns
For everyone calling for a letdown or trap game for the Steelers here, please stop trying to outsmart yourself. Yes, all the signs for that type of game are there. However, the biggest sign should be the fact that the Browns are showing no indications of improvement. Even if their defense is marginally better, they can't match up with the Pittsburgh offense. That too applies to their offense, which can't match the output of the Steelers. Thus, this is an easy call with the road favorite.
Pick: Steelers -8
Buffalo Bills at Cincinnati Bengals (-2.5)
This is the first matchup that I find relatively hard to read. Prior to their bye week, the Bills were in a bad way. With the week off, though, there's the chance that they're healthier and have worked through their issues. Meanwhile, the Bengals showed signs of life before falling just short against the Giants last week. This feels like a toss-up, but I'm going with the Bills as the underdog. They should be able to run the ball effectively and I'm calling that the difference on Sunday.
Pick: Bills +2.5
Jacksonville Jaguars at Detroit Lions (-6.5)
We go from a matchup that's hard to peg to one that is incredibly easy. Yes, the Lions have pulled each of their five wins out of their butts. However, they're a high-powered offense going against a defense still not playing to their potential. Moreover, the Jaguars and Blake Bortles have proven time and again that they can't take advantage of even a favorable matchup. On the road, this looks like the Lions run away with this one to take further command in the NFC North.
Pick: Lions -6.5
Miami Dolphins (-1.5) at Los Angeles Rams
I'm going to regret every single bit of this and I could not care less. The Dolphins are red-hot right now and the Rams can't even spell red-hot. However, I think Jared Goff ignites this offense a bit. There's a chance he's not very good. But the threat that he might be could be enough to get Todd Gurley finally going. Moreover, the Miami offensive line is depleted in this game and the Rams front-four is lethal regardless. I'm going with LA getting the upset at home.
Pick: Rams +1.5
New England Patriots (-11.5) at San Francisco 49ers
There is no eloquent way of putting what this game comes down to. The 49ers are absolutely terrible and the Patriots should still be Super Bowl favorites. Moreover, New England is likely not in the best of moods after Touchdown Tom and Co. suffered their first loss since Brady's return. Expect this one to get ugly and Levi's Stadium to be mostly empty by the fourth quarter (if not before).
Pick: Patriots -11.5
Philadelphia Eagles at Seattle Seahawks (-6.5)
Despite the potency the Eagles have shown throughout the year, the Seahawks are the better team in this matchup. Their defense is just a bit more consistent throughout than Philly's and their offense's top-gear is much more dangerous as well. What gives me pause, though, is that I'm not sure Seattle is 6.5 points better than the Eagles. Even still, I'm going with the Seahawks at home as that could ultimately put them over the edge to win by a full touchdown.
Pick: Seahawks -6.5
Green Bay Packers at Washington Redskins (-2.5)
We can keep making excuses for Aaron Rodgers, Mike McCarthy and the Green Bay Packers, or we could admit that they just might not be good this season. That's truly not on Rodgers, who has stepped up in recent weeks. However, their defense is less than stellar and their weapons around the quarterback have almost unanimously been disappointing. Ultimately, I think the Redskins have a good enough pass rush to affect a banged-up offensive line and Kirk Cousins can light up the Green Bay secondary.
Pick: Redskins -2.5
Houston Texans at Oakland Raiders (-5.5) — In Mexico City
Frankly, no one really knows what to expect from the crowd and environment for Monday Night Football in Mexico City. Subsequently, we can just go with what we know about these two teams. What stands out about the Texans and Raiders is that the former might be frauds and the latter has proven time and again that they are for real. With the Oakland pass rush finding their life behind Khalil Mack and the Texans defense still seemingly just surviving, I think the Raiders run away with this one. Monday night will be a blowout in favor of the Silver and Black.
Pick: Raiders -5.5
This article originally appeared on